Stay Tuned for the 2020 Audi Q8 Review!
Test Drive | Everyday Driver Review: The Audi Q8, a discounted counterpart of a Lamborghini? In the trend of superfast SUVs, the Audi Q8 is the latest to make its impression. Its capability and output match up to the Lamborghini Urus, sharing much in common with that car. The guys test theQ8's features on a field trip through the highways and country roads to see first hand its abilities and weak points.
Watch here: https://youtu.be/4RCmr9x-_ls
Comparison Review: The BMW X6M vs Audi RS Q8, Who reigns as the King of Coupe SUV? What SUV coupe will be the right one for you? Let us know in the comments and post it on Facebook, Twitter, or Google+. :-)
Watch here: https://youtu.be/ARUywoPuY3M
ZIP CODES - near 
91105

91711

91723

91790

91791

91792

91701

91762

91724

91101

91730

91739

91106

91761

91722

91104

91107

91764

91750

91709

91103

91748

91737
CITIES near 
Pasadena
Claremont
Covina
West Covina
Rancho Cucamonga
Ontario
La Verne
Chino Hills
Rowland Heights
Audi supplies 335 horsepower and 369 lb-ft of torque to every Q8 with a turbocharged 3.0-liter V-6.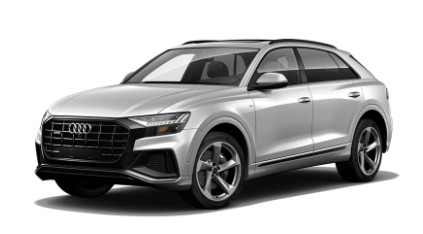 Audi Q8
The starting price for Audi Q8 is $68,200.
Audi Q8 is the Audi brand's new top SUV, with its outstanding driving dynamics, its functional practicality and the innovative design of an Audi coupe.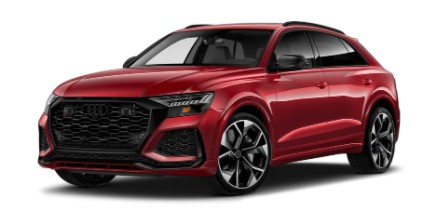 Audi RS Q8
For Audi RS Q8, the baseline price starts at $114,500 and go beyond with upgrades.
Audi RS Q8 has the practicality of an SUV, the dynamic design of an Audi coupe and the exceptional performance of an RS model. It sets a new standard as the leader of the new RS model line with its outstanding feature - a bi-turbo V8 engine, offering first-rate performance and a breathtaking driving experience. Audi's RS Q8
Frequently Asked Questions
Is the Audi Q8 a reliable car?
Similar to other Audi vehicles, the 2021 Audi Q8 is stamped falls on the average range with a predicted reliability rating of three out of five.
Are massage seats available in Audi Q8?
The Q8 is furnished with two seats three passengers, both are in the rear. These seats offer relaxation options like massage options, four-zone climate control, and Bang & Olfusen sound system for an Audi luxury experience. Audi planned to introduce a Remote Garage Pilot back in 2019. This feature allows the driver to park in and out of the parking space using a smartphone.
Does Audi Q8 offers an eight-seat as an option?
The Audi Q8 limits it seating capacity to just five passengers. These comfortable leather upholstered seats are a standard.
Is the Audi q8 bigger than the q7?
The Q8 follows the compact Q5 and the seven-seater Q7 in the Audi's roster. While the Q8 name indicates it is bigger than the Q7, much as the Audi sedan A8 is larger than the A7, it isn't. The Q8 has lesser passenger and cargo capacity than the Q7.
About 
Audi of West Covina

 Sales Department

At Audi West Covina, we're proud to announce that we're under new ownership and are now a part of Envision Motors. However, one thing that hasn't changed is our commitment to providing you withthe premium shopping experience that you deserve and supplying you with thesuperior product knowledge that helps you make an informed buying decision.
Andy M 
Joseph Hernandez was an awesome and professional salesman. He helped reassure me that I was making the right with Penske Audi. He showed me what I wanted to see and didn't pressure me into anything I didn't want. I had a budget and helped me get into the car I wanted and even saved me money staying under budget.
Sam C 
Thank you Kayla Abney for your extraordinary service! Looking forward to doing more business with you!
Tiffany Leonard 
Shane gave us a great test drive.Tiffany, Thank you for sharing your feedback with us! We are so glad to hear that you had an excellent test drive with Shane! Thanks again, Penske Audi West Covina
Mike Fetterman 
I came here for a car and I got one, I just wish the dealer had more employees working. Maybe I came on a bad day but there was a ton of people and not many workers. I did get a good deal!Thanks for taking the time to leave a review, Mike!
Ron Moore 
Great service peopleRon, We're so glad to hear about your positive service experience with our team. Thank you for servicing your vehicle with us! We wish you many happy miles! Take care, David Butler Service Director Penske Audi West Covina
Audi of West Covina

 Sales Hours

Monday08:30 - 21:00

Tuesday08:30 - 21:00

Wednesday08:30 - 21:00

Thursday08:30 - 21:00

Friday08:30 - 21:00

Saturday08:30 - 21:00

Sunday10:00 - 20:00
Audi Q8 near Azusa
 | 
Audi Q8 near Chino Hills
 | 
Audi Q8 near Claremont
 | 
Audi Q8 near Covina
 | 
Audi Q8 near La-Verne
 | 
Audi Q8 near Ontario
 | 
Audi Q8 near Pasadena
 | 
Audi Q8 near Rancho Cucamonga
 | 
Audi Q8 near Rowland Heights
 | 
Audi Q8 near West Covina