The 2019 Audi Q8 is the coolest SUV on the market. The Audi Q8 is a luxurious SUV designed to compete with other luxury vehicles like the Infiniti QX80 and the BMW X7. It's sleek and powerful, but does it make sense to you? We reveal the features that make the 2019 Q8 lands in the coveted luxury SUVs category on the market today.
Watch here: https://youtu.be/ESEYv86NNvw
Drag Race: Audi RSQ8 versus BMW X6M versus Porsche Cayenne Turbo S The BMW X6M and the Audi RSQ8 are this year's competitors in a drag competition. Mat's prepped up the line up in the BMW X6M Competition, and with him is Yianni in the Porsche Cayenne Turbo S e-hybrid and an Audi RSQ8!
Watch here: https://youtu.be/9EokRnAq19c
Comparing 2019 Audi Q8 and 2019 BMW X7: Which Is the Better Flagship? A battle between flagships! For $90,000, which has more superior features, the new 2019 BMW X7 or the 2019 Audi Q8? Here's a COMPARISON between the 2019 BMW X7 xDrive 40i and the 2019 Audi Q8 Prestige to find out!
Watch here: https://youtu.be/kuI7KDeTPvY
ZIP CODES - near 
91107

91702

91711

91723

91737

91761

91762

91791

91105

91750

91724

91722

91709

91101

91730

91106

91790

91739

91701

91764

91103

91104

91792
CITIES near 
Pasadena
Azusa
Claremont
Covina
Rancho Cucamonga
Ontario
West Covina
La Verne
Chino Hills
Audi supplies 335 horsepower and 369 lb-ft of torque to every Q8 with a turbocharged 3.0-liter V-6.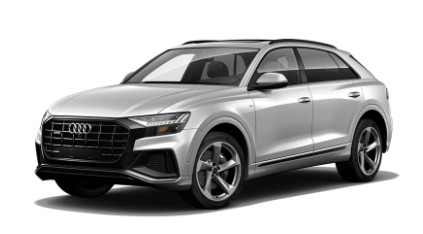 Audi Q8
The starting price for Audi Q8 is $68,200.
Audi Q8 is the Audi brand's new top SUV, with its outstanding driving dynamics, its functional practicality and the innovative design of an Audi coupe.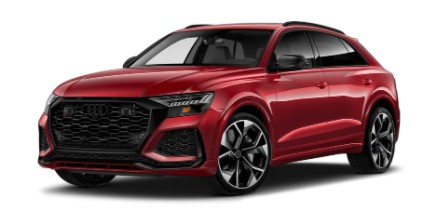 Audi RS Q8
For Audi RS Q8, the baseline price starts at $114,500 and go beyond with upgrades.
Audi RS Q8 has the practicality of an SUV, the dynamic design of an Audi coupe and the exceptional performance of an RS model. It sets a new standard as the leader of the new RS model line with its outstanding feature - a bi-turbo V8 engine, offering first-rate performance and a breathtaking driving experience. Audi's RS Q8
Frequently Asked Questions
Is the Audi Q8 a reliable car?
Similar to other Audi vehicles, the 2021 Audi Q8 is stamped falls on the average range with a predicted reliability rating of three out of five.
Does the Audi Q8 comes with an extra tire?
TYes, Audi provided the e Q8 a standard space-saver spare tire.You can replace the flat tire so it you can flat tire repaired or replaced.
Are massage seats available in Audi Q8?
The Q8 is furnished with two seats three passengers, both are in the rear. These seats offer relaxation options like massage options, four-zone climate control, and Bang & Olfusen sound system for an Audi luxury experience. Audi planned to introduce a Remote Garage Pilot back in 2019. This feature allows the driver to park in and out of the parking space using a smartphone.
How many seat capacity the Q8 have?
The Audi Q8 can seat up to five passengers.
About 
Audi of West Covina

 Sales Department

At Audi West Covina, we're proud to announce that we're under new ownership and are now a part of Envision Motors. However, one thing that hasn't changed is our commitment to providing you withthe premium shopping experience that you deserve and supplying you with thesuperior product knowledge that helps you make an informed buying decision.
Reynaldo Fabe 
Nice and heplful people, from the service manager Jeff, who guide me through the phone conversation about some door problem to the time I had service it. The service personnel were good and friendly. Did excellent job.Reynaldo, Thank you so much for your review and recommendation! We really appreciate it and are so happy to hear about your experience with our Service Team! We look forward to seeing you again! Best, Penske Audi West Covina
Willie D. 
Los Angeles, CA
I visited the Store today and met with sales rep. Shadi Darwich and he was excellent . I explained to him what I was looking for ( Q8s ) and what I want in the car from comfort to looks and a lot and f power . Shadi took me through the the inventory and shows me some cars and he recommended  that I look at Q7s as well.  He took the time to show me and test drive both cars without any hesitation even after I explained to him that I'm not planing on doing anything this visit but look and feel . I then met with sales manager Nemer, whom thanked me for coming in and asked me about my experience with Shadi. I'm very pleased with everything happen with my visit and I will be coming back once I make a decision .Again, thank you for all the information and please keep up the good work .
Rudy Rojas 
Great service department ask for Steven
Steph Michele 
Steph, Thank you so much for taking the time to share your positive feedback with us! Sincerely, Shawn Clancy General Manager Penske Audi West Covina
Nemer Sarriedine 
Thank you for the 5 star rating, Nemer!
Audi of West Covina

 Sales Hours

Monday08:30 - 21:00

Tuesday08:30 - 21:00

Wednesday08:30 - 21:00

Thursday08:30 - 21:00

Friday08:30 - 21:00

Saturday08:30 - 21:00

Sunday10:00 - 20:00
Audi Q8 near Azusa | Audi Q8 near Chino Hills | Audi Q8 near Claremont | Audi Q8 near Covina | Audi Q8 near La-Verne | Audi Q8 near Ontario | Audi Q8 near Pasadena | Audi Q8 near Rancho Cucamonga | Audi Q8 near Rowland Heights | Audi Q8 near West Covina