Learn More About the 2021 Audi Q3
The 2021 Audi Q3 is a luxury subcompact SUV with a lot to offer. The Q3 succeeds because while it comes with a lot of luxury elements and advanced features, it does not lose sight of what it needs to be in terms of the fundamentals-- performance and safety. The luxury subcompact SUV segment is an appealing one because it has all the space of a family vehicle but still gets the easy handling and better fuel efficiency of a car.
It also costs less than a larger SUV but still comes with a luxury design. It's really in a sweet spot in that respect. The Q3 is a popular option in the luxury subcompact SUV class, and on this page you can learn about what makes the 2021 edition of the Audi Q3 so special.
New in 2021
The Audi Q3 last went through a redesign in 2019. 2021 is the second year of its product cycle, and it involves some simplifications. One of the previous top trims, the Prestige, has been removed, and its features are spread throughout the other trims.
The other changes have involved adding more to the vehicle. The previously optional S-Line exterior package has now been made standard, so that is an upgrade to the exterior design for all trims. All trims and models of the Q3 now also have lane departure warning as standard. Aside from that, the Audi Q3 is more or less the same as it was in 2020.
Performance
The Audi Q3 has one engine. It is a V4 with a turbocharger that gets 228 horsepower. It has an automatic transmission with eight speeds. The engine has good pickup and power, and you will feel it when you need to overtake someone on the highway. That's a great feeling in an SUV if you have not experienced it before.
In terms of gas mileage, the Q3 makes 27 miles per gallon in highway conditions around West Covina and when it comes to cities, it will get 19 miles per gallon. The handling feels tight for the vehicle's size, which many of our Pomona drivers appreciate. The ride is comfortable and cushioned, even on rougher road conditions. That smoothness is welcome both for its comfort as well as how safe and in-control it feels. It's both luxurious and reassuring at the same time. All models come with all-wheel drive as well.
Safety Features
The Q3 has a slew of safety features to keep you and your family safe. It has great ratings in its crash testing, and it also comes with plenty of high-end automated safety elements. That starts with a rear camera to help you park and back up. There are two different standard packages of Audi features. Audi Pre Sense Front includes forward-collision warning, automatic emergency braking, and pedestrian detection. It's a fairly standard list of automated safety tech.
The other package, Audi Pre Sense Basic, is special. It's an extra layer of safety that will tighten up the seatbelts and roll up the windows if the car detects that a collision is imminent. It's a feature that ideally will never be used, but it is also good to know that it's there, and it's pretty rare as well. You won't find it on many other vehicles.
If you want more, then there are plenty of options and packages with more sensors, automated parking, adaptive cruise control, and more.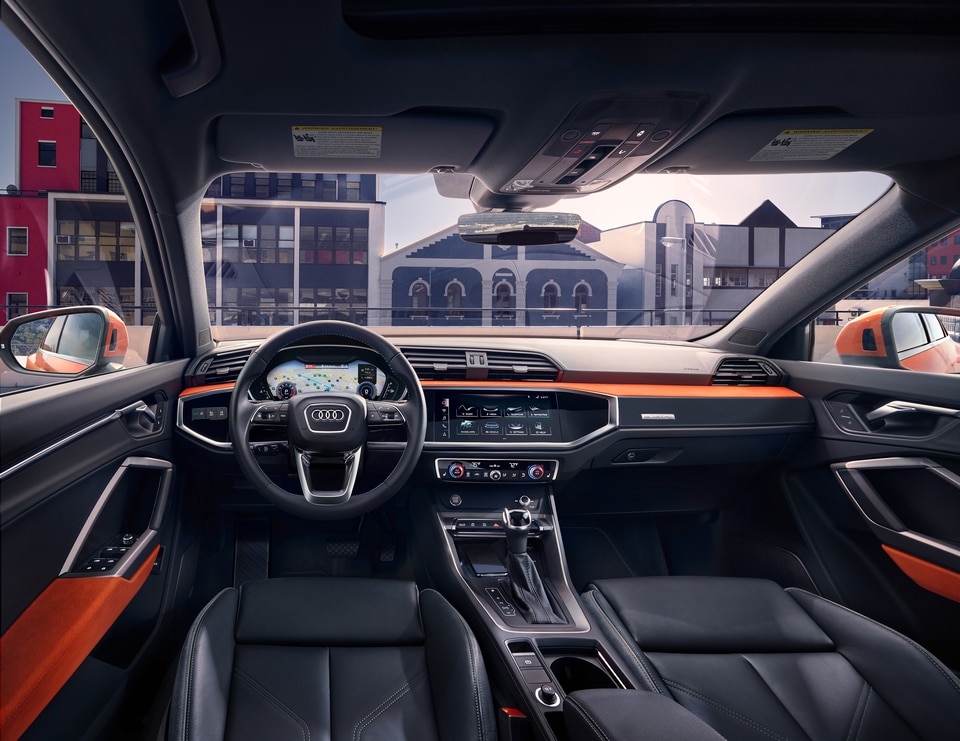 Interior and Tech
The Q3 has an 8.8-inch touchscreen that controls all of the infotainment. The sound system has 10 speakers, USB chargers for your devices, smartphone connectivity, Bluetooth, and HD radio. It also leather upholstery and heating for its front row of seating.
The sunroof is also a strong standard feature. You can add upgrades to, for example, expand the sound system or get a larger touchscreen. The interior has leather and other high-end materials to ensure that it feels luxurious and comfortable. The interior design and tech inclusions are consistent with other Audis, but all of that really stands out in its subcompact size.
Trims
The Audi lineup is pretty synchronized, and many luxury vehicles have the same trim designations. The last two years had three trim levels, and the 2021 model year now has just two. The base trim is the Premium, and the upgrade is the Premium Plus. They have the same performance base-- the same engine, the same transmission, and the same all-wheel drive. The difference is that if you upgrade to the Plus, you get access to more standard features as well as some extra options that are not available on the base trim.
The Plus provides good value because its price increase is fairly small, but the standard features easily cover the gap. The exclusive packages add both style and functionality, depending on what you want to upgrade.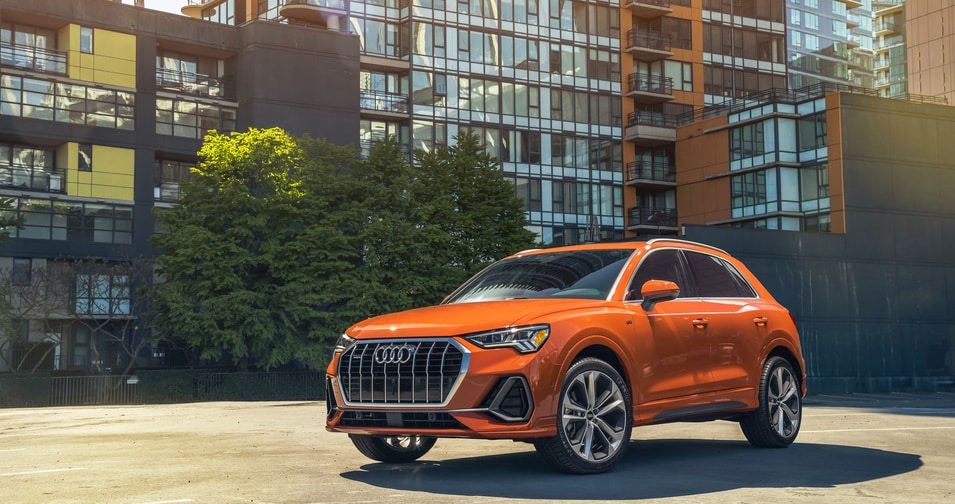 Learn More and Test Drive a 2021 Audi Q3
The 2021 Audi A3 is a luxury subcompact SUV that is highly deserving of your attention wherever you are in La Puente. It has a simplified trim lineup with a long list of features and a beautiful design that's sure to turn heads on every Diamond Bar street.
It's worth a test drive around Walnut so that you can get a feel for its great handling and fun driving experience. That will also allow you to think about which trims and packages you might want for the Q3. It's a practical Los Angeles family car that is still really enjoyable to drive or ride in and a real pleasure to own.