2020 Audi Q8 Review | This or 2020 Audi Q7? I will try the acceleration, paddle shifts, steering feel, cargo area, rear legroom, visibility, sound system, exhaust film, motor, blue tooth and many more.
Watch here: https://youtu.be/tU6YdfhYD6c
The 2021 Audi RS Q8 has 600 mph of speed. During the interior and exterior review, how did the Audi Q8? fare? #RSQ8
Watch here: https://youtu.be/MNz6q9jixik
Drag Race: Audi RSQ8 versus BMW X6M versus Porsche Cayenne Turbo S The BMW X6M and the Audi RSQ8 are this year's competitors in a drag competition. Mat's prepped up the line up in the BMW X6M Competition, and with him is Yianni in the Porsche Cayenne Turbo S e-hybrid and an Audi RSQ8!
Watch here: https://youtu.be/9EokRnAq19c
Comparison Review: The BMW X6M vs Audi RS Q8, Who reigns as the King of Coupe SUV? What SUV coupe will be the right one for you? Let us know in the comments and post it on Facebook, Twitter, or Google+. :-)
Watch here: https://youtu.be/ARUywoPuY3M
ZIP CODES - near 
91105

91107

91709

91737

91748

91764

91792

91750

91761

91104

91762

91724

91722

91701

91101

91730

91711

91106

91103

91702

91723

91739

91791
CITIES near 
Pasadena
Chino Hills
Rancho Cucamonga
Rowland Heights
Ontario
West Covina
La Verne
Covina
Claremont
Azusa
Audi supplies 335 horsepower and 369 lb-ft of torque to every Q8 with a turbocharged 3.0-liter V-6.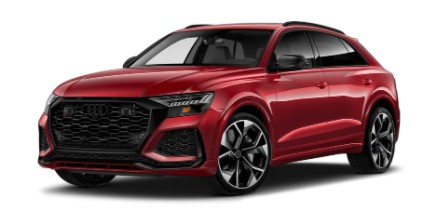 Audi RS Q8
For Audi RS Q8, the baseline price starts at $114,500 and go beyond with upgrades.
Audi RS Q8 has the practicality of an SUV, the dynamic design of an Audi coupe and the exceptional performance of an RS model. It sets a new standard as the leader of the new RS model line with its outstanding feature - a bi-turbo V8 engine, offering first-rate performance and a breathtaking driving experience. Audi's RS Q8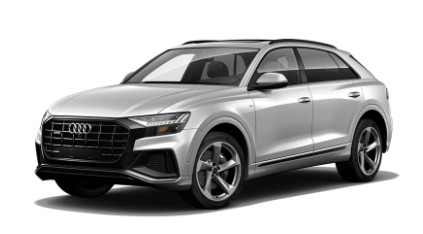 Audi Q8
The starting price for Audi Q8 is $68,200.
Audi Q8 is the Audi brand's new top SUV, with its outstanding driving dynamics, its functional practicality and the innovative design of an Audi coupe.
Frequently Asked Questions
How fast can an Audi Q8 go?
According to the German manufacturer, Q8 can run from zero to 100 km/h (0-62 mph) in three point eight seconds. But electronically, the top speed is 249 km/h (155 mph). A premium option can go top speed of 306 km/h (190 mph).
Is the Audi q8 bigger than the q7?
The Q8 follows the compact Q5 and the seven-seater Q7 in the Audi's roster. While the Q8 name indicates it is bigger than the Q7, much as the Audi sedan A8 is larger than the A7, it isn't. The Q8 has lesser passenger and cargo capacity than the Q7.
Is there a difference between an Audie Q7 and Q8?
Q8 seats only five while the Q7 can seat up to seven passengers.The Audi Q7 has larger cargo space measuring 71.6 cubic feet.
What is the cost of a 2020 Audi Q8?
The Audi Q8 will launch in the market with the starting price of $68,200, one of the highest base price for an EV. For Prestige trim, the price can go as high as $77,700. But with add on features, it can reach $100,000.
About 
Audi of West Covina

 Sales Department

At Audi West Covina, we're proud to announce that we're under new ownership and are now a part of Envision Motors. However, one thing that hasn't changed is our commitment to providing you withthe premium shopping experience that you deserve and supplying you with thesuperior product knowledge that helps you make an informed buying decision.
Anthony G 
Hello Anthony, If there is anything in particular that made you feel the service did not meet your expectations, please feel free to reach out to me at Tpeng@socalpenske.com. I appreciate your honest feedback and look forward to turning around your experience! Sincerely, Tony Peng Sales Manager Penske Audi West Covina
Carly Crabtree 
It was the fastest and easiest car buying experience we've ever had. Very happy with what we got. Joseph was friendly and informative, and Sam had all the paperwork done quickly.
Robert Franks 
Couldn't ask for better service, Tony the sales manager is the man! Keeping me updated and informed with the entire process. Would definitely work with these guys again!
noe feliciano 
(Translated by Google) Good treatment very experienced (Original) Buen trato muy experimentados
Rebeca Brown 
The salesperson has been very dedicated to get me in the car that I wanted.She succeeded against all odds. At all times she was courteous and professional. A very positive experience.Rebeca, Thank you so much for taking the time to share your experience with us. We love to hear when our guests have a great visit to our dealership! We are always here to help with any of your automotive needs. Thanks again, Tony Peng Sales Manager Penske Audi West Covina
Audi of West Covina

 Sales Hours

Monday08:30 - 21:00

Tuesday08:30 - 21:00

Wednesday08:30 - 21:00

Thursday08:30 - 21:00

Friday08:30 - 21:00

Saturday08:30 - 21:00

Sunday10:00 - 20:00
Audi Q8 near Azusa | Audi Q8 near Chino Hills | Audi Q8 near Claremont | Audi Q8 near Covina | Audi Q8 near La-Verne | Audi Q8 near Ontario | Audi Q8 near Pasadena | Audi Q8 near Rancho Cucamonga | Audi Q8 near Rowland Heights | Audi Q8 near West Covina