The 2019 Audi Q8 is the coolest SUV on the market. The Audi Q8 is a luxurious SUV designed to compete with other luxury vehicles like the Infiniti QX80 and the BMW X7. It's sleek and powerful, but does it make sense to you? We reveal the features that make the 2019 Q8 lands in the coveted luxury SUVs category on the market today.
Watch here: https://youtu.be/ESEYv86NNvw
What Car?| The Luxury Car 2020 Audi Q8 Exceeds Expectations Is this going to be better than the Range Rover's Velar? Audi has introduced the all-new Q8 SUV, which uses the Q7's masterful SUV template and exchanging some simplicity for whippings of style. Visit our video review on YouTube to learn more.
Watch here: https://youtu.be/nWGjc9wBoD0
The Ultimate SUV War: BMW X5, Mercedes GLE, Range Rover Sport, BMW X6, Audi Q8, Audi Q7, Lexus, and Jeep Watch and see the review of AWD's output of several well-known premium crossover.
Watch here: https://youtu.be/0H_UxhRXgec
ZIP CODES - near 
91101

91709

91723

91724

91737

91739

91748

91750

91791

91764

91702

91107

91103

91790

91761

91106

91792

91711

91105

91701

91730

91104

91762
CITIES near 
Pasadena
Chino Hills
Covina
Rancho Cucamonga
Rowland Heights
La Verne
West Covina
Ontario
Azusa
Claremont
A smooth and quiet yet powerful 48-volt hybrid-assist system backs the stop-start operation function of the vehicle.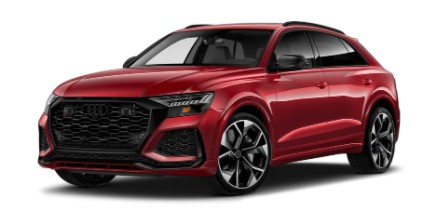 Audi RS Q8
For Audi RS Q8, the baseline price starts at $114,500 and go beyond with upgrades.
Audi RS Q8 has the practicality of an SUV, the dynamic design of an Audi coupe and the exceptional performance of an RS model. It sets a new standard as the leader of the new RS model line with its outstanding feature - a bi-turbo V8 engine, offering first-rate performance and a breathtaking driving experience. Audi's RS Q8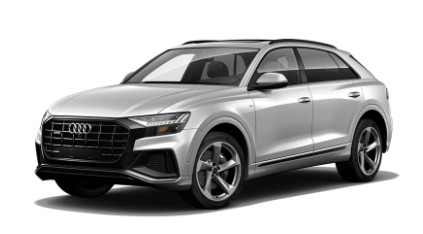 Audi Q8
The starting price for Audi Q8 is $68,200.
Audi Q8 is the Audi brand's new top SUV, with its outstanding driving dynamics, its functional practicality and the innovative design of an Audi coupe.
Frequently Asked Questions
Does the Audi Q8 comes with an extra tire?
TYes, Audi provided the e Q8 a standard space-saver spare tire.You can replace the flat tire so it you can flat tire repaired or replaced.
Is there a difference between an Audie Q7 and Q8?
Q8 seats only five while the Q7 can seat up to seven passengers.The Audi Q7 has larger cargo space measuring 71.6 cubic feet.
Is the Audi q8 bigger than the q7?
The Q8 follows the compact Q5 and the seven-seater Q7 in the Audi's roster. While the Q8 name indicates it is bigger than the Q7, much as the Audi sedan A8 is larger than the A7, it isn't. The Q8 has lesser passenger and cargo capacity than the Q7.
Are massage seats available in Audi Q8?
The Q8 is furnished with two seats three passengers, both are in the rear. These seats offer relaxation options like massage options, four-zone climate control, and Bang & Olfusen sound system for an Audi luxury experience. Audi planned to introduce a Remote Garage Pilot back in 2019. This feature allows the driver to park in and out of the parking space using a smartphone.
About 
Audi of West Covina

 Sales Department

At Audi West Covina, we're proud to announce that we're under new ownership and are now a part of Envision Motors. However, one thing that hasn't changed is our commitment to providing you withthe premium shopping experience that you deserve and supplying you with thesuperior product knowledge that helps you make an informed buying decision.
Brian Y. 
Pasadena, Los Angeles, CA
I had a pleasant experience at this dealership. And we all know it's not always that way! First, Davide was great in showing us the SUV's we came to see. He has a good grasp of the brand and features. I also appreciated his recommendations. Also big shout out to Te for helping me with a tricky financing situation on my side. Finally, thank you Nemer for being so easy to work with. I'm loving my new Audi and I'm happy to give my business to these guys. I'll be back when it's time to trade in!
Derek Wan 
Quick and simple! I would recommend Joseph as he was our dealer. He was courteous and efficient, helping us out every step of the way.Derek, We appreciate your kind words and are thrilled to hear Joseph took excellent care of you. Welcome to the Penske Audi West Covina family, we're always here for you! Best wishes, Tammie J., Penske Audi West Covina
郭家豪 
(Translated by Google) Thank you very much martin for helping me buy it. I am very satisfied. The price is also very good. Q7. He is a very responsible and enthusiastic person. (Original) 非常感谢martin 帮助我买了很满意 价格也非常好得Q7 他是一个非常负责人和热心得人 买奥迪找martin 准没错
noe feliciano 
(Translated by Google) Good treatment very experienced (Original) Buen trato muy experimentados
Clifton Heaivilin 
A smooth process without stress.
Audi of West Covina

 Sales Hours

Monday08:30 - 21:00

Tuesday08:30 - 21:00

Wednesday08:30 - 21:00

Thursday08:30 - 21:00

Friday08:30 - 21:00

Saturday08:30 - 21:00

Sunday10:00 - 20:00
Audi Q8 near Azusa | Audi Q8 near Chino Hills | Audi Q8 near Claremont | Audi Q8 near Covina | Audi Q8 near La-Verne | Audi Q8 near Ontario | Audi Q8 near Pasadena | Audi Q8 near Rancho Cucamonga | Audi Q8 near Rowland Heights | Audi Q8 near West Covina