The 2021 Audi RS Q8 has 600 mph of speed. During the interior and exterior review, how did the Audi Q8? fare? #RSQ8
Watch here: https://youtu.be/MNz6q9jixik
Test Drive | Everyday Driver Review: The Audi Q8, a discounted counterpart of a Lamborghini? In the trend of superfast SUVs, the Audi Q8 is the latest to make its impression. Its capability and output match up to the Lamborghini Urus, sharing much in common with that car. The guys test theQ8's features on a field trip through the highways and country roads to see first hand its abilities and weak points.
Watch here: https://youtu.be/zVlvHw9h5y4
The Ultimate SUV War: BMW X5, Mercedes GLE, Range Rover Sport, BMW X6, Audi Q8, Audi Q7, Lexus, and Jeep Watch and see the review of AWD's output of several well-known premium crossover.
Watch here: https://youtu.be/0H_UxhRXgec
Comparison Review: The BMW X6M vs Audi RS Q8, Who reigns as the King of Coupe SUV? What SUV coupe will be the right one for you? Let us know in the comments and post it on Facebook, Twitter, or Google+. :-)
Watch here: https://youtu.be/ARUywoPuY3M
ZIP CODES - near 
91105

91107

91701

91711

91724

91737

91748

91790

91702

91761

91739

91709

91101

91104

91730

91723

91103

91762

91791

91764

91106

91792

91722
CITIES near 
Pasadena
Rancho Cucamonga
Claremont
Covina
Rowland Heights
West Covina
Azusa
Ontario
Chino Hills
The Audi Q8 Quattro all-wheel drive is paired with an eight-speed automatic transmission.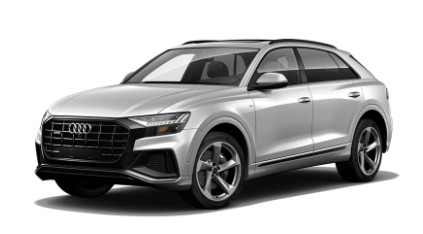 Audi Q8
The starting price for Audi Q8 is $68,200.
Audi Q8 is the Audi brand's new top SUV, with its outstanding driving dynamics, its functional practicality and the innovative design of an Audi coupe.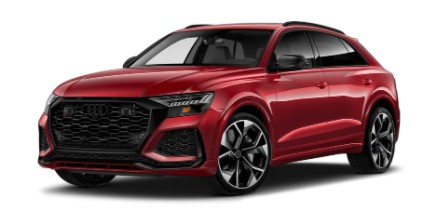 Audi RS Q8
For Audi RS Q8, the baseline price starts at $114,500 and go beyond with upgrades.
Audi RS Q8 has the practicality of an SUV, the dynamic design of an Audi coupe and the exceptional performance of an RS model. It sets a new standard as the leader of the new RS model line with its outstanding feature - a bi-turbo V8 engine, offering first-rate performance and a breathtaking driving experience. Audi's RS Q8
Frequently Asked Questions
Is the Audi q8 bigger than the q7?
The Q8 follows the compact Q5 and the seven-seater Q7 in the Audi's roster. While the Q8 name indicates it is bigger than the Q7, much as the Audi sedan A8 is larger than the A7, it isn't. The Q8 has lesser passenger and cargo capacity than the Q7.
Are massage seats available in Audi Q8?
The Q8 is furnished with two seats three passengers, both are in the rear. These seats offer relaxation options like massage options, four-zone climate control, and Bang & Olfusen sound system for an Audi luxury experience. Audi planned to introduce a Remote Garage Pilot back in 2019. This feature allows the driver to park in and out of the parking space using a smartphone.
Does Audi Q8 offers an eight-seat as an option?
The Audi Q8 limits it seating capacity to just five passengers. These comfortable leather upholstered seats are a standard.
How fast can an Audi Q8 go?
According to the German manufacturer, Q8 can run from zero to 100 km/h (0-62 mph) in three point eight seconds. But electronically, the top speed is 249 km/h (155 mph). A premium option can go top speed of 306 km/h (190 mph).
About 
Audi of West Covina

 Sales Department

At Audi West Covina, we're proud to announce that we're under new ownership and are now a part of Envision Motors. However, one thing that hasn't changed is our commitment to providing you withthe premium shopping experience that you deserve and supplying you with thesuperior product knowledge that helps you make an informed buying decision.
Paul Hayabusa 
Every business do run in to some hiccups. Big thank to Martin, Sam and Tony for their help correcting the issue. I just won't count on service department from this dealer. Parts department are great tho. Bought certified 2013 A6 with service plan for 35k and 45k Miles. Bring the car in for 35k miles, service rep are quite ignorant. For my 45k miles, I've decided to bring my car to another dealer. Long behold, service records show 45k service has been used for my 35k. Record also indicate my 35k service was used before I purchase the car. Sam pull it through for me.Paul, Thank you for bringing this to my attention. I would like the chance to speak with you to learn more about your service records and your experience with our staff. Can you please email me at dbutler@socalpenske.com with your preferred contact information? I appreciate your time! David Butler Service Director Penske Audi West Covina
Willie D. 
Los Angeles, CA
I visited the Store today and met with sales rep. Shadi Darwich and he was excellent . I explained to him what I was looking for ( Q8s ) and what I want in the car from comfort to looks and a lot and f power . Shadi took me through the the inventory and shows me some cars and he recommended  that I look at Q7s as well.  He took the time to show me and test drive both cars without any hesitation even after I explained to him that I'm not planing on doing anything this visit but look and feel . I then met with sales manager Nemer, whom thanked me for coming in and asked me about my experience with Shadi. I'm very pleased with everything happen with my visit and I will be coming back once I make a decision .Again, thank you for all the information and please keep up the good work .
Cest La Vie 
Always a pleasure. I've dealt with diff advisors for my cars' service- Taylor being my favorite! They always go above and beyond to not only meet, but surpass your expectations! As far as salesmen, Jack is your go to! He was detailed, honest and not pushy! Between Ontario Audi and Penske Audi, I'd take the drive any day to Penske!
Ron Valverde 
Thanks for the 5 star rating, Ron!
John F. 
Santa Rosa, CA
Best experience I've ever had at a auto dealership! I just recently bought a 2018 Honda CR-V from them that was traded in. They didn't hassle me and I got in and out in a reasonable amount of time. I appreciate when businesses are honest and don't try to trick you into buying unnecessary dealer fees. If you are looking for a relaxed car buying experience. Look no further!
Audi of West Covina

 Sales Hours

Monday08:30 - 21:00

Tuesday08:30 - 21:00

Wednesday08:30 - 21:00

Thursday08:30 - 21:00

Friday08:30 - 21:00

Saturday08:30 - 21:00

Sunday10:00 - 20:00
Audi Q8 near Azusa | Audi Q8 near Chino Hills | Audi Q8 near Claremont | Audi Q8 near Covina | Audi Q8 near La-Verne | Audi Q8 near Ontario | Audi Q8 near Pasadena | Audi Q8 near Rancho Cucamonga | Audi Q8 near Rowland Heights | Audi Q8 near West Covina