The 2020 Audi Q7 Meets Any Challenge Around West Covina Head-On
Precision German engineering doesn't stop at the engine in the 2020 Audi Q7. From its thoughtfully-designed interior to its cutting edge technology options, the Q7 exemplifies the very best of luxury SUV design. The spacious interior benefits from an oversized sunroof to fill the space with added light. The engine offers up to 369 pound-feet of torque for increased ease of maneuvering and added payload rating. The Q7 offers three trim levels: Premium, Premium Plus, and Prestige. All three trims share the impressive Quattro all-wheel drivetrain for added stability in a variety of climatic conditions around Pomona.
Safety Features
In addition to its bevy of safety design features that include an energy-absorbing chassis design, strategic airbag placement, and enhanced strength materials, the Audi Q7 also offers the latest in technologically-driven driver assistance safety features. Commanding a full range of sensors and onboard cameras allows the Q7 to avoid collisions in a variety of driving scenarios throughout La Puente. The vehicle can immediately sense objects to its front, rear, and sides, warning the driver of potential impact or stopping the vehicle automatically to avoid disaster. These same sensors allow the vehicle to maneuver safely in tight spaces like parking areas in both forward and reverse modes. Even passengers will get an alert when attempting to open doors with objects or pedestrians in their path.
Sensors can also keep drivers correctly positioned in their lane, while the adaptive cruise control system takes this one step further by automatically keeping the vehicle a safe distance from vehicles in both the front and rear. A helpful night vision setting opens up the road ahead even on the darkest of nights, making highway driving even safer through the use of thermal imaging that helps to identify animals or pedestrians that might otherwise be indistinguishable from other objects in the dark. This special screen displays just above the steering wheel for maximum visibility around Diamond Bar.
Interior
The minimalist interior of the new Audi Q7 allows items of importance full prominence. The inset touchscreen blends seamlessly with the sculpted dashboard, providing utility without interrupting the interior flow. Brushed metal accents gild the steering wheel and points along the dash and doors for added visual interest, while the rich leather seating grounds the interior in plush luxury. Ample legroom is available to both front and rear passengers, adding to the luxury of ample headroom from the ceiling arcing overhead. Warm and cold weather optional packages offer added comfort that changes with the season to include heated or air-conditioned seating, integrated sunshades, and all-weather floor mats.
The hands-free power tailgate makes loading cargo around Walnut a breeze, and the rear bay has a capacity of almost 70 cubic feet with the rear seats lowered. Both rear seat rows can be folded in a variety of creative patterns to better accommodate oddly shaped pieces of cargo. Seat seven total passengers, including the driver or reconfigure seating to allow for added comfort while hauling extra cargo.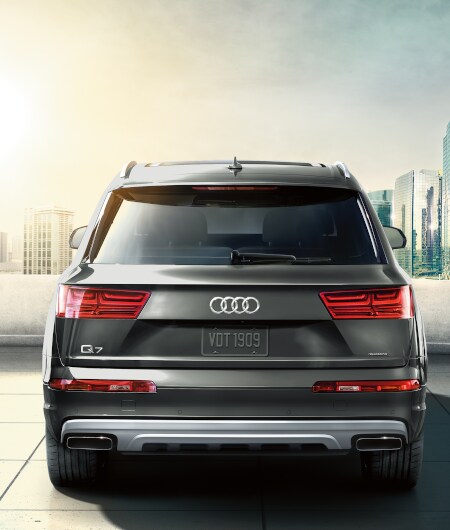 Technology Features
State of the art technology features place driver convenience as their focus in the Audi Q7. The innovative MMI infotainment system is fully customizable, allowing Los Angeles drivers to program their favorite controls to display prominently for ease of access while driving. There are options for voice command so that drivers can keep their focus on the road ahead while configuring entertainment or navigation options. Measuring a full 10 inches, the touchscreen display has a prominent place in the dashboard and is easily accessible for the front passenger as well.
The virtual cockpit system places a 12-inch display screen with vital information right above the steering wheel. Precise satellite GPS navigation fills the display, simplifying the process of following an unfamiliar driving route. A Dynamic display setting gives drivers a three-dimensional representation for added clarity. Two other display modes, Classic and Sport, render vital information in unique ways, allowing the driver to further customize the information they view while behind the wheel.
While stylish looks and finely tuned performance help the Audi Q7 to shine in West Covina, designers didn't skimp on audio experience while behind the wheel. Bang and Olufsen speakers promise concert quality sound from 23 strategically placed speakers and a 1,920-watt amplifier. A speaker embedded overhead aids in giving the impression of 360-degree sound experience made even better by Audi's integrated road noise dampening system.
Adding a subscription to Audi Connect places powerful tools in the hand of the driver, like an app-controlled car location feature, the ability to start the vehicle at a distance, and a Wi-Fi hotspot. The Q7 is also compatible with Apple CarPlay, allowing access to favorite Apple entertainment and information options.
Trim Levels
There are three different trim levels available for the new Audi Q7. They are:
Premium
Premium Plus
Prestige
Each of these unique trim levels is sure to turn heads around Pomona and La Puente thanks to their impressive style and connected technology. Our friendly and knowledgeable team members can help you pick out the right trim level for your unique driving needs and budget.
Visit Audi West Covina to Learn More
If you'd like to learn more about all the new Audi Q7 has to offer, we encourage you to visit our dealership in nearby West Covina soon to take a test drive of your favorite trim level. We can help you head home to the Los Angeles area in no time in the new Audi vehicle of your dreams. We look forward to working with you soon!