What Car?| The Luxury Car 2020 Audi Q8 Exceeds Expectations Is this going to be better than the Range Rover's Velar? Audi has introduced the all-new Q8 SUV, which uses the Q7's masterful SUV template and exchanging some simplicity for whippings of style. Visit our video review on YouTube to learn more.
Watch here: https://youtu.be/nWGjc9wBoD0
CarReviews EU: The 2021 Audi RS Q8 In the year 2021, the Audi RS Q8 (600 hp) will be available in Orca Black Metallic.
Watch here: https://youtu.be/KiaZgc-6nx8
The Ultimate SUV War: BMW X5, Mercedes GLE, Range Rover Sport, BMW X6, Audi Q8, Audi Q7, Lexus, and Jeep Watch and see the review of AWD's output of several well-known premium crossover.
Watch here: https://youtu.be/0H_UxhRXgec
Technical Comparison of 2020 BMW X6 and 2020 Audi Q8 Good afternoon, welcome to the comparison video of BMW X6 and Audi Q8. The data used for the comparison were purely based on the technical components of both automobiles. It is not a test drive of 2020 BMW X6 vs 2020 Audi Q8 review.
Watch here: https://youtu.be/tJvPNSdTyKA
ZIP CODES - near 
91702

91711

91724

91730

91737

91750

91761

91764

91790

91792

91105

91107

91709

91722

91104

91723

91748

91701

91739

91791

91101

91106

91103

91762
CITIES near 
Azusa
Claremont
Covina
Rancho Cucamonga
La Verne
Ontario
West Covina
Pasadena
Chino Hills
Rowland Heights
The Audi Q8 Quattro all-wheel drive is paired with an eight-speed automatic transmission.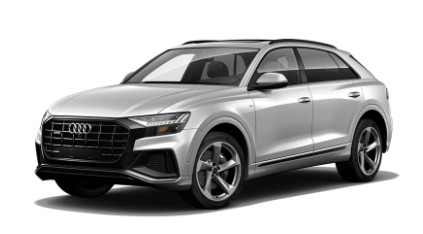 Audi Q8
The starting price for Audi Q8 is $68,200.
Audi Q8 is the Audi brand's new top SUV, with its outstanding driving dynamics, its functional practicality and the innovative design of an Audi coupe.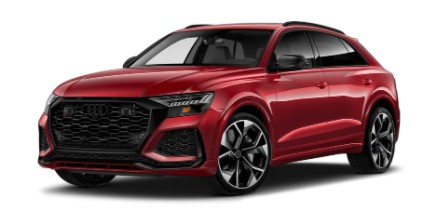 Audi RS Q8
For Audi RS Q8, the baseline price starts at $114,500 and go beyond with upgrades.
Audi RS Q8 has the practicality of an SUV, the dynamic design of an Audi coupe and the exceptional performance of an RS model. It sets a new standard as the leader of the new RS model line with its outstanding feature - a bi-turbo V8 engine, offering first-rate performance and a breathtaking driving experience. Audi's RS Q8
Frequently Asked Questions
Is there a difference between an Audie Q7 and Q8?
Q8 seats only five while the Q7 can seat up to seven passengers.The Audi Q7 has larger cargo space measuring 71.6 cubic feet.
Does Audi Q8 offers an eight-seat as an option?
The Audi Q8 limits it seating capacity to just five passengers. These comfortable leather upholstered seats are a standard.
Is the Audi q8 bigger than the q7?
The Q8 follows the compact Q5 and the seven-seater Q7 in the Audi's roster. While the Q8 name indicates it is bigger than the Q7, much as the Audi sedan A8 is larger than the A7, it isn't. The Q8 has lesser passenger and cargo capacity than the Q7.
How fast can an Audi Q8 go?
According to the German manufacturer, Q8 can run from zero to 100 km/h (0-62 mph) in three point eight seconds. But electronically, the top speed is 249 km/h (155 mph). A premium option can go top speed of 306 km/h (190 mph).
About 
Audi of West Covina

 Sales Department

At Audi West Covina, we're proud to announce that we're under new ownership and are now a part of Envision Motors. However, one thing that hasn't changed is our commitment to providing you withthe premium shopping experience that you deserve and supplying you with thesuperior product knowledge that helps you make an informed buying decision.
Gilbert Garcia 
Gr8 vehicles very professional
Joselo Lopez 
Excellent Service!!!!!!!
Kayla Abney 
Very friendly and accommodating.
Daniel V 
Had been shopping around for an Audi A4 for a bit and was between Audi West Covina and another location in Fontana. I was called by Audi Specialist Davide Gilberti and we set up a time to meet. Not only did he meet me outside but had the exact car I came to see ready for a test drive. He was knowledgeable and helpful in the car tour and explanation of services. I decided to purchase an Audi A4 and the negotiation process was easy because the dealership wanted to offer me as many benefits as possible while not impacting cost or keeping it very low. As we waited for financing Davide ensured I was comfortable and had anything I needed as you'd expect from a luxury car dealer. The sales managers Te-Hao Chiu and Nemer Sarriedine were exceptionally awesome and helpful and oversaw the deal exactly as I had expected. Ray Eldenaf, the Finance Manager, called me the next day and let me know there was a minor problem with my deal but that's only because he found a way for me to save more. I came back and received an even better offer. My key fob battery was low and the team helped me get a replacement battery with no problems. Chris, in the parts department helped me and was fast and knowledgeable to the battery I needed. All in all I had a great experience at Audi West Covina (Envision Motors). I would highly recommend this team.
Evan C. 
La Puente, CA
Just purchased a RS 5  from Envision....... Alex Tamayo Show me the  Best sedan in the world. I love it very much.  Can't fall asleep last night.  Professional  Manager team  ..... no bullshit .....Got me a great deal on a service package..... and monthly payment....they worked out with me ............ hope can be more cheaper lol .........Thanks you audi west covina
Audi of West Covina

 Sales Hours

Monday08:30 - 21:00

Tuesday08:30 - 21:00

Wednesday08:30 - 21:00

Thursday08:30 - 21:00

Friday08:30 - 21:00

Saturday08:30 - 21:00

Sunday10:00 - 20:00
Audi Q8 near Azusa | Audi Q8 near Chino Hills | Audi Q8 near Claremont | Audi Q8 near Covina | Audi Q8 near La-Verne | Audi Q8 near Ontario | Audi Q8 near Pasadena | Audi Q8 near Rancho Cucamonga | Audi Q8 near Rowland Heights | Audi Q8 near West Covina