2015 Audi S7 Sportback: A Guide for Buyers This is a review of the 2015 Audi S7 Sportback featuring a 4.0L Quattro model with 50k miles, plus an analysis of the Audi A7 Sportback with 100k miles. The 2015 Audi S7 Sportback is a unique class of its own and basically does everything.
Watch here: https://youtu.be/L7JtXOeVUI8
Drag Race: Audi RS7 vs Dodge Challenger Audi RS7, one of the best sports car there is, is challenged by R/T Scat Pack 1320, a street-legal, drag-oriented muscle car generating 485 horsepower.
Watch here: https://youtu.be/nvCuDa1G3N4
ZIP CODES - near 
91104

91701

91709

91711

91724

91737

91739

91762

91791

91792

91107

91722

91103

91702

91761

91750

91106

91101

91764

91748

91105

91723

91730
CITIES near 
Pasadena
Rancho Cucamonga
Chino Hills
Claremont
Covina
Ontario
West Covina
Azusa
La Verne
Rowland Heights
The Audi S7 features an all-new twin-turbocharged and supercharged 2.9-liter V-6. While it's quieter than its predecessor, a twin-turbo 4.0-liter, drivers still get a powerful drive without the noise and a 0 to 100 speed of 4.7 seconds.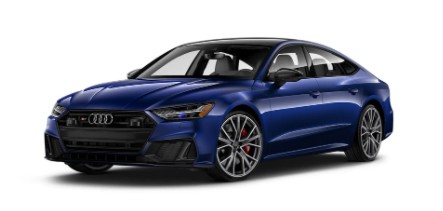 Audi S7
Priced at $84,400 and up*
Audi S7 carries the Sportback's classical design and dynamic performance but with a sportier experience and up to five seating capacity. It is also notable for its astounding functionality.
Frequently Asked Questions
Is it worth to own an Audi S7?
Although a level up to the more aggressive Audi S7 sacrifices a little cabin quietness and ride comfort, the trade-off is super worth it. The 2018 S7 model gets its power from a 450hp V8, which on paper could seem an exaggeration but not from behind the wheel. Anyone driving S7 would be in awe of its agility, fastness and delightful and confident performance.
What is the speed of Audi S7?
190 miles per hour Audi's S7 generates 450 horsepower, while the base RS 7 can produce 560 horsepower. RS 7 Performance, on the other hand, makes 605 horsepower. All provide incredible power and acceleration. The range-topping RS 7 Performance can go 0-60 mph in just 3.6 seconds and can reach a top speed of 190 mph.
How much horsepower is there in an Audi S7?
450 horsepower In Audi's S7 model, a turbocharged 4.0L V-8 engine produces 450hp and 406lb-ft of torque and is connected to a 7-speed dual-clutch automatic transmission.
How much does an Audi S7 cost?
Audi S7 has an MSRP (manufacturer's suggested retail price) of around $83,900, including the destination charge. Its model Prestige quattro 4-door Sedan all-wheel drive (2.9L 6cyl Twincharger gas/electric hybrid 8A) starts from $89,500. Its other versions are
About 
Audi of West Covina

 Sales Department

At Audi West Covina, we're proud to announce that we're under new ownership and are now a part of Envision Motors. However, one thing that hasn't changed is our commitment to providing you with the premium shopping experience that you deserve and supplying you with the superior product knowledge that helps you make an informed buying decision.
REVIEWS
from our West Covina Customers
Robert Cullen 
Super helpful and they work hard to meet what you can afford.
Matthew Tran 
Pleasant buying experience. Nick was relaxing to work with and was patient while I was picking out which Audi I wanted to buy. I would buy from Audi West Covina again
Joseph Tuan 
Came here to purchase my Audi A4 and met Martin Lin. He had one of the finest customer service skills. Came up to me with a welcoming face and was very genuine about answering my concerns and questions. Martin went above and beyond when looking for the perfect car. He took me back to look at all the available cars. Made sure that I was comfortable through the entire process. I highly recommend coming to this location and dealership for a smooth purchasing experience.
allison bautista 
Great customer service!Thank you for your great rating Allison! Our customer service staff takes great pride in helping our customers.
MOON BAD 
(Translated by Google) well (Original) 很好
Audi of West Covina

 Sales Hours

Monday08:30 - 21:00

Tuesday08:30 - 21:00

Wednesday08:30 - 21:00

Thursday08:30 - 21:00

Friday08:30 - 21:00

Saturday08:30 - 21:00

Sunday10:00 - 20:00
Audi S7 near Azusa
 | 
Audi S7 near Chino Hills
 | 
Audi S7 near Claremont
 | 
Audi S7 near Covina
 | 
Audi S7 near La-Verne
 | 
Audi S7 near Ontario
 | 
Audi S7 near Pasadena
 | 
Audi S7 near Rancho Cucamonga
 | 
Audi S7 near Rowland Heights
 | 
Audi S7 near West Covina