2015 Audi S7 Sportback: A Guide for Buyers This is a review of the 2015 Audi S7 Sportback featuring a 4.0L Quattro model with 50k miles, plus an analysis of the Audi A7 Sportback with 100k miles. The 2015 Audi S7 Sportback is a unique class of its own and basically does everything.
Watch here: https://youtu.be/L7JtXOeVUI8
2020 Audi S7: A Quick Look Audi's S models balance the performance of RS models and the standard features of A models. Not all S cars can achieve such perfect balance, making #Audi S7 the best in its class.
Watch here: https://youtu.be/2oBAckTlQcY
Audi S7 vs Nissan GTR vs BMW M5: Which Is Better? Mafia's here again to do business all the way from Dubai. Today, Audi S7 is challenged by the German beast and the Japanese monster.
Watch here: https://youtu.be/VUEBzJg8jDE
ZIP CODES - near 
91105

91702

91722

91730

91750

91761

91764

91792

91107

91701

91103

91101

91709

91104

91724

91711

91739

91791

91762

91790

91748

91106

91723

91737
CITIES near 
Pasadena
Azusa
Covina
Rancho Cucamonga
La Verne
Ontario
West Covina
Chino Hills
Claremont
Rowland Heights
With a commanding performance, the S7 can be considered a more supercharged version of the A7, which features a 4.0 L biturbo TFSI V8 engine, giving drivers 406 lb. ft. of torque, and a quattro four-wheel drive system and 7-speed S-tronic gearbox.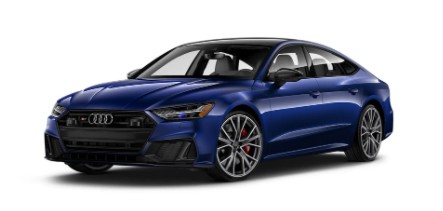 Audi S7
Priced at $84,400 and up*
Audi S7 carries the Sportback's classical design and dynamic performance but with a sportier experience and up to five seating capacity. It is also notable for its astounding functionality.
Frequently Asked Questions
What is the speed of Audi S7?
190 miles per hour Audi's S7 generates 450 horsepower, while the base RS 7 can produce 560 horsepower. RS 7 Performance, on the other hand, makes 605 horsepower. All provide incredible power and acceleration. The range-topping RS 7 Performance can go 0-60 mph in just 3.6 seconds and can reach a top speed of 190 mph.
How much horsepower is there in an Audi S7?
450 horsepower In Audi's S7 model, a turbocharged 4.0L V-8 engine produces 450hp and 406lb-ft of torque and is connected to a 7-speed dual-clutch automatic transmission.
In terms of appearance, how does Audi A7 and S7 differ?
Audi's 2020 A7 has an elegant but sporty style. ... S7, on the other hand, has a bolder look. Its quad exhaust finishers and unique grille treatment are some of its standard features.
When was Audi S7 released?
Audi S7 was launched at the Frankfurt Auto Show in 2011, then at the Audi quattro Cup in 2012. It was first delivered in spring 2012.
About 
Audi of West Covina

 Sales Department

At Audi West Covina, we're proud to announce that we're under new ownership and are now a part of Envision Motors. However, one thing that hasn't changed is our commitment to providing you with the premium shopping experience that you deserve and supplying you with the superior product knowledge that helps you make an informed buying decision.
REVIEWS
from our Pasadena Customers
David Alvarez 
Recently bought a used car from here and had a great experience! Another reason why I'll be coming back in the future.Thank you for the fantastic rating, David! We hope to see you again in the future! Best wishes, Penske Audi West Covina
Thomas Young 
I have been to Penske Audi West Covina twice since purchasing my Audi A6 from Riverside Audi. On both occasions I was assisted by Service Advisor Chris Martin. The 1st time I had a question and the 2nd time it was for my 5,000 mile service. I have had three BMW's over the past 10 years but I have never been help more than what I received from Chris and the Penske Audi West Covina Dealership. Helpful, knowledgeable, and without a doubt, exceeded my wishes for reliable assistance. West Covina will be where I continue going to receive service and help in the future!!Thomas, Thank you so much for this excellent review! We are so delighted to hear that Chris was so helpful on both of your visits to our dealership. We will be sure to share this with him and the rest of the team and let them know that their hard work is appreciated. We are looking forward to your next visit! Happy Holidays, Penske Audi West Covina
Manuel Garcia 
Service department do call as they said they wood other than that they do a food job
Andrzej Potasinski 
I have very good experience buying a CPO Audi Q5 from the Penske West Covina dealer. I enjoyed working for along time with Joseph, Internet Manager, who was excellent - very professional, courteous, patient with my taking the time for a few weeks searching the right CPO Audi. He quickly provided me with all the information I need on different cars to find the right fit for me without any sales pressure. I also liked the opportunity to discuss the car with their Audi tech person - super nice guy - who explained in details the work he completed on the car under the Audi certification program. In addition, I enjoyed working out the financial details with the finance managers, Vianka and Ted - both very professional and pleasure to work with. Overall, it was very good experience especially comparing it to some other LA-based Audi dealers who were more aggressive for my taste and made up some "narratives" for quick sales. I will update this review for Penske for the post-sale service department at the time of regular maintenance.
Christina Carvajal 
I had a wonderful experience. Christian was very helpful, honest and knowledgeable throughout the deal. I drove off the lot very happy!Christina, Thank you so much for your review! We are so happy to hear that Christian provided you with professional customer service and was able to answer all of your questions. We hope you are enjoying your new Audi! Sincerely, Penske Audi West Covina
Audi of West Covina

 Sales Hours

Monday08:30 - 21:00

Tuesday08:30 - 21:00

Wednesday08:30 - 21:00

Thursday08:30 - 21:00

Friday08:30 - 21:00

Saturday08:30 - 21:00

Sunday10:00 - 20:00
Audi S7 near Azusa
 | 
Audi S7 near Chino Hills
 | 
Audi S7 near Claremont
 | 
Audi S7 near Covina
 | 
Audi S7 near La-Verne
 | 
Audi S7 near Ontario
 | 
Audi S7 near Pasadena
 | 
Audi S7 near Rancho Cucamonga
 | 
Audi S7 near Rowland Heights
 | 
Audi S7 near West Covina