2020 Audi A7 Sportback: Is It Worth the Price? The new A7 Sportback surely has some modifications, but what it retained is its versatility. Audi A7 Sportsback comes with a 3.06-liter V6 turbocharged engine generating 335 horsepower paired with a seven-speed DCT transmission. Its exterior impresses with a revised front fascia, rear bumper and wheels.
Watch here: https://youtu.be/lLh3gBMUuDo
Drag Race: Audi RS7 vs Dodge Challenger Audi RS7, one of the best sports car there is, is challenged by R/T Scat Pack 1320, a street-legal, drag-oriented muscle car generating 485 horsepower.
Watch here: https://youtu.be/nvCuDa1G3N4
First Drive: Audi S7 Sportback & Audi S6 Sedan $300,000+ worth of cars, in one day
A road trip in the Audi S7 Sportback, returning in the S6 Sedan
Watch here: https://youtu.be/Tgl-85RIQsc
ZIP CODES - near 
91101

91107

91701

91737

91739

91750

91762

91791

91792

91702

91724

91748

91730

91105

91723

91764

91709

91104

91103

91790

91722

91106

91761

91711
CITIES near 
Pasadena
Rancho Cucamonga
La Verne
Ontario
West Covina
Azusa
Covina
Rowland Heights
Chino Hills
Claremont
The S7 is a substantial vehicle, weighing 4,640 lbs., an increase of over 130 lbs. from previous models, due to the improved electric supercharger system.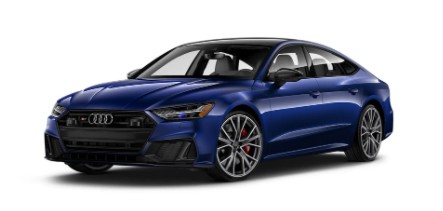 Audi S7
Priced at $84,400 and up*
Audi S7 carries the Sportback's classical design and dynamic performance but with a sportier experience and up to five seating capacity. It is also notable for its astounding functionality.
Frequently Asked Questions
Is it worth to own an Audi S7?
Although a level up to the more aggressive Audi S7 sacrifices a little cabin quietness and ride comfort, the trade-off is super worth it. The 2018 S7 model gets its power from a 450hp V8, which on paper could seem an exaggeration but not from behind the wheel. Anyone driving S7 would be in awe of its agility, fastness and delightful and confident performance.
When was Audi S7 released?
Audi S7 was launched at the Frankfurt Auto Show in 2011, then at the Audi quattro Cup in 2012. It was first delivered in spring 2012.
How much is Audi S7 sold in Saudi Arabia?
Audi S7 Sportback costs around R1,500,500. This includes a 5-year/100,000km Audi Freeway Plan.
Is Audi's S7 model supercharged?
A7 has a supercharged V-6 gas engine. Its available performance variants are S7 and RS 7, which are both powered by turbocharged V-8 engines. The output of the supercharged V-6 is up to 340hp, and it has standard LED ambient lighting.
About 
Audi of West Covina

 Sales Department

At Audi West Covina, we're proud to announce that we're under new ownership and are now a part of Envision Motors. However, one thing that hasn't changed is our commitment to providing you with the premium shopping experience that you deserve and supplying you with the superior product knowledge that helps you make an informed buying decision.
REVIEWS
from our Ontario Customers
P Tsai 
Great dealership, great car Philip, Thank you so much for taking the time to share your experience with us. We love to hear when our guests have a great visit to our dealership! We are always here to help with any of your automotive needs. Thanks again, Penske Audi West Covina
Andrzej Potasinski 
I have very good experience buying a CPO Audi Q5 from the Penske West Covina dealer. I enjoyed working for along time with Joseph, Internet Manager, who was excellent - very professional, courteous, patient with my taking the time for a few weeks searching the right CPO Audi. He quickly provided me with all the information I need on different cars to find the right fit for me without any sales pressure. I also liked the opportunity to discuss the car with their Audi tech person - super nice guy - who explained in details the work he completed on the car under the Audi certification program. In addition, I enjoyed working out the financial details with the finance managers, Vianka and Ted - both very professional and pleasure to work with. Overall, it was very good experience especially comparing it to some other LA-based Audi dealers who were more aggressive for my taste and made up some "narratives" for quick sales. I will update this review for Penske for the post-sale service department at the time of regular maintenance.
Chris Martin 
Really friendly sales and service staff. Easy to get an appointment on the day you wanna come in. They offer car wash when vehicle is serviced and comes out looking really good.
Carly Crabtree 
It was the fastest and easiest car buying experience we've ever had. Very happy with what we got. Joseph was friendly and informative, and Sam had all the paperwork done quickly.
Thomas Ezell 
Thomas, Thanks so much for taking the time to review our dealership! We're delighted your experience was a positive one and hope you'll visit us again in the future! Best wishes, Penske Audi West Covina
Audi of West Covina

 Sales Hours

Monday08:30 - 21:00

Tuesday08:30 - 21:00

Wednesday08:30 - 21:00

Thursday08:30 - 21:00

Friday08:30 - 21:00

Saturday08:30 - 21:00

Sunday10:00 - 20:00
Audi S7 near Azusa
 | 
Audi S7 near Chino Hills
 | 
Audi S7 near Claremont
 | 
Audi S7 near Covina
 | 
Audi S7 near La-Verne
 | 
Audi S7 near Ontario
 | 
Audi S7 near Pasadena
 | 
Audi S7 near Rancho Cucamonga
 | 
Audi S7 near Rowland Heights
 | 
Audi S7 near West Covina