2020 Audi S7: A Quick Look Audi's S models balance the performance of RS models and the standard features of A models. Not all S cars can achieve such perfect balance, making #Audi S7 the best in its class.
Watch here: https://youtu.be/2oBAckTlQcY
2020 Audi S7 Sportback TDI: Review and Test Drive This is the second installment of my tenth anniversary special, a review of the new 2020 Audi S7 Sportback. Here we will talk about the exciting features of this new model: a 700nm torque diesel, a V6-TDI engine and an exceptional-handling chassis.
Watch here: https://youtu.be/OBGABbMeFpQ
Audi S7 vs Nissan GTR vs BMW M5: Which Is Better? Mafia's here again to do business all the way from Dubai. Today, Audi S7 is challenged by the German beast and the Japanese monster.
Watch here: https://youtu.be/VUEBzJg8jDE
¼-Mile Drag Race: Audi S7 4.0 TFSI Quattro vs 2014 Nissan GT-R R35 Alan Majak 2012 Audi S7 4.0 TFSI V8 Stage 2 (RS7 bodykit) challenged by Tormis Hoffmann 704hp 1034Nm 2014 Nissan GT-R R35 3.8 V6 Biturbo VR38DETT in a ¼-mile drag race @ Speedest Glassdrive Racing 2020
Watch here: https://youtu.be/NAy3pryIdgY
ZIP CODES - near 
91104

91107

91709

91711

91737

91750

91764

91101

91762

91730

91722

91791

91748

91723

91103

91792

91106

91790

91724

91105

91739

91702

91761
CITIES near 
Pasadena
Chino Hills
Claremont
Rancho Cucamonga
La Verne
Ontario
Covina
West Covina
Rowland Heights
Azusa
With a commanding performance, the S7 can be considered a more supercharged version of the A7, which features a 4.0 L biturbo TFSI V8 engine, giving drivers 406 lb. ft. of torque, and a quattro four-wheel drive system and 7-speed S-tronic gearbox.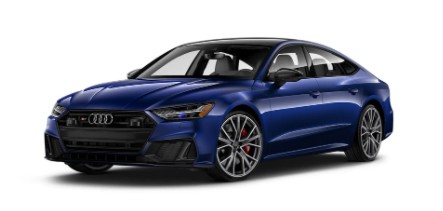 Audi S7
Priced at $84,400 and up*
Audi S7 carries the Sportback's classical design and dynamic performance but with a sportier experience and up to five seating capacity. It is also notable for its astounding functionality.
Frequently Asked Questions
How much horsepower is there in an Audi S7?
450 horsepower In Audi's S7 model, a turbocharged 4.0L V-8 engine produces 450hp and 406lb-ft of torque and is connected to a 7-speed dual-clutch automatic transmission.
How is S7 different from RS7?
Audi S7 produces 450 horsepower and has a standard of 7-speed automatic transmission. On the other hand, the base RS 7 generates 560hp and RS 7 Performance makes 605hp, both of which have a standard of 8-speed automatic transmission.
What is the speed of Audi S7?
190 miles per hour Audi's S7 generates 450 horsepower, while the base RS 7 can produce 560 horsepower. RS 7 Performance, on the other hand, makes 605 horsepower. All provide incredible power and acceleration. The range-topping RS 7 Performance can go 0-60 mph in just 3.6 seconds and can reach a top speed of 190 mph.
How reliable is Audi S7?
Audi S7's Reliability Rating For luxury full-sized cars, reliability rating is averaged at 2.5. However, no specific rating is available for Audi S7 at this time.
About 
Audi of West Covina

 Sales Department

At Audi West Covina, we're proud to announce that we're under new ownership and are now a part of Envision Motors. However, one thing that hasn't changed is our commitment to providing you with the premium shopping experience that you deserve and supplying you with the superior product knowledge that helps you make an informed buying decision.
REVIEWS
from our Rancho Cucamonga Customers
Cest La Vie 
Always a pleasure. I've dealt with diff advisors for my cars' service- Taylor being my favorite! They always go above and beyond to not only meet, but surpass your expectations! As far as salesmen, Jack is your go to! He was detailed, honest and not pushy! Between Ontario Audi and Penske Audi, I'd take the drive any day to Penske!
Wesley Yu 
Wesley, Thank you for your honest feedback of our dealership. We strive for five-star customer service and are concerned to see that yours was not. We would appreciate the chance to speak with you further about your visit. Could you please email our Service Manager, David Butler, at dbutler@socalpenske.com? Thank you, Penske Audi West Covina
Maria Estrada 
Quite pleased with my experience.
Chris Martin 
Really friendly sales and service staff. Easy to get an appointment on the day you wanna come in. They offer car wash when vehicle is serviced and comes out looking really good.
Tiffany Leonard 
Shane gave us a great test drive.Tiffany, Thank you for sharing your feedback with us! We are so glad to hear that you had an excellent test drive with Shane! Thanks again, Penske Audi West Covina
Audi of West Covina

 Sales Hours

Monday08:30 - 21:00

Tuesday08:30 - 21:00

Wednesday08:30 - 21:00

Thursday08:30 - 21:00

Friday08:30 - 21:00

Saturday08:30 - 21:00

Sunday10:00 - 20:00
Audi S7 near Azusa
 | 
Audi S7 near Chino Hills
 | 
Audi S7 near Claremont
 | 
Audi S7 near Covina
 | 
Audi S7 near La-Verne
 | 
Audi S7 near Ontario
 | 
Audi S7 near Pasadena
 | 
Audi S7 near Rancho Cucamonga
 | 
Audi S7 near Rowland Heights
 | 
Audi S7 near West Covina