2020 Audi S7: A Walkaround to this Beautiful 5-Seaters Owing to its 444 horsepower and 443 pound-foot of torque, the 2020 Audi S7 accelerates at a speed of 60 miles per hour in 4.5 seconds and can likewise accelerate to over $100K with option. This model is priced at $84,000 and above.
Watch here: https://youtu.be/qT5HzYwkK0s
Drag Race: Audi RS7 vs Dodge Challenger Audi RS7, one of the best sports car there is, is challenged by R/T Scat Pack 1320, a street-legal, drag-oriented muscle car generating 485 horsepower.
Watch here: https://youtu.be/nvCuDa1G3N4
ZIP CODES - near 
91101

91104

91701

91702

91711

91722

91761

91762

91750

91739

91730

91791

91792

91107

91709

91723

91105

91106

91737

91103

91764

91790

91724
CITIES near 
Pasadena
Rancho Cucamonga
Azusa
Claremont
Covina
Ontario
La Verne
West Covina
Chino Hills
With a commanding performance, the S7 can be considered a more supercharged version of the A7, which features a 4.0 L biturbo TFSI V8 engine, giving drivers 406 lb. ft. of torque, and a quattro four-wheel drive system and 7-speed S-tronic gearbox.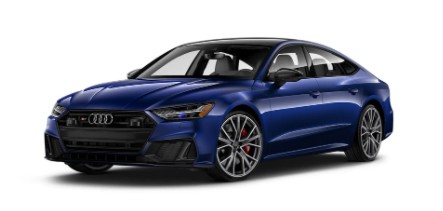 Audi S7
Priced at $84,400 and up*
Audi S7 carries the Sportback's classical design and dynamic performance but with a sportier experience and up to five seating capacity. It is also notable for its astounding functionality.
Frequently Asked Questions
Is it worth to own an Audi S7?
Although a level up to the more aggressive Audi S7 sacrifices a little cabin quietness and ride comfort, the trade-off is super worth it. The 2018 S7 model gets its power from a 450hp V8, which on paper could seem an exaggeration but not from behind the wheel. Anyone driving S7 would be in awe of its agility, fastness and delightful and confident performance.
Is Audi's S7 model supercharged?
A7 has a supercharged V-6 gas engine. Its available performance variants are S7 and RS 7, which are both powered by turbocharged V-8 engines. The output of the supercharged V-6 is up to 340hp, and it has standard LED ambient lighting.
In terms of appearance, how does Audi A7 and S7 differ?
Audi's 2020 A7 has an elegant but sporty style. ... S7, on the other hand, has a bolder look. Its quad exhaust finishers and unique grille treatment are some of its standard features.
How much is Audi S7 sold in Saudi Arabia?
Audi S7 Sportback costs around R1,500,500. This includes a 5-year/100,000km Audi Freeway Plan.
About 
Audi of West Covina

 Sales Department

At Audi West Covina, we're proud to announce that we're under new ownership and are now a part of Envision Motors. However, one thing that hasn't changed is our commitment to providing you with the premium shopping experience that you deserve and supplying you with the superior product knowledge that helps you make an informed buying decision.
REVIEWS
from our Rowland Heights Customers
AA Cabinetry 
Always good service and take care of the small issues quickly. Got engine oil quickly refilled though they are very busy today!
Rudy Rojas 
Great service department ask for Steven
Cest La Vie 
Always a pleasure. I've dealt with diff advisors for my cars' service- Taylor being my favorite! They always go above and beyond to not only meet, but surpass your expectations! As far as salesmen, Jack is your go to! He was detailed, honest and not pushy! Between Ontario Audi and Penske Audi, I'd take the drive any day to Penske!
Nicholas H. 
Los Angeles, CA
Recently my girlfriend and I both leased cars here and we had an amazing experience. They were able to work with us on prices and were very understanding of the current situation of covid. Xiomy in particular was the one who helped us throughout the entire process for multiple days and she is still reaching out helping make sure our cars are in tip top shape. We are both very appreciative of her efforts, her patience and her communication. Looking forward to staying in contact and I know that as long as she is there any services we need she will make sure to help us figure out the issue.
Robert Franks 
Couldn't ask for better service, Tony the sales manager is the man! Keeping me updated and informed with the entire process. Would definitely work with these guys again!
Audi of West Covina

 Sales Hours

Monday08:30 - 21:00

Tuesday08:30 - 21:00

Wednesday08:30 - 21:00

Thursday08:30 - 21:00

Friday08:30 - 21:00

Saturday08:30 - 21:00

Sunday10:00 - 20:00
Audi S7 near Azusa
 | 
Audi S7 near Chino Hills
 | 
Audi S7 near Claremont
 | 
Audi S7 near Covina
 | 
Audi S7 near La-Verne
 | 
Audi S7 near Ontario
 | 
Audi S7 near Pasadena
 | 
Audi S7 near Rancho Cucamonga
 | 
Audi S7 near Rowland Heights
 | 
Audi S7 near West Covina