The 2020 Audi S4 is a Near Perfect Sport Sedan For Enthusiasts Looking For a Sleeper
For over 20 years, the #AudiS4 has been one of the best sleeper fast sedans for enthusiasts looking to slide a little under the radar. The current model has about 350 HP, standard Quattro AWD, and the ability to sprint to 60 MPH in about 4.4 seconds. For 2020, #AudiFirstDriv...
Watch here: https://youtu.be/Gyce1MCNdoI
Audi S4 2017 In-Depth Review
Welcome to OSV, the UK's leading independent vehicle supplier. Our videos will tell you all you need to know about the latest cars, models, specifications and how to buy or lease from one trusted source!
Watch here: https://youtu.be/mm89uewbG7Y
BMW 440i (326hp) vs Audi S4 (354hp) Acceleration 0-200+ km/h
2017 BMW 440i F32 (326hp 3.0L Turbo I6) vs 2017 Audi S4 B9 (354hp 3.0L Turbo V6)
Watch here: https://youtu.be/HCX5Yh1bPoI
1300HP Audi S4 B5 vs 1500HP Bugatti Chiron
This video features the 1500HP Bugatti Chiron participated in this years SCC500's event 'Rolling50 Deutsche Meisterschaft' on Black Forest Airport in Lahr, Germany. This event is all about drag racing. 1000m, a rolling start at 50km/h and insane cars!
Watch here: https://youtu.be/iMOBMG3AT5E
ZIP CODES - near 
91106

91722

91723

91739

91792

91761

91711

91107

91762

91790

91724

91748

91730

91750

91104

91702

91737

91101

91103

91791

91764

91105

91709
CITIES near 
Pasadena
Covina
Rancho Cucamonga
West Covina
Ontario
Claremont
Rowland Heights
La Verne
Azusa
Chino Hills
The Audi S4 could be the perfect midpoint for a lot of luxury mid-size sedan or wagon buyers. It's not the full-fat hardcore RS4 that costs about fifty per cent more, but nor is it a 'standard' A4 by any measure.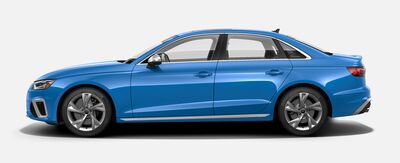 2021 S4 Sedan Premium Plus
TFSI® quattro® Tiptronic®
MSRP - $53,500
Audi virtual cockpit (12.3" LCD digital instrument cluster)
Top view camera system
Convenience package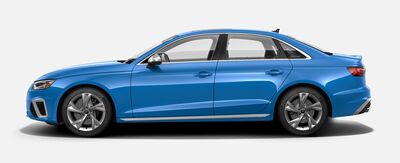 2021 S4 Sedan Prestige
Prestige TFSI quattro tiptronic
MSRP - $58,200
Bang & Olufsen® sound system with 3D sound
Park assist
Head-up display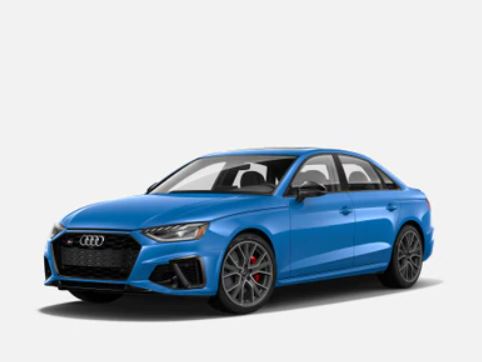 2020 Audi S4 3.0T Prestige Sedan
Prestige TFSI® quattro® Tiptronic®
MSRP - $66,195
Fuel Economy : 20.0/27.0 City/Hwy
Transmission : 8 speed automatic
Engine : 3.0L V-6 cyl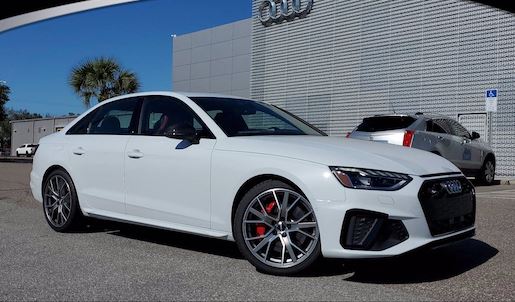 2021 Audi S4 3.0T Prestige Sedan
MSRP - $68,375
Fuel Economy : 20.0/28.0 mpg City/Hwy
Body/Seating : Sedan/5 seats
Engine : 3.0L V-6 cyl
Drivetrain : quattro all-wheel
Frequently Asked Questions
What's the 2020 Audi S4 horsepower?
The 2020 Audi s4 has 349 horsepower.
What engine size is the Audi S4?
Audi S4 vehicles all carry 3.0-litre engines.
How much mpg does the Audi S4 Avant get?
According to the official figures, the Audi S4 Avant's fuel economy ranges between 39mpg and 40mpg.
What are some of the Audi s4 power steering problems?
Some potential problems with the power steering in a 2020 audi s4 are due to leaking power steering fluid and cracked or worn hoses.
About 
Audi of West Covina

 Sales Department

At Audi West Covina, we're proud to announce that we're under new ownership and are now a part of Envision Motors. However, one thing that hasn't changed is our commitment to providing you withthe premium shopping experience that you deserve and supplying you with thesuperior product knowledge that helps you make an informed buying decision.
REVIEWS
from our Rancho Cucamonga Customers
Sister Robinson 
Can be persistentThanks for the 5 star rating, Sister!
Patricio Lata 
Thanks for the 5 stars, Patricio!
Steph Michele 
Steph, Thank you so much for taking the time to share your positive feedback with us! Sincerely, Shawn Clancy General Manager Penske Audi West Covina
Doug Heideman 
I purchased a 2012 A6 3.0 Prestige December 4 2012. Tim Moore in sales was very knowledgeable, professional and low key. During the test drive he demonstrated many of the A6's considerable features. He also knew the answers to all of my questions. After the test drive I told him I was interested in buying but I had another appointment and needed to leave. I asked him to call me with the 3 prices; sticker, dealer invoice and what they would sell the car for. I explained that I was not interested in haggling over price and the selling price needed to be their best offer the first time. Tim Moore call me back later in the day and gave me the prices I had requested. I was pleasantly surprised at the selling price. I thought about it, called him the next day and told him I wanted to buy the car. When I arrived at the dealership Tim introduced me to the sales manager Peter Abysekera. Peter wanted to show me the dealer invoice and asked if I had any other questions. I told him no I was ready to buy. I filled out the credit application and met Sam Hafez in the finance department. Sam was very congenial and did not try to pressure me into buying an extended warranty, interior protection packages etc. While the car was detailed Peter and Tim gave me a tour of the dealership and introduced me to the general and parts and service managers. The car was delivered in spotless condition. Tim then programmed the SIM card for the Audi Connect and reviewed a few more features. My buying experience at Audi West Covina was the best. I cannot say enough about the quality of the people I met, their openness, honesty and the low key selling environment. I highly recommend this dealership.Hi Doug, Thank you so much for leaving us such a wonderful review; your kind words are much appreciated. Everyone here enjoyed working with you, and we all wish you the best with your new Audi A6. Please let us know if we can do anything else for you in the future. Sincerely, Penske Audi West Covina
Rudy Rojas 
Great service department ask for Steven
Audi of West Covina

 Sales Hours

Monday08:30 - 21:00

Tuesday08:30 - 21:00

Wednesday08:30 - 21:00

Thursday08:30 - 21:00

Friday08:30 - 21:00

Saturday08:30 - 21:00

Sunday10:00 - 20:00
Audi S4 near Azusa
 | 
Audi S4 near Chino Hills
 | 
Audi S4 near Claremont
 | 
Audi S4 near Covina
 | 
Audi S4 near La-Verne
 | 
Audi S4 near Ontario
 | 
Audi S4 near Pasadena
 | 
Audi S4 near Rancho Cucamonga
 | 
Audi S4 near Rowland Heights
 | 
Audi S4 near West Covina