The 2020 Audi S4 is a Near Perfect Sport Sedan For Enthusiasts Looking For a Sleeper
For over 20 years, the #AudiS4 has been one of the best sleeper fast sedans for enthusiasts looking to slide a little under the radar. The current model has about 350 HP, standard Quattro AWD, and the ability to sprint to 60 MPH in about 4.4 seconds. For 2020, #AudiFirstDriv...
Watch here: https://youtu.be/Gyce1MCNdoI
Is the updated 2020 Audi S4 the nearly PERFECT luxury sport sedan?
The NEW Audi S4 is here and receives some big changes. Under the hood is a 3.0L turbocharged V6 that is pumping out 349HP & mated to an automatic transmission. On the outside you will find a ton of new sheet metal and updated wheels. On the interior you will find a racy cock...
Watch here: https://youtu.be/M06aFobUlS0
BMW 440i (326hp) vs Audi S4 (354hp) Acceleration 0-200+ km/h
2017 BMW 440i F32 (326hp 3.0L Turbo I6) vs 2017 Audi S4 B9 (354hp 3.0L Turbo V6)
Watch here: https://youtu.be/HCX5Yh1bPoI
1300HP Audi S4 B5 vs Bugatti Chiron
During yesterdays SCC500 Rolling50 1000 I have filmed a 1300HP Audi S4 B5 doing some drag racing against a 1500HP Bugatti Chiron!
Watch here: https://youtu.be/lLnDbH_auIk
ZIP CODES - near 
91104

91107

91709

91711

91722

91724

91730

91764

91790

91792

91101

91702

91105

91701

91103

91750

91762

91723

91761

91791

91739

91106

91737

91748
CITIES near 
Pasadena
Chino Hills
Claremont
Covina
Rancho Cucamonga
Ontario
West Covina
Azusa
La Verne
Rowland Heights
The Audi S4 is the high performance variant of Audi's compact executive car A4. The original Audi S4, built from 1991 until 1994, was a performance-oriented version of Audi's 100 saloon/sedan. All subsequent S4s since 1997 have been based on the Audi A4; and as the A4 has evolved from one generation to the next, so has the S4.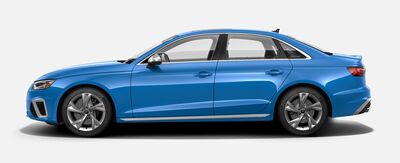 2021 S4 Sedan Prestige
Prestige TFSI quattro tiptronic
Eight-speed Tiptronic® automatic transmission and quattro® all-wheel drive
Park assist
Audi MMI Navigation plus with Audi connect® PRIME & PLUS (six-month trial subscription)
Head-up display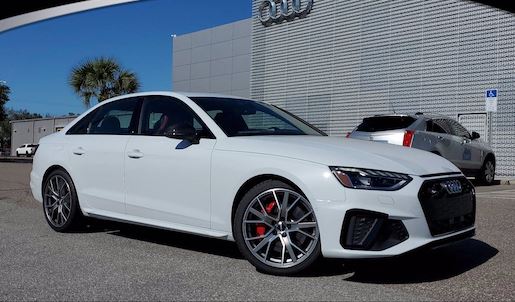 2021 Audi S4 3.0T Prestige Sedan
MSRP - $68,375
Body/Seating : Sedan/5 seats
Drivetrain : quattro all-wheel
Transmission : 8 speed automatic
Engine : 3.0L V-6 cyl
Fuel Economy : 20.0/28.0 mpg City/Hwy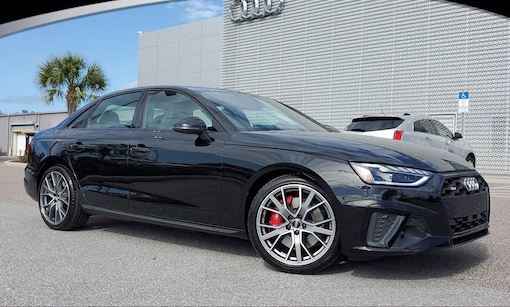 2021 Audi S4 3.0T Premium Plus Sedan
MSRP - $61,965
Body/Seating : Sedan/5 seats
Engine : 3.0L V-6 cyl
Transmission : 8 speed automatic
Fuel Economy : 20.0/28.0 mpg City/Hwy
Drivetrain : quattro all-wheel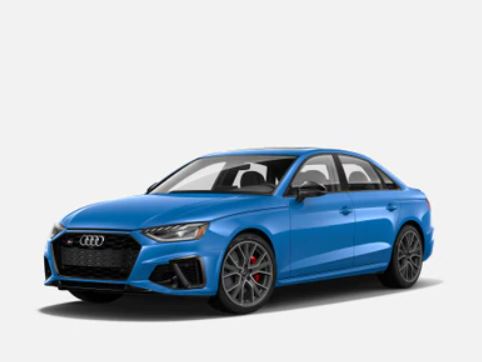 2020 Audi S4 3.0T Prestige Sedan
Prestige TFSI® quattro® Tiptronic®
Body Seating : Sedan/5 seats
Transmission : 8 speed automatic
MSRP - $66,195
Fuel Economy : 20.0/27.0 City/Hwy
Frequently Asked Questions
What's the 2020 Audi S4 horsepower?
The 2020 Audi s4 has 349 horsepower.
What's the Audi S4 wheel bolt pattern?
The Audi s4 features a 5x112 mm bolt pattern in its wheels.
What are some of the Audi s4 power steering problems?
Some potential problems with the power steering in a 2020 audi s4 are due to leaking power steering fluid and cracked or worn hoses.
How quick is the Audi S4?
The S4's turbocharged 3.0-liter V-6 cranks out 349 hp and 369 lb-ft of torque. Joined to an eight-speed automatic transmission, the engine sends power to a sport-tuned version of Audi's Quattro AWD system. In MotorTrend testing, the S4 hit 60 mph in 4.2 seconds. EPA-rated fuel economy is 20/28 mpg city/highway.
About 
Audi of West Covina

 Sales Department

At Audi West Covina, we're proud to announce that we're under new ownership and are now a part of Envision Motors. However, one thing that hasn't changed is our commitment to providing you withthe premium shopping experience that you deserve and supplying you with thesuperior product knowledge that helps you make an informed buying decision.
Ashley R. 
San Dimas, CA
I am very late on this review, but I truly believe they deserve it. I leased an Audi A5 in the middle of last year. This was my first car lease and I was obviously very scared and nervous, but the sales rep Joseph (I think was his name) and the supervisor David ( I hope I'm getting these names right it has been a while) we're truly helpful throughout the time we were shopping around. Joseph was very patient while I was deciding between vehicles and packages and I did not feel pressured to purchase or act at any moment. When it was time to discuss lease pricing, both Joseph and the supervisor were open to negotiating and we came to a very good deal for the car. Afterwards, Oliver in the finance dep. was very friendly and helpful when explaining warranties, etc. Overall great experience with this dealership. I only hope that they have more inventory in the future!
Hexx H. 
Rowland Heights, CA
David was by far the best sales person I have ever worked with!!! He didn't pressure me, on the contrary gave me options! He was more like a life long friend than a sales person!! I would definitely recommend anyone looking for a new car. Come to Audi WC!! You will not be disappointed!! Joseph the Manager really hooked it up... I bought an ETRON, because he gave me the most amazing deal! He made it painless and quick... I have never owned an Audi! I have had every luxury brand you can think of... He made me an Audi guy... I definitely wasn't thinking of buying, he just made me the best deal! If you want the best Deal go see David and Joseph will put the finishing touches!!! Thank you guys! This was an Anniversary and Valentine Gift for my wife! Happy Wife Happy Life!
katherine jin 
Wonderful dealership,I highly recommend Martin Lin who helped me to get the best deal for me.
P Tsai 
Great dealership, great carPhilip, Thank you so much for taking the time to share your experience with us. We love to hear when our guests have a great visit to our dealership! We are always here to help with any of your automotive needs. Thanks again, Penske Audi West Covina
sweet_ one 
Hello, Thank you so much for taking the time to share your experience with us. We love to hear when our guests have a great visit to our dealership! We are always here to help with any of your automotive needs. Thanks again, Penske Audi of West Covina
Audi of West Covina

 Sales Hours

Monday08:30 - 21:00

Tuesday08:30 - 21:00

Wednesday08:30 - 21:00

Thursday08:30 - 21:00

Friday08:30 - 21:00

Saturday08:30 - 21:00

Sunday10:00 - 20:00
Audi S4 near Azusa
 | 
Audi S4 near Chino Hills
 | 
Audi S4 near Claremont
 | 
Audi S4 near Covina
 | 
Audi S4 near La-Verne
 | 
Audi S4 near Ontario
 | 
Audi S4 near Pasadena
 | 
Audi S4 near Rancho Cucamonga
 | 
Audi S4 near Rowland Heights
 | 
Audi S4 near West Covina