Is The 2021 Audi S4 A Performance Sport Sedan That's Worth It?
The S4 is a sedan from Audi with functionality and performance. Under the hood is a 3.0L turbocharged V6 that is producing 349HP & mated to an 8-speed automatic transmission. Of course getting power to the ground is Audi's Quattro AWD system. On the outside you will find las...
Watch here: https://youtu.be/dF5EP6_JcA0
So You Want an Audi S4
Turbocharged, supercharged, naturally aspirated V8, the Audi S4 has seen it all throughout its lifetime. Made famous by its Quattro AWD system the S4 has become a favorite among European car enthusiasts. From the starting days of the C4, to the iconic B5, to today's B9, join...
Watch here: https://youtu.be/Kc1jxdwITGw
Modded Audi S4 Wanted To Race My Challenger Srt! From A Dig?!
Todays video we race my 2017 challenger SRT 392 vs a stage 2 Audi S4 to see which car is faster we did a series of runs and even a few digs to compare the cars!
Watch here: https://youtu.be/5inZ0iDFi0I
Acceleration: INFINITI Q50 vs Audi S4 (Clip 1) - The INFINITI Q50 Challenge
These horses can fly. Choose from four engines, like the exhilarating twin-turbo V6 to generate up to 400 horsepower. Acceleration is instant when you step on the throttle. With advanced handling systems like Intelligent All-Wheel Drive (AWD), the road is yours to own.
Watch here: https://youtu.be/VHWI_GpovYM
ZIP CODES - near 
91101

91105

91106

91702

91711

91762

91764

91722

91737

91761

91750

91739

91791

91103

91104

91790

91730

91748

91709

91701

91792

91107

91724

91723
CITIES near 
Pasadena
Azusa
Claremont
Ontario
Covina
Rancho Cucamonga
La Verne
West Covina
Rowland Heights
Chino Hills
The Audi S4 could be the perfect midpoint for a lot of luxury mid-size sedan or wagon buyers. It's not the full-fat hardcore RS4 that costs about fifty per cent more, but nor is it a 'standard' A4 by any measure.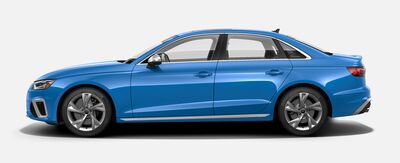 2021 S4 Sedan Premium Plus
TFSI® quattro® Tiptronic®
MSRP - $53,500
Audi virtual cockpit (12.3" LCD digital instrument cluster)
Audi phone box (wireless charger and signal booster)
Top view camera system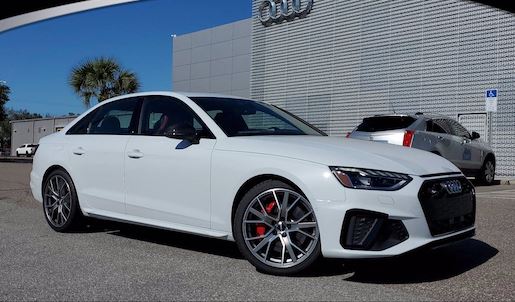 2021 Audi S4 3.0T Prestige Sedan
MSRP - $68,375
Fuel Economy : 20.0/28.0 mpg City/Hwy
Drivetrain : quattro all-wheel
Body/Seating : Sedan/5 seats
Engine : 3.0L V-6 cyl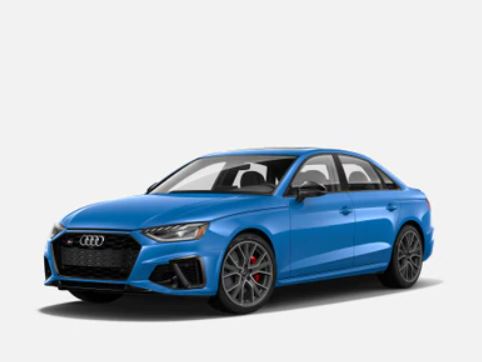 2020 Audi S4 3.0T Prestige Sedan
Prestige TFSI® quattro® Tiptronic®
MSRP - $66,195
Fuel Economy : 20.0/27.0 City/Hwy
Drivetrain : quattro all-wheel
Transmission : 8 speed automatic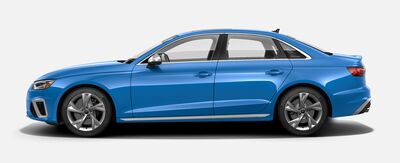 2021 S4 Sedan Premium
Premium TFSI quattro tiptronic
MSRP - $49,900
Matrix-design LED headlights
Audi smartphone interface with wireless Apple CarPlay
Lane departure warning
Frequently Asked Questions
Is the Audi S4 any good?
Yes, this sports car provides a premium driving experience. It would appear to be faultless.
How much mpg does the Audi S4 Avant get?
According to the official figures, the Audi S4 Avant's fuel economy ranges between 39mpg and 40mpg.
What's the 2020 Audi S4 horsepower?
The 2020 Audi s4 has 349 horsepower.
What's the Audi S4 top speed?
Depending on the model version, you can expect Audi S4s to reach top speeds of 155.3mph.
About 
Audi of West Covina

 Sales Department

At Audi West Covina, we're proud to announce that we're under new ownership and are now a part of Envision Motors. However, one thing that hasn't changed is our commitment to providing you withthe premium shopping experience that you deserve and supplying you with thesuperior product knowledge that helps you make an informed buying decision.
Rudy Rojas 
Great service department ask for Steven
Evan C. 
La Puente, CA
Just purchased a RS 5  from Envision....... Alex Tamayo Show me the  Best sedan in the world. I love it very much.  Can't fall asleep last night.  Professional  Manager team  ..... no bullshit .....Got me a great deal on a service package..... and monthly payment....they worked out with me ............ hope can be more cheaper lol .........Thanks you audi west covina
Ashley R. 
San Dimas, CA
I am very late on this review, but I truly believe they deserve it. I leased an Audi A5 in the middle of last year. This was my first car lease and I was obviously very scared and nervous, but the sales rep Joseph (I think was his name) and the supervisor David ( I hope I'm getting these names right it has been a while) we're truly helpful throughout the time we were shopping around. Joseph was very patient while I was deciding between vehicles and packages and I did not feel pressured to purchase or act at any moment. When it was time to discuss lease pricing, both Joseph and the supervisor were open to negotiating and we came to a very good deal for the car. Afterwards, Oliver in the finance dep. was very friendly and helpful when explaining warranties, etc. Overall great experience with this dealership. I only hope that they have more inventory in the future!
allison bautista 
Great customer service!Thank you for your great rating Allison! Our customer service staff takes great pride in helping our customers.
Ellen Bell 
I love my Audi Q7 and I love Penske Audi in West Covina even more! Fortunately, my car isn't in the shop very often. But when I need regular maintenance, the service department is amazingly fast. This is a dealership that continues to follow through for you, even after you've purchased your car.Ellen, Thank you for the excellent review of our dealership! We are so delighted to know that you value our service department. We hope that you are enjoying your Audi Q7 and look forward to your next visit. Best, Penske Audi West Covina
Audi of West Covina

 Sales Hours

Monday08:30 - 21:00

Tuesday08:30 - 21:00

Wednesday08:30 - 21:00

Thursday08:30 - 21:00

Friday08:30 - 21:00

Saturday08:30 - 21:00

Sunday10:00 - 20:00
Audi S4 near Azusa
 | 
Audi S4 near Chino Hills
 | 
Audi S4 near Claremont
 | 
Audi S4 near Covina
 | 
Audi S4 near La-Verne
 | 
Audi S4 near Ontario
 | 
Audi S4 near Pasadena
 | 
Audi S4 near Rancho Cucamonga
 | 
Audi S4 near Rowland Heights
 | 
Audi S4 near West Covina