The 2020 Audi S4 is a Near Perfect AWD Luxury Sport Sedan
For so many years, the #AudiS4 has always been the near perfect luxury sport sedan for enthusiast looking to get out of their sports cars and into something more comfortable without giving up the fun factor. The latest #Audi #S4 gets a series of updates to address its bland ...
Watch here: https://youtu.be/1jNcyMXlXBc
Is The 2021 Audi S4 A Performance Sport Sedan That's Worth It?
The S4 is a sedan from Audi with functionality and performance. Under the hood is a 3.0L turbocharged V6 that is producing 349HP & mated to an 8-speed automatic transmission. Of course getting power to the ground is Audi's Quattro AWD system. On the outside you will find las...
Watch here: https://youtu.be/dF5EP6_JcA0
2020 BMW M340i vs Audi S4 vs Mercedes-AMG C43 // Drag & Roll Race
Thomas and James put the three mid-performance German sedans head to head on the drag strip. The 2020 BMW M340i First edition, The Mercedes-AMG C43 and James' very own and NEWLY ACQUIRED 2018 B9 Audi S4. The Mercedes boasts the biggest numbers on paper but the BMW is the new...
Watch here: https://youtu.be/Xc-pijQXdn0
Modded Audi S4 Wanted To Race My Challenger Srt! From A Dig?!
Todays video we race my 2017 challenger SRT 392 vs a stage 2 Audi S4 to see which car is faster we did a series of runs and even a few digs to compare the cars!
Watch here: https://youtu.be/5inZ0iDFi0I
ZIP CODES - near 
91101

91106

91724

91737

91739

91750

91762

91792

91748

91711

91104

91730

91791

91107

91723

91709

91722

91701

91103

91790

91105

91761

91764
CITIES near 
Pasadena
Covina
Rancho Cucamonga
La Verne
Ontario
West Covina
Rowland Heights
Claremont
Chino Hills
The Audi S4 could be the perfect midpoint for a lot of luxury mid-size sedan or wagon buyers. It's not the full-fat hardcore RS4 that costs about fifty per cent more, but nor is it a 'standard' A4 by any measure.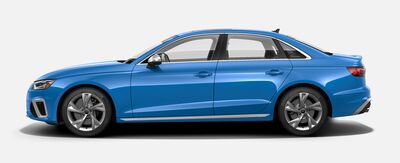 2021 S4 Sedan Premium Plus
TFSI® quattro® Tiptronic®
Top view camera system
MSRP - $53,500
Convenience package
Audi phone box (wireless charger and signal booster)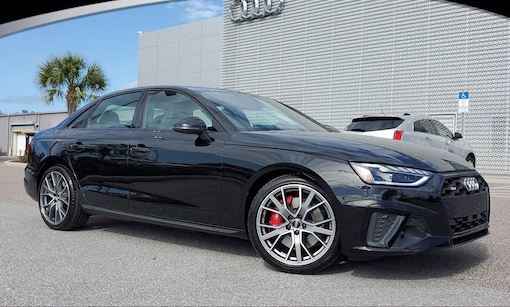 2021 Audi S4 3.0T Premium Plus Sedan
MSRP - $61,965
Transmission : 8 speed automatic
Body/Seating : Sedan/5 seats
Drivetrain : quattro all-wheel
Engine : 3.0L V-6 cyl
Fuel Economy : 20.0/28.0 mpg City/Hwy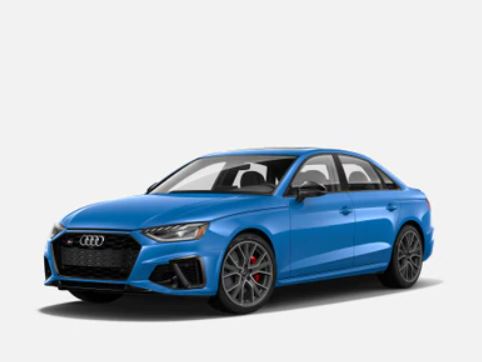 2020 Audi S4 3.0T Prestige Sedan
Prestige TFSI® quattro® Tiptronic®
Transmission : 8 speed automatic
MSRP - $66,195
Engine : 3.0L V-6 cyl
Drivetrain : quattro all-wheel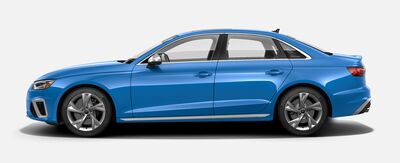 2021 S4 Sedan Premium
Premium TFSI quattro tiptronic
Lane departure warning
MSRP - $49,900
Leather/Alcantara® seats with diamond stitching
Audi smartphone interface with wireless Apple CarPlay
Frequently Asked Questions
How quick is the Audi S4?
The S4's turbocharged 3.0-liter V-6 cranks out 349 hp and 369 lb-ft of torque. Joined to an eight-speed automatic transmission, the engine sends power to a sport-tuned version of Audi's Quattro AWD system. In MotorTrend testing, the S4 hit 60 mph in 4.2 seconds. EPA-rated fuel economy is 20/28 mpg city/highway.
Is the Audi S4 any good?
Yes, this sports car provides a premium driving experience. It would appear to be faultless.
What's the Audi S4 wheel bolt pattern?
The Audi s4 features a 5x112 mm bolt pattern in its wheels.
What are some of the Audi s4 power steering problems?
Some potential problems with the power steering in a 2020 audi s4 are due to leaking power steering fluid and cracked or worn hoses.
About 
Audi of West Covina

 Sales Department

At Audi West Covina, we're proud to announce that we're under new ownership and are now a part of Envision Motors. However, one thing that hasn't changed is our commitment to providing you withthe premium shopping experience that you deserve and supplying you with thesuperior product knowledge that helps you make an informed buying decision.
Mike Ellis 
Brittny in the service department provided FIRST class customer service. I had my windshield replaced by another shop and the job was not done properly. I was irritated with the delay and extra costs that were involved with having to take my vehicle in for the second time. Brittny calmingly assured me that she would ensure that the job was done correctly and within my tight time frame. She delivered on both accounts! Always maintaining a professional manner even when I was not. After working with Brittny, WC Audi will be handling all my maintenance needs. Thank you Brittny! Mike E
Asok Agarwal 
My wife and I visited Penske Audi, West Covina and met Mr. Ken Lam, he spend great amount of time with us to explain all different features of the car after carefully understanding our requirements. He was very patient, soft spoken and knowledgeable salesperson about the car we were looking for. We stopped by at other Audi dealers nearby but salesperson satisfaction we got from Mr. Ken Lam only. He kept a good follow up throughout our shopping period and called me immediately when he received a 2014 Q5 3.0 TDI, First regretting about our choice of color then mentioned about rest of the features we were looking for. Him being too nice and polite to us so we ignored the color of our choice and bought on October 13th, 2013 in white color. If you are ready to purchase a Audi, look for Mr. Ken Lam only. Thanks to him again for ignoring his Grand Mother's Birthday Party and helped us to purchase the car. My wife and I felt too bad about him missing his Grand Mothers Birthday Party.Asok, Thank you for sharing your positive experience with us! We're glad you're enjoying your new Audi and that Ken was able to help you find your perfect car. We will be sure to pass along your kind words. Sincerely, Penske Audi West Covina
Joseph Tuan 
Came here to purchase my Audi A4 and met Martin Lin. He had one of the finest customer service skills. Came up to me with a welcoming face and was very genuine about answering my concerns and questions. Martin went above and beyond when looking for the perfect car. He took me back to look at all the available cars. Made sure that I was comfortable through the entire process. I highly recommend coming to this location and dealership for a smooth purchasing experience.
Jorbos 
Staff is very demeaningJordan, I apologize for your disappointment with our customer service and would greatly appreciate the opportunity to connect with you directly to address your concerns. Can you please send your contact information to me at sclancy@socalpenske.com? Thank you so much! Shawn Clancy General Manager Penske Audi West Covina
郭家豪 
(Translated by Google) Thank you very much martin for helping me buy it. I am very satisfied. The price is also very good. Q7. He is a very responsible and enthusiastic person. (Original) 非常感谢martin 帮助我买了很满意 价格也非常好得Q7 他是一个非常负责人和热心得人 买奥迪找martin 准没错
Audi of West Covina

 Sales Hours

Monday08:30 - 21:00

Tuesday08:30 - 21:00

Wednesday08:30 - 21:00

Thursday08:30 - 21:00

Friday08:30 - 21:00

Saturday08:30 - 21:00

Sunday10:00 - 20:00
Audi S4 near Azusa
 | 
Audi S4 near Chino Hills
 | 
Audi S4 near Claremont
 | 
Audi S4 near Covina
 | 
Audi S4 near La-Verne
 | 
Audi S4 near Ontario
 | 
Audi S4 near Pasadena
 | 
Audi S4 near Rancho Cucamonga
 | 
Audi S4 near Rowland Heights
 | 
Audi S4 near West Covina