FAKEST EXHAUST! 2021 Audi SQ5 Review
2021 Audi SQ5 review by The Straight Pipes. The Audi SQ5 is pumping out 349hp and 369 lb-ft tq from a Turbo 3L V6. At $73,840 CAD, would you take it over a Mercedes-AMG GLC43, BMW X3 M40i, Porsche Macan S, Alfa Romeo Stelvio, Jaguar F Pace?
Watch here: https://youtu.be/-QeVl8ZMwpA
2018 Audi SQ5 - Redline: Review
When the first Audi SQ5 showed up in 2014, it quickly become the SUV of choice for the family man who refused to give up driving fun when you were forced into a more practical SUV. The latest version replaces its old Supercharged V6 for a new turbo V6, gains a long list of n...
Watch here: https://youtu.be/2R1S38ZwBV0
2018 Audi SQ5 vs Mercedes-AMG GLC 43 Comparison Test
Here we have a couple of crossovers that are neither the largest nor smallest, the fastest nor most luxurious, and they are all the better for it. The Mercedes-AMG GLC 43 is the middle, mildly sporty trim of the brand's small-ish crossover, between the base GLC 300 and the b...
Watch here: https://youtu.be/i3HZJFvm49k
2018 Audi SQ5 vs 2018 Volvo XC60 T8 Comparison Review
While I wouldn't normally have compared a plug-in hybrid Volvo to a performance Audi, we had the opportunity to drive them back to back and film them together. While they aren't really the same sort of luxury crossover, I can understand why folks might cross-shop them as the...
Watch here: https://youtu.be/7W0d05p-yTQ
ZIP CODES - near 
91103

91106

91107

91709

91730

91739

91748

91790

91737

91724

91105

91711

91792

91791

91764

91761

91104

91750

91702

91701

91722

91723

91101

91762
CITIES near 
Pasadena
Chino Hills
Rancho Cucamonga
Rowland Heights
West Covina
Covina
Claremont
Ontario
La Verne
Azusa
The SQ5 takes the athletic, wave design shoulder line and adds sporty design features including a redesigned honeycomb octagonal grille, S model roof spoiler and sculpted, three-dimensional full LED headlights. Taken together, it creates a revamped and refined design profile that's ready for adventure.
SQ5 Prestige 3.0 TFSI quattro
Starting Price (MSRP): $63,595
Audi active lane assist
Bang & Olufsen® sound system with 3D sound and 19 speakers
Gas Mileage: 18 mpg City / 24 mpg Hwy
Includes Premium Plus features
Audi park steering assist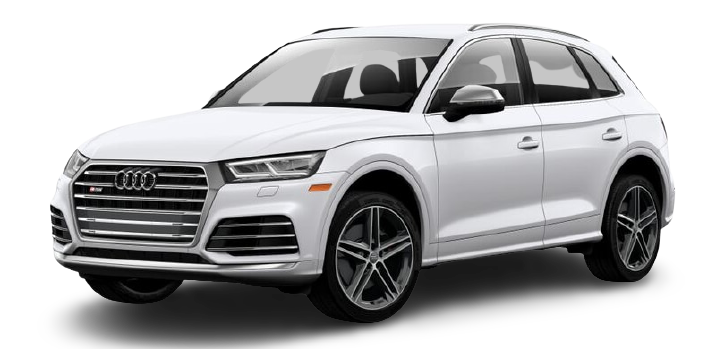 SQ5 Premium 3.0 TFSI quattro
Starting Price (MSRP): $53,995
quattro® all-wheel drive
Eight-speed Tiptronic® automatic transmission
Gas Mileage: 18 mpg City / 24 mpg Hwy
Horse Power: 349-hp @ 5,400 rpm
7.0-in. color driver information system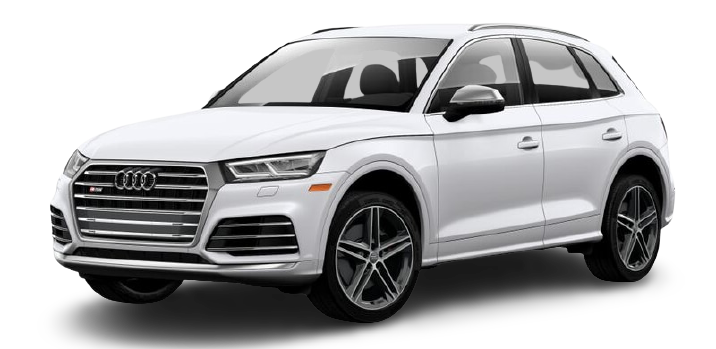 SQ5 Premium Plus 3.0 TFSI quattro
Starting Price (MSRP): $58,395
MMI® Radio plus with 8.3-in. screen
Audi virtual cockpit with 12.3-in. screen
Gas Mileage: 18 mpg City / 24 mpg Hwy
Includes Premium features
Audi connect® CARE assistance
Frequently Asked Questions
Is Audi SQ5 available in automatic transmission?
Yes. Audi SQ5 has 8-speed automatic transmission
What is the kerb weight of Audi SQ5?
The kerb weight of Audi SQ5 is 4398 lbs.
How many cylinders does Audi SQ5 has?
Audi SQ5 comes with 6 cylinders.
What is the torque of Audi SQ5?
The torque of Audi SQ5 is 369 lb-ft @ 1370 rpm.
About 
Audi of West Covina

 Sales Department

At Audi West Covina, we're proud to announce that we're under new ownership and are now a part of Envision Motors. However, one thing that hasn't changed is our commitment to providing you with the premium shopping experience that you deserve and supplying you with the superior product knowledge that helps you make an informed buying decision.
REVIEWS
from our Ontario Customers
Daniel V 
Had been shopping around for an Audi A4 for a bit and was between Audi West Covina and another location in Fontana. I was called by Audi Specialist Davide Gilberti and we set up a time to meet. Not only did he meet me outside but had the exact car I came to see ready for a test drive. He was knowledgeable and helpful in the car tour and explanation of services. I decided to purchase an Audi A4 and the negotiation process was easy because the dealership wanted to offer me as many benefits as possible while not impacting cost or keeping it very low. As we waited for financing Davide ensured I was comfortable and had anything I needed as you'd expect from a luxury car dealer. The sales managers Te-Hao Chiu and Nemer Sarriedine were exceptionally awesome and helpful and oversaw the deal exactly as I had expected. Ray Eldenaf, the Finance Manager, called me the next day and let me know there was a minor problem with my deal but that's only because he found a way for me to save more. I came back and received an even better offer. My key fob battery was low and the team helped me get a replacement battery with no problems. Chris, in the parts department helped me and was fast and knowledgeable to the battery I needed. All in all I had a great experience at Audi West Covina (Envision Motors). I would highly recommend this team.
Paul Hayabusa 
Every business do run in to some hiccups. Big thank to Martin, Sam and Tony for their help correcting the issue. I just won't count on service department from this dealer. Parts department are great tho. Bought certified 2013 A6 with service plan for 35k and 45k Miles. Bring the car in for 35k miles, service rep are quite ignorant. For my 45k miles, I've decided to bring my car to another dealer. Long behold, service records show 45k service has been used for my 35k. Record also indicate my 35k service was used before I purchase the car. Sam pull it through for me.Paul, Thank you for bringing this to my attention. I would like the chance to speak with you to learn more about your service records and your experience with our staff. Can you please email me at dbutler@socalpenske.com with your preferred contact information? I appreciate your time! David Butler Service Director Penske Audi West Covina
Evan C. 
La Puente, CA
Just purchased a RS 5  from Envision....... Alex Tamayo Show me the  Best sedan in the world. I love it very much.  Can't fall asleep last night.  Professional  Manager team  ..... no bullshit .....Got me a great deal on a service package..... and monthly payment....they worked out with me ............ hope can be more cheaper lol .........Thanks you audi west covina
Trevor 
Nice dealership.Thanks for the positive review Trevor! Please let us know how we can make your next experience a 5 star worthy experience.
Rudy Rojas 
Great service department ask for Steven
Audi of West Covina

 Sales Hours

Monday08:30 - 21:00

Tuesday08:30 - 21:00

Wednesday08:30 - 21:00

Thursday08:30 - 21:00

Friday08:30 - 21:00

Saturday08:30 - 21:00

Sunday10:00 - 20:00
Audi SQ5 near Azusa
 | 
Audi SQ5 near Chino Hills
 | 
Audi SQ5 near Claremont
 | 
Audi SQ5 near Covina
 | 
Audi SQ5 near La-Verne
 | 
Audi SQ5 near Ontario
 | 
Audi SQ5 near Pasadena
 | 
Audi SQ5 near Rancho Cucamonga
 | 
Audi SQ5 near Rowland Heights
 | 
Audi SQ5 near West Covina