The 2021 Audi Q5 45 TFSI is a More Enticing Version of Audi's Best Seller
The #AudiQ5 proved that Audi could strike gold once more. It has been the company's best-selling product for the past few years, and Audi has added some more updates into the #Q5's 2021 edition. with a new styling and a stronger hood, the #SQ5 is a great #Q5PHEV for users. i...
Watch here: https://youtu.be/PBWOqn0evTs
2021 Audi Q5 // BIG REFRESH to Audi's #1 Product!
With the 2021 Audi Q5, you get a breath of fresh air. The vehicle comes with a better interior technology and a better exterior styling. Still, it's worth looking out whether the vehicle can hold off the stiff competition in the luxury vehicle segment. There are other impres...
Watch here: https://youtu.be/WBLkDTPjryo
Mercedes GLC v Audi Q5 vs Jaguar F-Pace review | Head2Head
While it is an ideal family option, the Audi Q5 isn't the clear-cut winner when it comes to luxury SUVs. Here, I compared the vehicle with the Mercedes GLC and the Jaguar F-PACE to see which option ekes out a win.
Watch here: https://youtu.be/xtFYpuHFE70
2017 Audi Q5 vs. 2017 Mazda CX-5
Welcome to another comparison on MotorCar Tube. Today, we're pitting the 2017 Audi Q5 against the 2017 Mazda CX-5. Listen to the facts and let's know which option you feel is a better choice Remember to rate our video and subscribe to our channel. Follow us on Twitter as wel...
Watch here: https://youtu.be/I6S9bC0CuqA
ZIP CODES - near 
91107

91709

91711

91724

91737

91764

91791

91790

91105

91723

91748

91701

91103

91702

91762

91106

91761

91722

91104

91730

91750

91101

91739

91792
CITIES near 
Pasadena
Chino Hills
Claremont
Covina
Rancho Cucamonga
Ontario
West Covina
Rowland Heights
Azusa
La Verne
The Audi Q5 is a compact luxury SUV that has been around since 2008. The first model, named the Typ 8R, was actually the third member of the B8 family, and it was released following the successful debuts of the fourth-generation A4 and the A5. The QQ5 has a second-generation version (named the Typ 80A) that Audi launched in 2016. Along with newer models like the B9 versions of the A4 and A5, the second-generation Q5 runs on the Audi MLBevo platform.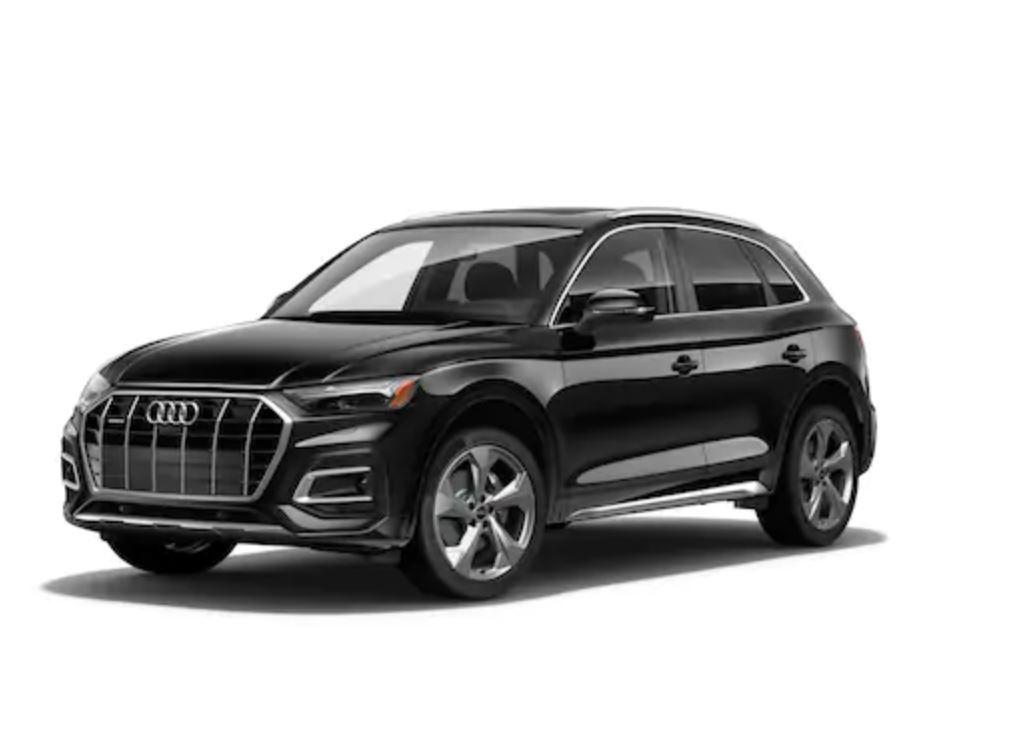 2021 Audi Q5 45 Prestige SUV
MSRP - $56,640
2.0L I-4 cyl Engine
AWD
23/28 mpg City/Hwy
7-Speed Automatic S tronic
Black Exterior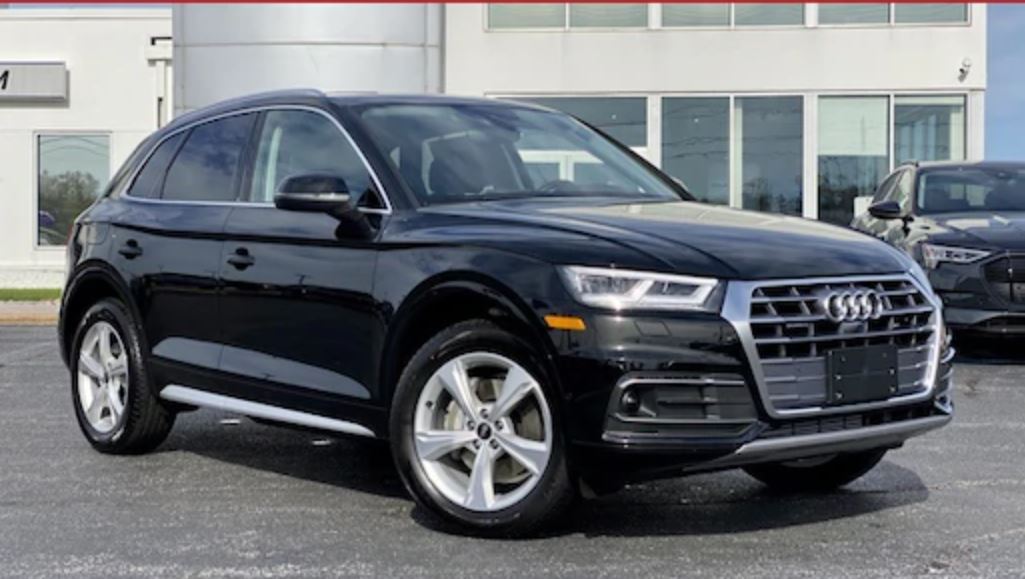 2020 Audi Q5 45 Prestige SUV
MSRP - $53,940
7-Speed Automatic S tronic
Convenience Package
22/28 mpg City/Hwy
AWD
Mythos Black Metallic Exterior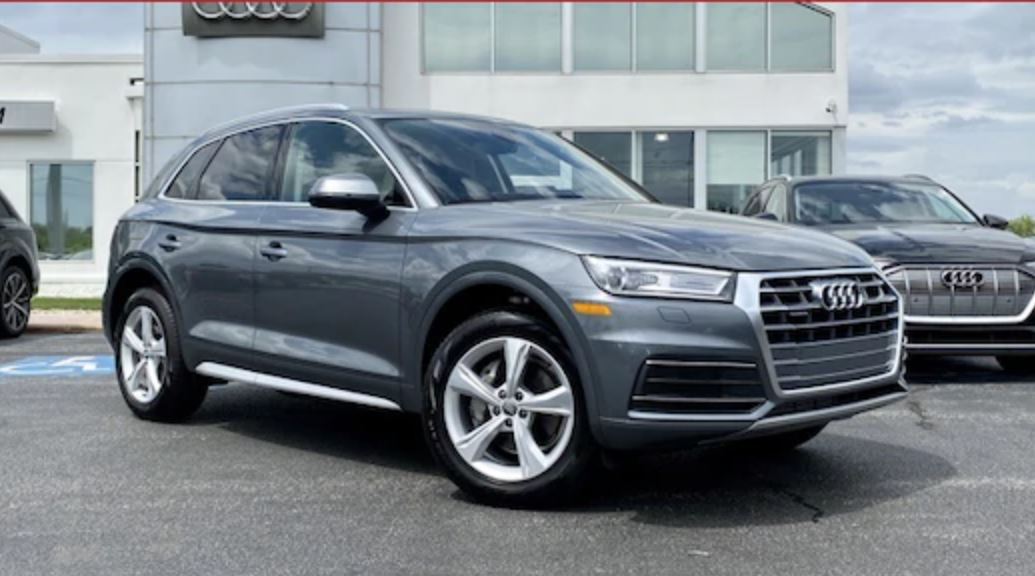 2020 Audi Q5 45 Premium SUV
MSRP - $48,125
7-Speed Automatic S tronic
Convenience Package
22/28 mpg City/Hwy
AWD
Monsoon Gray Metallic Exterior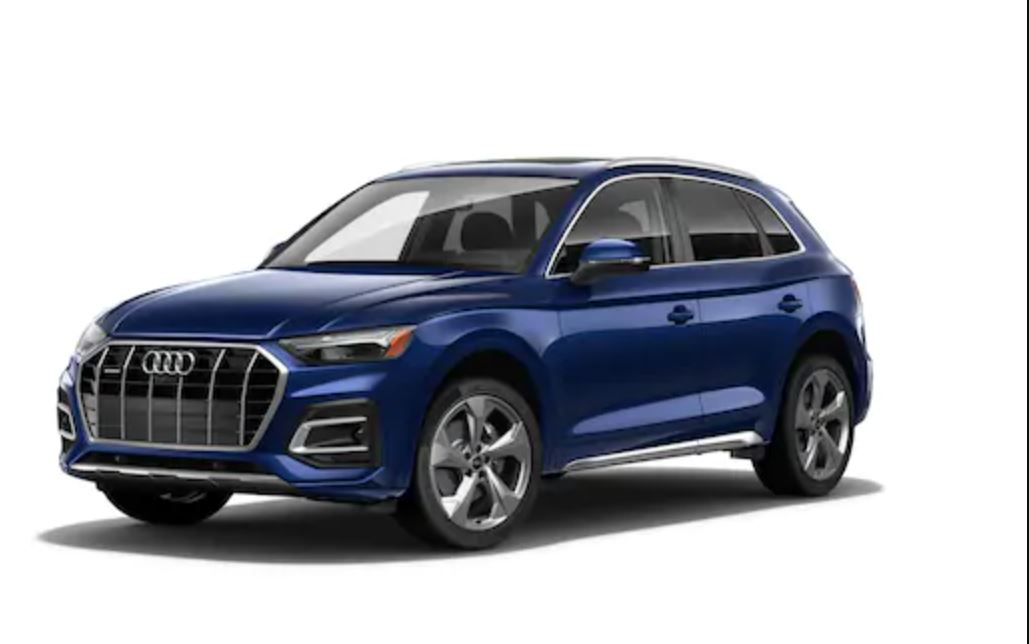 2021 Audi Q5 45 Premium Plus SUV
MSRP - $53,785
2.0L I-4 cyl Engine
AWD
23/28 mpg City/Hwy
7-Speed Automatic S tronic
Navarra Blue Metallic Exterior
Frequently Asked Questions
Is the Q5 a good value?
The Audi Q5 has a price in the same ballpark region as the Mercedes Benz GLC and the BMW X3. However, the Q5 has a higher general ranking than the other two vehicles because of its impressive interior and sturdy assembly. You also get the best materials at all levels.
Is the Audi Q5 AWD?
Audi pairs aLl variants of the Q5 with the Quattro® all-wheel drive system with ultra® technology. It doesn't matter the type of trims the vehicle comes with. In some driving conditions, the system will transfer power to the wheels most in need, allowing the car to enjoy optimal traction and stability.
Is the Audi Q5 good in snow?
Along with the Quattro® all-wheel drive, you will also get the Audi Drive Select feature. With this, you will be able to adapt various aspects of the vehicle - including throttle response, transmission shifts, and steering - to match the prevalent conditions. Combined with the Quattro® all-wheel drive feature, this component can improve your vehicle's performance on slippery, snowy floors.
How big is the Audi Q5?
The 220 Audi Q5 is a mid-size SUV. It comes in at 183.6 inches in length, 84.3 inches in width, and 65.3 inches in height. The vehicle also weighs between 4,045-4,685 lbs.
About 
Audi of West Covina

 Sales Department

At Audi West Covina, we're proud to announce that we're under new ownership and are now a part of Envision Motors. However, one thing that hasn't changed is our commitment to providing you withthe premium shopping experience that you deserve and supplying you with thesuperior product knowledge that helps you make an informed buying decision.
Get Directions to 
REVIEWS
Doug Heideman 
I purchased a 2012 A6 3.0 Prestige December 4 2012. Tim Moore in sales was very knowledgeable, professional and low key. During the test drive he demonstrated many of the A6's considerable features. He also knew the answers to all of my questions. After the test drive I told him I was interested in buying but I had another appointment and needed to leave. I asked him to call me with the 3 prices; sticker, dealer invoice and what they would sell the car for. I explained that I was not interested in haggling over price and the selling price needed to be their best offer the first time. Tim Moore call me back later in the day and gave me the prices I had requested. I was pleasantly surprised at the selling price. I thought about it, called him the next day and told him I wanted to buy the car. When I arrived at the dealership Tim introduced me to the sales manager Peter Abysekera. Peter wanted to show me the dealer invoice and asked if I had any other questions. I told him no I was ready to buy. I filled out the credit application and met Sam Hafez in the finance department. Sam was very congenial and did not try to pressure me into buying an extended warranty, interior protection packages etc. While the car was detailed Peter and Tim gave me a tour of the dealership and introduced me to the general and parts and service managers. The car was delivered in spotless condition. Tim then programmed the SIM card for the Audi Connect and reviewed a few more features. My buying experience at Audi West Covina was the best. I cannot say enough about the quality of the people I met, their openness, honesty and the low key selling environment. I highly recommend this dealership.Hi Doug, Thank you so much for leaving us such a wonderful review; your kind words are much appreciated. Everyone here enjoyed working with you, and we all wish you the best with your new Audi A6. Please let us know if we can do anything else for you in the future. Sincerely, Penske Audi West Covina
Evan C. 
La Puente, CA
Just purchased a RS 5  from Envision....... Alex Tamayo Show me the  Best sedan in the world. I love it very much.  Can't fall asleep last night.  Professional  Manager team  ..... no bullshit .....Got me a great deal on a service package..... and monthly payment....they worked out with me ............ hope can be more cheaper lol .........Thanks you audi west covina
Paul Hayabusa 
Every business do run in to some hiccups. Big thank to Martin, Sam and Tony for their help correcting the issue. I just won't count on service department from this dealer. Parts department are great tho. Bought certified 2013 A6 with service plan for 35k and 45k Miles. Bring the car in for 35k miles, service rep are quite ignorant. For my 45k miles, I've decided to bring my car to another dealer. Long behold, service records show 45k service has been used for my 35k. Record also indicate my 35k service was used before I purchase the car. Sam pull it through for me.Paul, Thank you for bringing this to my attention. I would like the chance to speak with you to learn more about your service records and your experience with our staff. Can you please email me at dbutler@socalpenske.com with your preferred contact information? I appreciate your time! David Butler Service Director Penske Audi West Covina
Lexi Lliteras 
Loved it! Our Audi girl Kayla gave amazing service! And we love our new Audis!
James Ezekiel C. 
Glendale, CA
Had an absolutely easy time purchasing my new Audi!Te was really determined to work with me and my wife when it came to our purchase. It's one thing for a dealership to try and sell you a car as a client but it's another thing when they actually care and want to give you the car you really want at a very good price! Overall the place was amazing! Shadi helped us during the whole process as well and he absolutely takes care of the clients and gives his honest opinions on the cars. Te, Shadi and the Audi West Covina family was amazing, accommodating and makes me proud to be an Audi owner! - James & Elaine
Audi of West Covina

 Sales Hours

Monday08:30 - 21:00

Tuesday08:30 - 21:00

Wednesday08:30 - 21:00

Thursday08:30 - 21:00

Friday08:30 - 21:00

Saturday08:30 - 21:00

Sunday10:00 - 20:00
Audi Q5 near Azusa
 | 
Audi Q5 near Chino Hills
 | 
Audi Q5 near Claremont
 | 
Audi Q5 near Covina
 | 
Audi Q5 near La-Verne
 | 
Audi Q5 near Ontario
 | 
Audi Q5 near Pasadena
 | 
Audi Q5 near Rancho Cucamonga
 | 
Audi Q5 near Rowland Heights
 | 
Audi Q5 near West Covina