Audi Q5 SUV 2020 in-depth review | carwow Reviews
In truth, there isn't much of a physical difference between the Audi Q5 and the model that it's supposed to replace. However, when you look beyond the physical, you see that the car is truly a different thing. It's got better fuel efficiency and aerodynamics, and its engine ...
Watch here: https://youtu.be/dT-Px_eb2jQ
2021 Audi Q5 | Review & Road Test
The Audi Q5 is an incredible crossover. We love it so much, it's won several KBB Best Buy awards. Great job!
Watch here: https://youtu.be/Tdifjq-XGFs
Compared! 2019 Acura RDX vs Audi Q5 vs BMW X3 vs Volvo XC60 vs Mercedes-Benz GLC
( http://www.TFLcar.com ) We are comparing the Audi Q5 with the 2019 Acura RDX, as well as the BMW X3, Volvo XC60, and the Mercedes-Benz GLC
Watch here: https://youtu.be/EDJLrk67m9w
ZIP CODES - near 
91101

91105

91709

91711

91723

91737

91739

91762

91792

91790

91107

91761

91722

91730

91791

91764

91104

91106

91724

91103

91702

91750

91748
CITIES near 
Pasadena
Chino Hills
Claremont
Covina
Rancho Cucamonga
Ontario
West Covina
Azusa
La Verne
Rowland Heights
The Audi Q5 is a compact luxury SUV that has been around since 2008. The first model, named the Typ 8R, was actually the third member of the B8 family, and it was released following the successful debuts of the fourth-generation A4 and the A5. The QQ5 has a second-generation version (named the Typ 80A) that Audi launched in 2016. Along with newer models like the B9 versions of the A4 and A5, the second-generation Q5 runs on the Audi MLBevo platform.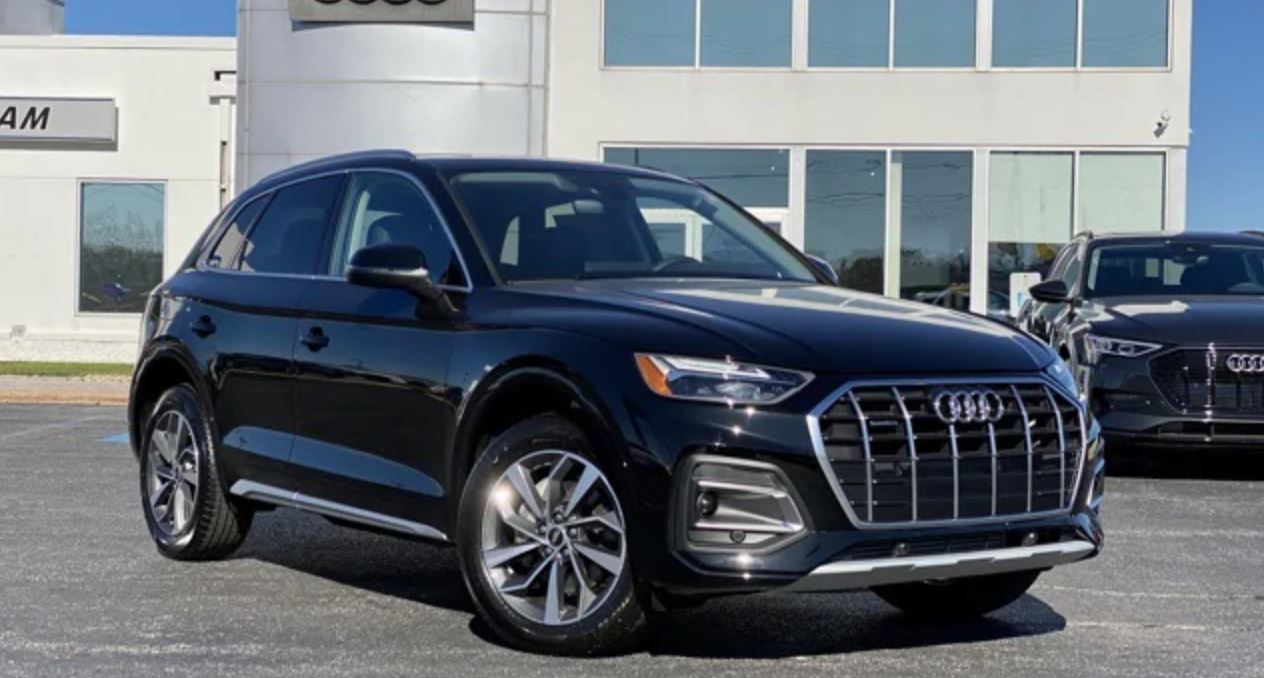 2021 Audi Q5 45 Premium SUV
MSRP - $48,340
23/28 mpg City/Hwy
Black Interior
7-Speed Automatic S tronic
2.0L I-4 cyl Engine
Stock #: V2824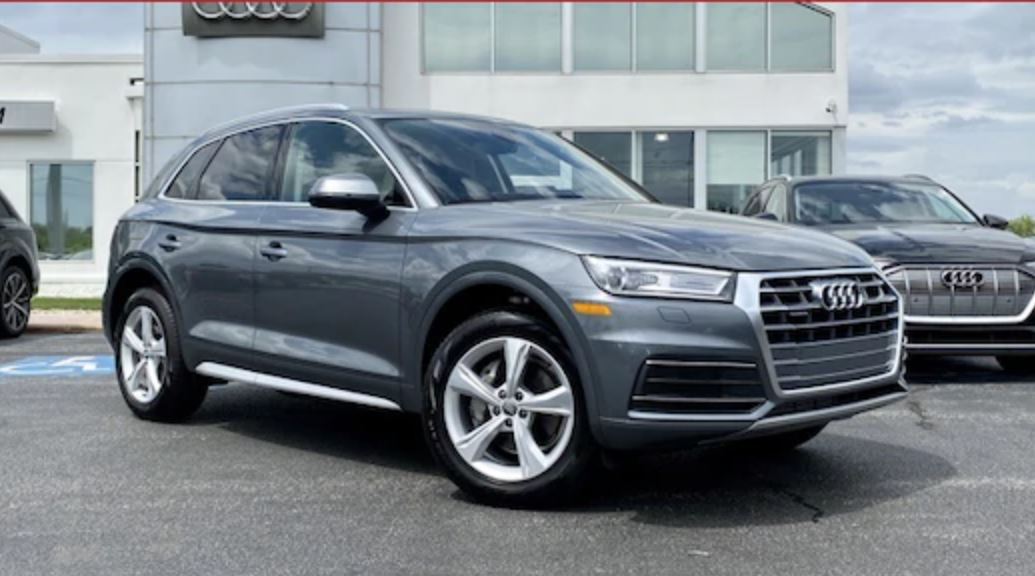 2020 Audi Q5 45 Premium SUV
MSRP - $48,125
22/28 mpg City/Hwy
Black Interior
7-Speed Automatic S tronic
2.0L I-4 cyl Engine
Stock #: V7070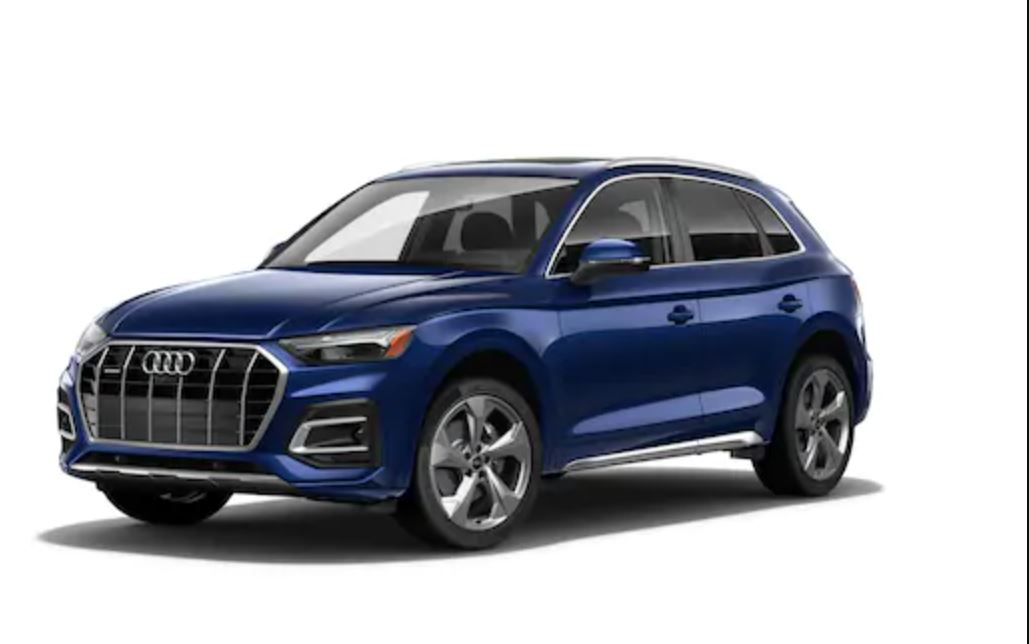 2021 Audi Q5 45 Premium Plus SUV
MSRP - $53,785
23/28 mpg City/Hwy
2.0L I-4 cyl Engine
Stock #: V2866
7-Speed Automatic S tronic
Navarra Blue Metallic Exterior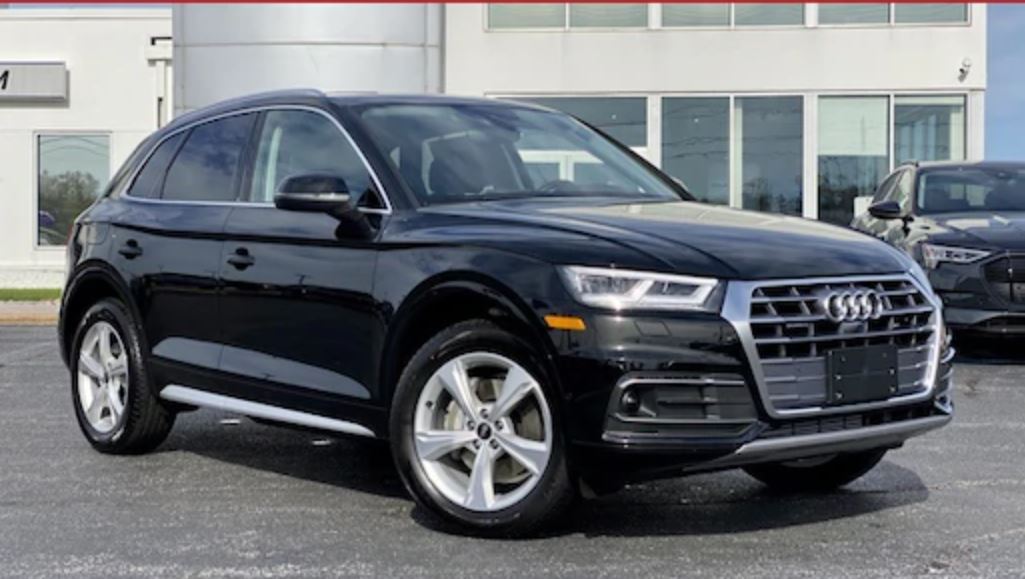 2020 Audi Q5 45 Prestige SUV
MSRP - $53,940
22/28 mpg City/Hwy
Black Interior
7-Speed Automatic S tronic
2.0L I-4 cyl Engine
Stock #: V2814
Frequently Asked Questions
How comfortable is the Q5?
When it comes to comfort, the AudiQ5 is an exceptional vehicle. Like most of the cars in the Q class, you will find it to be a joy to drive. The Q5's seats are especially lovely, providing a perfect mixture of firmness and comfort that will allow you to sit on them for hours on end. You will also love the breathable nature of the leather upholstery. However, note that hot days will require some ventilated seats on the top trim level. The rear seats also don't have the necessary support for the average adult. Still, the vehicle remains a top choice for comfort in general.
How economical is the Q5?
According to the EPA's calculations, the Q5 has a fuel economy rated at 24 mpg for city and highway driving. This rate is significantly better than that of the four-wheel AWD option. You should also be able to get up to 28.1 mpg in terms of mixed-driving a route that measures 115 miles.
Can the Audi Q5 tow?
Absolutely. You merely need to fit the vehicle with the 45 TFSI® and other appropriate towing gear, and you're good to go. The Audi Q5 handles up to 4,400 lbs. 0 more than enough for campers and mid-size boats..
How big is the Audi Q5?
The 220 Audi Q5 is a mid-size SUV. It comes in at 183.6 inches in length, 84.3 inches in width, and 65.3 inches in height. The vehicle also weighs between 4,045-4,685 lbs.
About 
Audi of West Covina

 Sales Department

At Audi West Covina, we're proud to announce that we're under new ownership and are now a part of Envision Motors. However, one thing that hasn't changed is our commitment to providing you withthe premium shopping experience that you deserve and supplying you with thesuperior product knowledge that helps you make an informed buying decision.
Get Directions to 
REVIEWS
Joselo Lopez 
Excellent Service!!!!!!!
Paul Liang 
Paul, It makes us so happy to hear that you had a great experience! Thank you for taking the time to leave a review and we hope to see you again. Best, Penske Audi West Covina
Ron Valverde 
Thanks for the 5 star rating, Ron!
Michael Nadzieja 
Thank you for the wonderful review and rating, Michael!
David Alvarez 
Recently bought a used car from here and had a great experience! Another reason why I'll be coming back in the future.Thank you for the fantastic rating, David! We hope to see you again in the future! Best wishes, Penske Audi West Covina
Audi of West Covina

 Sales Hours

Monday08:30 - 21:00

Tuesday08:30 - 21:00

Wednesday08:30 - 21:00

Thursday08:30 - 21:00

Friday08:30 - 21:00

Saturday08:30 - 21:00

Sunday10:00 - 20:00
Audi Q5 near Azusa
 | 
Audi Q5 near Chino Hills
 | 
Audi Q5 near Claremont
 | 
Audi Q5 near Covina
 | 
Audi Q5 near La-Verne
 | 
Audi Q5 near Ontario
 | 
Audi Q5 near Pasadena
 | 
Audi Q5 near Rancho Cucamonga
 | 
Audi Q5 near Rowland Heights
 | 
Audi Q5 near West Covina
Audi Q5 near Azusa
 | 
Audi Q5 near Chino Hills
 | 
Audi Q5 near Claremont
 | 
Audi Q5 near Covina
 | 
Audi Q5 near La-Verne
 | 
Audi Q5 near Ontario
 | 
Audi Q5 near Pasadena
 | 
Audi Q5 near Rancho Cucamonga
 | 
Audi Q5 near Rowland Heights
 | 
Audi Q5 near West Covina