2021 Audi Q5 // BIG REFRESH to Audi's #1 Product!
With the 2021 Audi Q5, you get a breath of fresh air. The vehicle comes with a better interior technology and a better exterior styling. Still, it's worth looking out whether the vehicle can hold off the stiff competition in the luxury vehicle segment. There are other impres...
Watch here: https://youtu.be/WBLkDTPjryo
2017 Audi Q5 vs. 2017 Mazda CX-5
Welcome to another comparison on MotorCar Tube. Today, we're pitting the 2017 Audi Q5 against the 2017 Mazda CX-5. Listen to the facts and let's know which option you feel is a better choice Remember to rate our video and subscribe to our channel. Follow us on Twitter as wel...
Watch here: https://youtu.be/I6S9bC0CuqA
2020 Acura RDX vs 2020 Lexus NX vs 2019 Audi Q5
So, we have a triple threat for you today. In this allcarseveryday review, we will compare the 2019 Audi Q5 Premium with the 2020 Lexus NX300 and the 2020 Acura RDX A-Spec. We already had a video where the 2019 Audi Q5 defeated the Cadillac XT5, Acura MDX, and Lexus RX3350....
Watch here: https://youtu.be/_gl_sAIAHtA
ZIP CODES - near 
91104

91106

91702

91723

91724

91730

91750

91790

91792

91701

91748

91105

91737

91791

91761

91101

91762

91764

91709

91107

91739

91711

91103
CITIES near 
Pasadena
Azusa
Covina
Rancho Cucamonga
La Verne
West Covina
Rowland Heights
Ontario
Chino Hills
Claremont
With the Q5, you get a four-cylinder engine with turbocharging and a 2-liter fuel capacity. The engine can go as high as 248 hp and can reach 100km in 6.3 seconds from its rest position.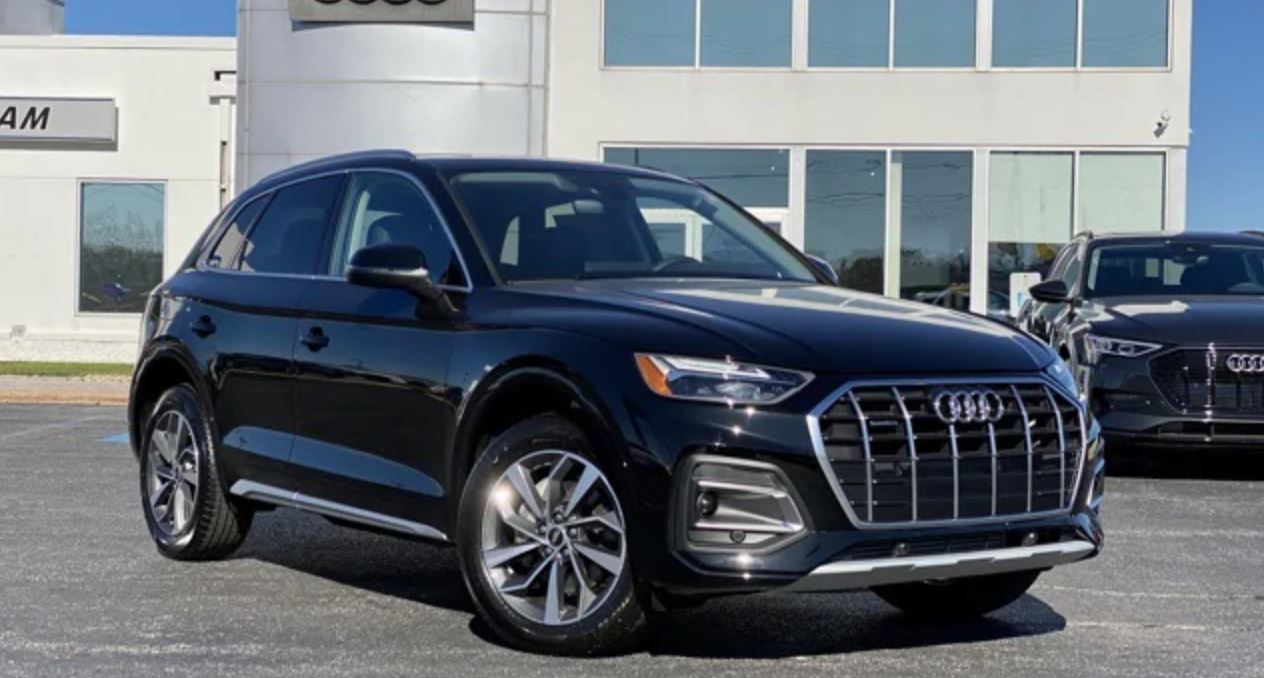 2021 Audi Q5 45 Premium SUV
MSRP - $48,340
7-Speed Automatic S tronic
2.0L I-4 cyl Engine
Mythos Black Metallic Exterior
Stock #: V2824
AWD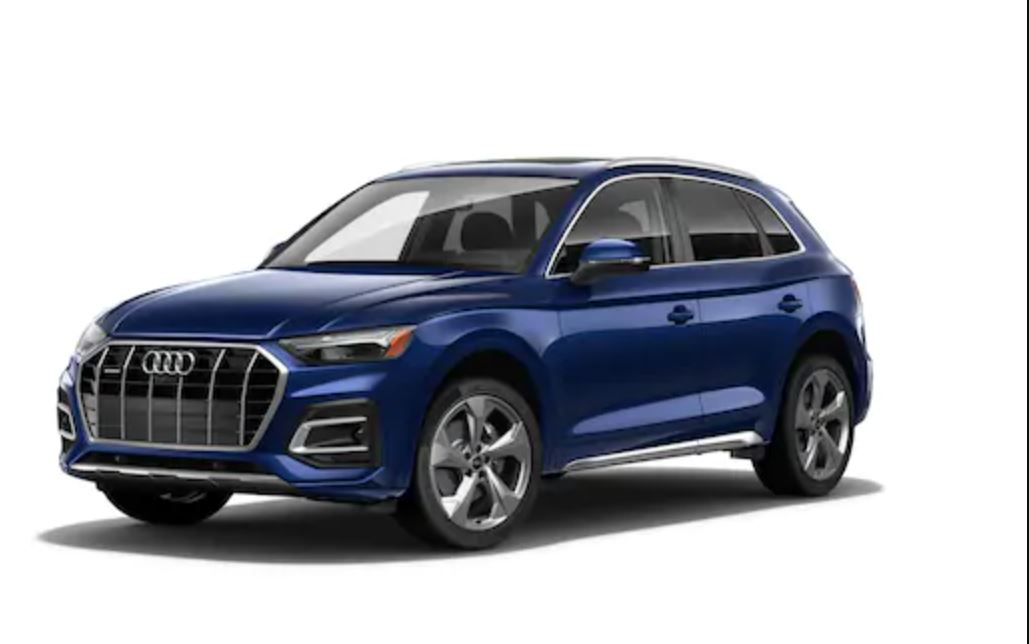 2021 Audi Q5 45 Premium Plus SUV
MSRP - $53,785
2.0L I-4 cyl Engine
7-Speed Automatic S tronic
AWD
Rock Gray Interior
23/28 mpg City/Hwy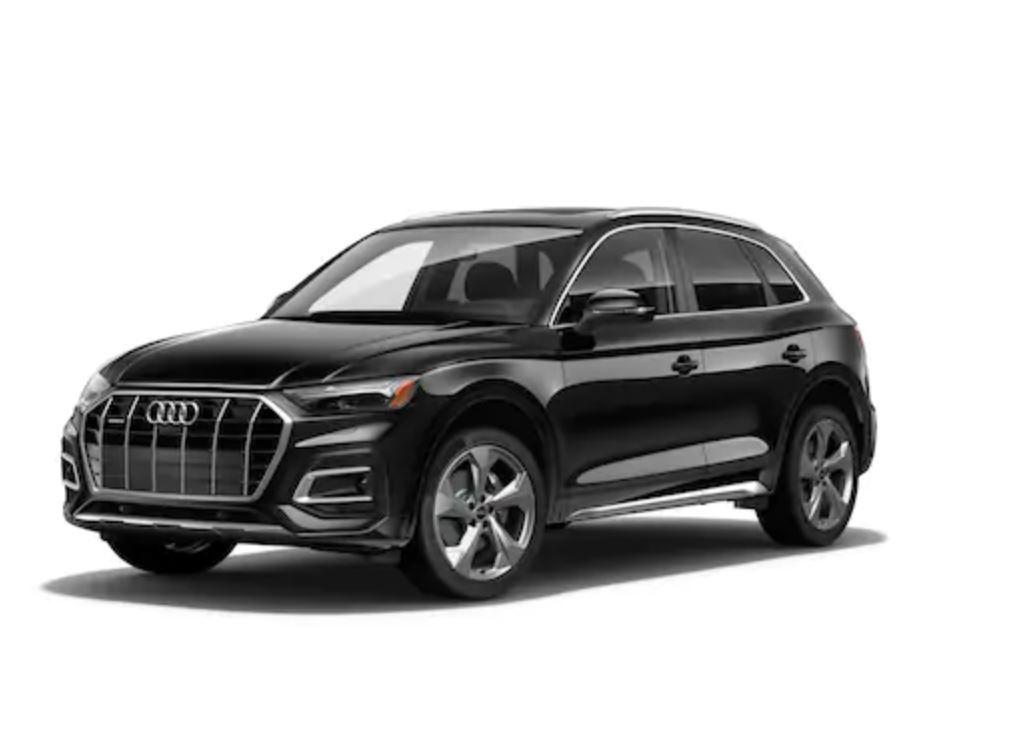 2021 Audi Q5 45 Prestige SUV
MSRP - $56,640
2.0L I-4 cyl Engine
7-Speed Automatic S tronic
AWD
Black Interior
23/28 mpg City/Hwy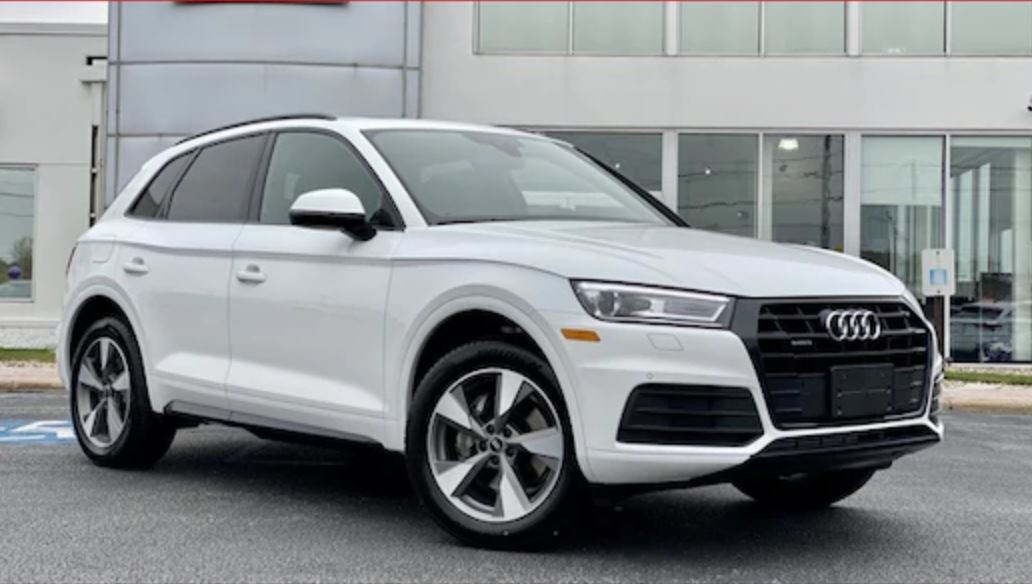 2020 Audi Q5 Premium SUV
MSRP - $47,300
2.0L I-4 cyl Engine
7-Speed Automatic S tronic
AWD
Black Interior
22/28 mpg City/Hwy
Frequently Asked Questions
Is the Audi Q5 AWD?
Audi pairs aLl variants of the Q5 with the Quattro® all-wheel drive system with ultra® technology. It doesn't matter the type of trims the vehicle comes with. In some driving conditions, the system will transfer power to the wheels most in need, allowing the car to enjoy optimal traction and stability.
Is the Audi Q5 good in snow?
Along with the Quattro® all-wheel drive, you will also get the Audi Drive Select feature. With this, you will be able to adapt various aspects of the vehicle - including throttle response, transmission shifts, and steering - to match the prevalent conditions. Combined with the Quattro® all-wheel drive feature, this component can improve your vehicle's performance on slippery, snowy floors.
Does the Audi Q5 have Apple CarPlay®?
Every model of the Q5 comes with the Audi smartphone interface. In this feature, you get support for CarPlay® and Android Auto™. So, whatever device you use, you will be able to connect it with the vehicle to access media files easily. The Q5 also has an MMI® touchscreen display and voice recognition, improving your interfacing options.
Can the Audi Q5 tow?
Absolutely. You merely need to fit the vehicle with the 45 TFSI® and other appropriate towing gear, and you're good to go. The Audi Q5 handles up to 4,400 lbs. 0 more than enough for campers and mid-size boats..
About 
Audi of West Covina

 Sales Department

At Audi West Covina, we're proud to announce that we're under new ownership and are now a part of Envision Motors. However, one thing that hasn't changed is our commitment to providing you withthe premium shopping experience that you deserve and supplying you with thesuperior product knowledge that helps you make an informed buying decision.
Thomas Young 
I have been to Penske Audi West Covina twice since purchasing my Audi A6 from Riverside Audi. On both occasions I was assisted by Service Advisor Chris Martin. The 1st time I had a question and the 2nd time it was for my 5,000 mile service. I have had three BMW's over the past 10 years but I have never been help more than what I received from Chris and the Penske Audi West Covina Dealership. Helpful, knowledgeable, and without a doubt, exceeded my wishes for reliable assistance. West Covina will be where I continue going to receive service and help in the future!!Thomas, Thank you so much for this excellent review! We are so delighted to hear that Chris was so helpful on both of your visits to our dealership. We will be sure to share this with him and the rest of the team and let them know that their hard work is appreciated. We are looking forward to your next visit! Happy Holidays, Penske Audi West Covina
Majd G 
For anyone looking to read a feedback about this dealership especially their sales department, Let me start by saying DO NOT fall for the negative reviews that you may read. I'm not affiliated with them and have no personal relationship besides being a customer- a new customer. That said, I'm very familiar with the car purchasing process as I trade in, lease or purchase vehicles almost every year an half between myself and my family. That said, I researched almost every dealership between AZ and CA (I reside in AZ) and ended up driving five hours from Phoenix to West Covina to purchase a car. Here's few reasons why this place is the place to go for the right deal and the right experience: -The team at this dealership are truly amazing. I had the best communication via emails before I drove. I connected with Grace who is one of the best sales rep in the industry. Simply because she would give all the information you need and answer any questions you may have and trust me, I had many. -Due yo the great and clear communications I had with Grace and based on the great pricing I found on the car (again I did a lot of comparisons) I decided to drive from Phoenix. When we arrived the car was pulled out and ready for our test drive. -When the time came to make the deal, every person we interacted with was mite than helpful including other seller reps who had nothing to do with the deal. Just there to assist and answer questions. -Davit the sales manger is truly a person you can trust to get a good deal from. I can't thank him enough for his patience with us and his professional manners. Everything was clear and easy to process. -Getting to finance and interacting with Ray (Ribal) was another great experience. Nothing to hide, clear details and to the point paperworks. He is one of the kindest people you'd meet (and you don't see that a lot at a car dealership). Bottom line, if you are in the market for an Audi and/or a great deal and great experience, Audi West Covina and the team from the GM, to Sales manger, Finance and sales will not disappoint you and they will do everything in their power to have a satisfied customer and provide an outstanding experience. DON'T listen to the negative reviews. Most of the time, the upset customer is the one who likely to leave a review VS a satisfied customer and in any business, you can't always please everyone and do what they want. This is a good dealership, go find out for yourself and judge based on your own experience. Not to forget they do have well maintained used cars with great record and great pricing. Thank you West Covina team! Mayra is very happy with her A3 Majd & MayraThank you for the amazing 5 star review and kind words, Majd! We are pleased you had a wonderful experience while working with our staff at Audi West Covina. Enjoy your new vehicle!
topgear36 gmail 
Thanks for taking the time to leave a 5 star rating, Fedex!
Sam C 
Thank you Kayla Abney for your extraordinary service! Looking forward to doing more business with you!
Nicholas H. 
Los Angeles, CA
Recently my girlfriend and I both leased cars here and we had an amazing experience. They were able to work with us on prices and were very understanding of the current situation of covid. Xiomy in particular was the one who helped us throughout the entire process for multiple days and she is still reaching out helping make sure our cars are in tip top shape. We are both very appreciative of her efforts, her patience and her communication. Looking forward to staying in contact and I know that as long as she is there any services we need she will make sure to help us figure out the issue.
Audi of West Covina

 Sales Hours

Monday08:30 - 21:00

Tuesday08:30 - 21:00

Wednesday08:30 - 21:00

Thursday08:30 - 21:00

Friday08:30 - 21:00

Saturday08:30 - 21:00

Sunday10:00 - 20:00
Audi Q5 near Azusa
 | 
Audi Q5 near Chino Hills
 | 
Audi Q5 near Claremont
 | 
Audi Q5 near Covina
 | 
Audi Q5 near La-Verne
 | 
Audi Q5 near Ontario
 | 
Audi Q5 near Pasadena
 | 
Audi Q5 near Rancho Cucamonga
 | 
Audi Q5 near Rowland Heights
 | 
Audi Q5 near West Covina