CarGurus UK Presents: The 2020 Audi e-tron Review, the Fast-Charging Electric SUV The Audi e-tron follows the fast-growing range of electric cars and offers top-notch technology and comfort. What makes it stands out from other electric cars of the same calibre is the capacity to charge up to 150 kW, labelling it as one of the fastest-charging electric cars you can find. Tune in and find out if the e-tron is one of the best as Rebeca Jackson test it.
Watch here: https://youtu.be/K_VuG1nBx7g
A Tesla Alternative or Better: The Premium EV 2020 Audi E-Tron, Manufactured in Germany Tesla pioneered the premium EV segment years ago with the launched of Model S. Today, the EV category expands and legacy automakers such as Audi joins and drop their hat into the new mix.
Watch here: https://youtu.be/NXOaNbjqqIg
Tesla Option: The 2020 Audi E-Tron The EV segment, particularly the premium sector, owes a lot to Tesla for pioneering the EV with the Model S. The market is growing for EV and legacy automakers are following the lead of Tesla.
Watch here: https://youtu.be/NXOaNbjqqIg
ZIP CODES - near 
91103

91107

91709

91723

91730

91762

91790

91792

91106

91761

91722

91105

91724

91702

91748

91104

91737

91739

91791

91764

91750

91711

91101
CITIES near 
Pasadena
Chino Hills
Covina
Rancho Cucamonga
Ontario
West Covina
Azusa
Rowland Heights
La Verne
Claremont
The Audi e-tron is powered by two electric motors. These two electric motors speed up the electric SUV from zero to 100 km/h. The start-up efficiency is equivalent to that of a sports car.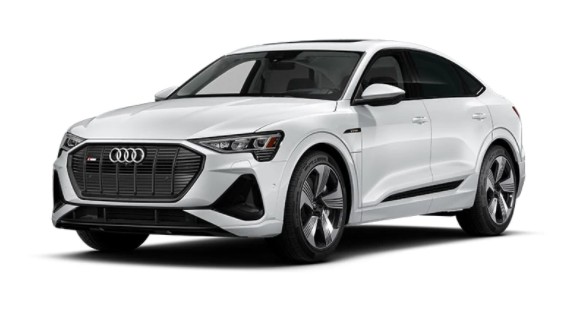 Audi e-tron
You can purchase the new Audi e-tron at the starting price of $65,900. *
Built for the contemporary world, the Audi e-tron is the first ever electric SUV created with the premium DNA of Audi brand. Featuring the Quattro all-wheel drive, this EV boasts of spacious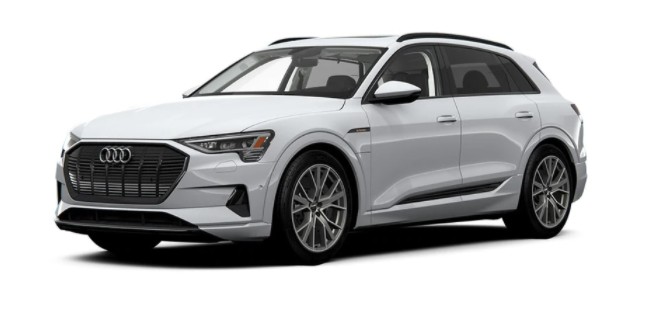 Audi e-tron Sportback
The Audi e-tron Sportback is available with a starting price of $69,100.*
The Audi family expands with the e-tron Sportback! It combines the functionality of a spacious SUV with the elegance of a four-door coupe.
Frequently Asked Questions
Does the Audi e-tron Quattro have charge port type?
The Audi e-tron Quattro European version comes with a CCS|Type2 charge port while the US version has the CCS|Type1 charge port.
Is Audi's e-tron worth owning?
The 2021 Audi e-tron is a luxurious electric SUV with high performance output. The e-tron is easy to use on a daily basis and the car's seamless air suspension, a large and a quiet interior, and a top-notch cabin materials has the car to thank for. Its all-wheel-drive electrical system allows fast handling and acceleration.
What is the Audi e-tron Quattro's cargo capacity?
The Audi e-tron Quattro's cargo capacity with unfolded seats is twenty three feet cube.
Can a Tesla supercharger use to charge an Audi e-tron?
No. You can use any Audi e-tron charger as long as it is not a Tesla.
About 
Audi of West Covina

 Sales Department

At Audi West Covina, we're proud to announce that we're under new ownership and are now a part of Envision Motors. However, one thing that hasn't changed is our commitment to providing you withthe premium shopping experience that you deserve and supplying you with thesuperior product knowledge that helps you make an informed buying decision.
REVIEWS
from our 
 Customers
Tiffany Leonard 
Shane gave us a great test drive.Tiffany, Thank you for sharing your feedback with us! We are so glad to hear that you had an excellent test drive with Shane! Thanks again, Penske Audi West Covina
Ron Moore 
Great service peopleRon, We're so glad to hear about your positive service experience with our team. Thank you for servicing your vehicle with us! We wish you many happy miles! Take care, David Butler Service Director Penske Audi West Covina
Juan Ballez 
Greatest experience I've had shopping for a car. Ask for Shadi and he'll make sure you find the right car.
Tammy Griffin 
It's worth the 40 mile drive!Tammy, Thank you so much for taking the time to share your experience with us. We love to hear when our guests have a great visit to our dealership! We are always here to help with any of your automotive needs. Thanks again, Penske Audi West Covina
Steve Maust 
Steve, Thank you so much for your 5-star review! We strive to provide excellent service to all our guests and are glad you received just that. We hope to see you again! Sincerely, Shawn Clancy General Manager Penske Audi West Covina
Audi of West Covina

 Sales Hours

Monday08:30 - 21:00

Tuesday08:30 - 21:00

Wednesday08:30 - 21:00

Thursday08:30 - 21:00

Friday08:30 - 21:00

Saturday08:30 - 21:00

Sunday10:00 - 20:00
Audi e-tron near Azusa
 | 
Audi e-tron near Chino Hills
 | 
Audi e-tron near Claremont
 | 
Audi e-tron near Covina
 | 
Audi e-tron near La-Verne
 | 
Audi e-tron near Ontario
 | 
Audi e-tron near Pasadena
 | 
Audi e-tron near Rancho Cucamonga
 | 
Audi e-tron near Rowland Heights
 | 
Audi e-tron near West Covina