EV Road Review | Carfection 4K: Audi E-Tron Sportback The Audi E-Tron Sportback EV is a completely electric SUV range that looks fantastic and promises a ton of fun. This is the car that you should own. Drew Stearne brought it out for a test drive to convince you that this is your car.
Watch here: https://youtu.be/Fqd-ri8YdYg
A 500 mile analysis and comparison of the 2020 Audi e-tron against another electric car, my old Tesla
Watch here: https://youtu.be/O-BVN9dsTbM
Fifth Gear's All-Electric Dog Fight: Audi e-tron SUV versus Tesla Model X Let the dog battle begin between Audi e-tron SUV as it clashes with Tesla Model X VS in the battle of all-electric vehicles! Jonny and Vicki of the Fifth Gear test both vehicles and draws out a conclusion which is the better luxury EV provider.
Watch here: https://youtu.be/Mh9v7zludUs
A Tesla owner honest take on the rival EV: A Review on Audio e-tron Watch the five days of drive test across Denver, a roundtrip to Breckridge and back. Dont forget to check one productive drive to Eastern Colorado. Enjoy and let me know what you think!
Watch here: https://youtu.be/zD__D2EEzdA
ZIP CODES - near 
91101

91103

91709

91722

91724

91737

91764

91790

91792

91791

91750

91107

91106

91748

91723

91701

91762

91761

91711

91739

91730

91104

91105
CITIES near 
Pasadena
Chino Hills
Covina
Rancho Cucamonga
Ontario
West Covina
La Verne
Rowland Heights
Claremont
The new technology of an all-wheel electric drive guarantees maximum stability and overall control power in various road and weather status.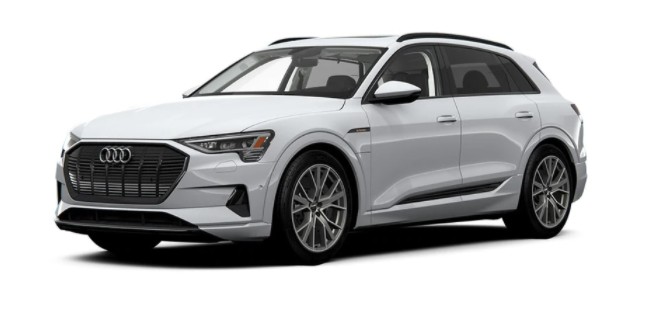 Audi e-tron Sportback
The Audi e-tron Sportback is available with a starting price of $69,100.*
The Audi family expands with the e-tron Sportback! It combines the functionality of a spacious SUV with the elegance of a four-door coupe.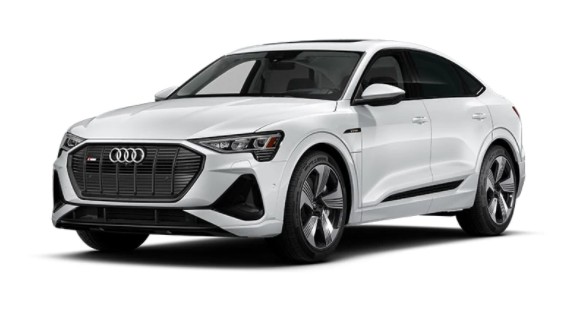 Audi e-tron
You can purchase the new Audi e-tron at the starting price of $65,900. *
Built for the contemporary world, the Audi e-tron is the first ever electric SUV created with the premium DNA of Audi brand. Featuring the Quattro all-wheel drive, this EV boasts of spacious
Frequently Asked Questions
How much is Audi e-tron Quattro's real world range?
For city and highway real world range during summer, it is 194 miles. For city and highway real world range during winter, it is 163 miles. Note that real-life numbers may vary depending on the actual weather conditions and driving style.
What is the Audi e-tron Quattro's cargo capacity?
The Audi e-tron Quattro's cargo capacity with unfolded seats is twenty three feet cube.
Is Audi's e-tron worth owning?
The 2021 Audi e-tron is a luxurious electric SUV with high performance output. The e-tron is easy to use on a daily basis and the car's seamless air suspension, a large and a quiet interior, and a top-notch cabin materials has the car to thank for. Its all-wheel-drive electrical system allows fast handling and acceleration.
Is gas allowed in Audi e-tron?
The equivalent is MPG or miles per gallon of the average distance traveled per unit of energy used, as used by the hybrid and electric vehicles.
About 
Audi of West Covina

 Sales Department

At Audi West Covina, we're proud to announce that we're under new ownership and are now a part of Envision Motors. However, one thing that hasn't changed is our commitment to providing you withthe premium shopping experience that you deserve and supplying you with thesuperior product knowledge that helps you make an informed buying decision.
REVIEWS
from our 
 Customers
Kathryn Vallejos 
This is our second car that we bought from James Gideon and will continue buying from Penske West Covina James was very helpful friendly and thoughtful thanks again Penske
P Tsai 
Great dealership, great carPhilip, Thank you so much for taking the time to share your experience with us. We love to hear when our guests have a great visit to our dealership! We are always here to help with any of your automotive needs. Thanks again, Penske Audi West Covina
Wesley Yu 
Wesley, Thank you for your honest feedback of our dealership. We strive for five-star customer service and are concerned to see that yours was not. We would appreciate the chance to speak with you further about your visit. Could you please email our Service Manager, David Butler, at dbutler@socalpenske.com? Thank you, Penske Audi West Covina
Rebeca Macias 
Thanks for the 5 star rating, Rebeca!
patrick pacheco 
Pressure Sales all the way. Beautiful CarsPatrick, We are so sorry you felt pressure from our team and our General Manager, Shawn Clancy, would appreciate the opportunity to make it right. Would you mind emailing your preferred contact information to sclancy@socalpenske.com? We appreciate your feedback and look forward to speaking with you. Best Regards, Penske Audi West Covina
Audi of West Covina

 Sales Hours

Monday08:30 - 21:00

Tuesday08:30 - 21:00

Wednesday08:30 - 21:00

Thursday08:30 - 21:00

Friday08:30 - 21:00

Saturday08:30 - 21:00

Sunday10:00 - 20:00
Audi e-tron near Azusa
 | 
Audi e-tron near Chino Hills
 | 
Audi e-tron near Claremont
 | 
Audi e-tron near Covina
 | 
Audi e-tron near La-Verne
 | 
Audi e-tron near Ontario
 | 
Audi e-tron near Pasadena
 | 
Audi e-tron near Rancho Cucamonga
 | 
Audi e-tron near Rowland Heights
 | 
Audi e-tron near West Covina