EV Road Review | Carfection 4K: Audi E-Tron Sportback The Audi E-Tron Sportback EV is a completely electric SUV range that looks fantastic and promises a ton of fun. This is the car that you should own. Drew Stearne brought it out for a test drive to convince you that this is your car.
Watch here: https://youtu.be/Fqd-ri8YdYg
A 0-60mph & 1/4 mile test review of 2021 Audi RS e-tron GT Audi is expected to unleash their first all-electric RS vehicle... and Mat has his hands on the test concept! Please welcome the Audi RS e-tron GT!
Watch here: https://youtu.be/BVN6Tlg_raQ
Fifth Gear's All-Electric Dog Fight: Audi e-tron SUV versus Tesla Model X Let the dog battle begin between Audi e-tron SUV as it clashes with Tesla Model X VS in the battle of all-electric vehicles! Jonny and Vicki of the Fifth Gear test both vehicles and draws out a conclusion which is the better luxury EV provider.
Watch here: https://youtu.be/Mh9v7zludUs
ZIP CODES - near 
91103

91106

91107

91711

91724

91739

91750

91761

91762

91791

91764

91748

91105

91792

91701

91104

91790

91709

91101

91730

91737

91722

91702

91723
CITIES near 
Pasadena
Claremont
Covina
Rancho Cucamonga
La Verne
Ontario
West Covina
Rowland Heights
Chino Hills
Azusa
The German car manufacturer Audi provides a range of options for charging system which can be used at home. A regular mobile charging device can be used either with a 230-volt regular household outlet or with a 400-volt three-phase outlet. The alternative "connect" charging device increases the charging capacity to up to 22 kW.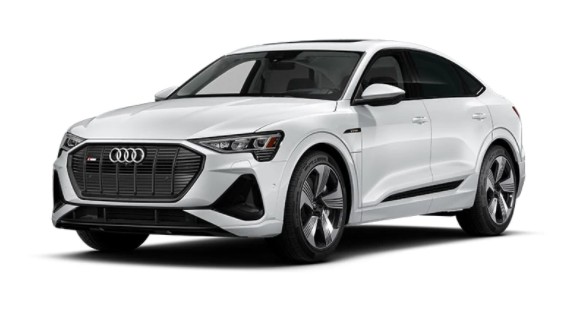 Audi e-tron
You can purchase the new Audi e-tron at the starting price of $65,900. *
Built for the contemporary world, the Audi e-tron is the first ever electric SUV created with the premium DNA of Audi brand. Featuring the Quattro all-wheel drive, this EV boasts of spacious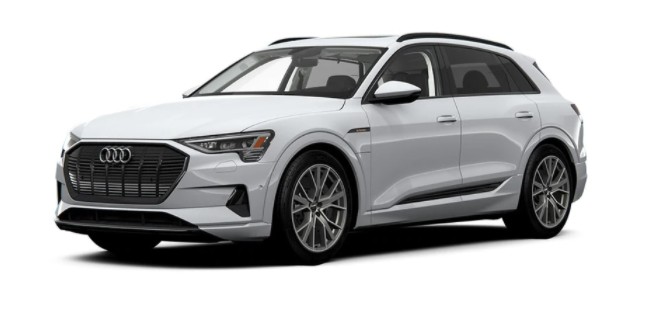 Audi e-tron Sportback
The Audi e-tron Sportback is available with a starting price of $69,100.*
The Audi family expands with the e-tron Sportback! It combines the functionality of a spacious SUV with the elegance of a four-door coupe.
Frequently Asked Questions
How much is Audi e-tron Quattro's real world range?
For city and highway real world range during summer, it is 194 miles. For city and highway real world range during winter, it is 163 miles. Note that real-life numbers may vary depending on the actual weather conditions and driving style.
Is the Audi e-tron fully electric?
The 2021 Audi e-tron SUV family receives an unprecedented series of improvements and a fresh, attractive price point for the 2021 model year. The full-electric Audi versions bring innovative SUV designs with standard utility, and distinguishing road profile.
Do Audi manufacture electric cars?
Working hard ahead has always been in the core of Audi. This vision is now more entrancing as the manufacturer lines up an impressive selection of fully electric and plug-in hybrid vehicles, a range of prototype cars and eyes set to be 100% CO2 neutral by 2050, we are changing our industry - and your driving experience.
Can a Tesla supercharger use to charge an Audi e-tron?
No. You can use any Audi e-tron charger as long as it is not a Tesla.
About 
Audi of West Covina

 Sales Department

At Audi West Covina, we're proud to announce that we're under new ownership and are now a part of Envision Motors. However, one thing that hasn't changed is our commitment to providing you withthe premium shopping experience that you deserve and supplying you with thesuperior product knowledge that helps you make an informed buying decision.
REVIEWS
from our 
 Customers
Ron Moore 
Great service peopleRon, We're so glad to hear about your positive service experience with our team. Thank you for servicing your vehicle with us! We wish you many happy miles! Take care, David Butler Service Director Penske Audi West Covina
Igor LA 
It is just an OK place. It needs a new sales manager, eager to sell.I hope Mr. Penske will make changes.
Janeanne 
Janeanne, Thank you so much for taking the time to review your experience with us. We love when our guests have a great visit to our dealership! We are always here to help with any of your automotive needs. Thanks again, Penske Audi West Covina
Kayla Abney 
Very friendly and accommodating.
Anthony G 
Hello Anthony, If there is anything in particular that made you feel the service did not meet your expectations, please feel free to reach out to me at Tpeng@socalpenske.com. I appreciate your honest feedback and look forward to turning around your experience! Sincerely, Tony Peng Sales Manager Penske Audi West Covina
Audi of West Covina

 Sales Hours

Monday08:30 - 21:00

Tuesday08:30 - 21:00

Wednesday08:30 - 21:00

Thursday08:30 - 21:00

Friday08:30 - 21:00

Saturday08:30 - 21:00

Sunday10:00 - 20:00
Audi e-tron near Azusa
 | 
Audi e-tron near Chino Hills
 | 
Audi e-tron near Claremont
 | 
Audi e-tron near Covina
 | 
Audi e-tron near La-Verne
 | 
Audi e-tron near Ontario
 | 
Audi e-tron near Pasadena
 | 
Audi e-tron near Rancho Cucamonga
 | 
Audi e-tron near Rowland Heights
 | 
Audi e-tron near West Covina