Real-World Review: The 2020 Audi E-Tron Beyond Marketing and On the Road The Audi E-Tron is Audi's first electric SUV. The manufacturer spent effort and resources in creating a more conventional and premium option to rival that of Tesla's Model X. Can the E-Tron surpass the pioneer an equally exclusive experience? E-tron's sub-par range requirements, acceptable acceleration and less engaging EV experience than Tesla, will it live up as Tesla's rival? I took the E-Tron for a range test to see if the numbers are right. Plus, I'll show you every detail about this EV to guide you whether this is the right EV for you!
Watch here: https://youtu.be/aAuqmnGgVbA
DrivingElectric Review on Audi e-tron Sportback As the company's first electric vehicle, Audi is setting everything right. It has now the coupe-style roof, an added cool factor to an already cool car. Stay tuned as Richard Ingram test drives this EV and see how it fares with a regular vehicle.
Watch here: https://youtu.be/6U1PEb3_Hmg
The Battle of EV Kings: Audi e-tron Quattro Versus Jaguar I-PACE Is it the battle of European cars? The British versus Germans; Jaguar I-PACE versus Audi e-tron. Each of these automotive makers has produced beautiful electric cars made for the contemporary world. Which EV you should buy?
Watch here: https://youtu.be/l_9GnM0oM-g
Driving Electric Review: Jaguar I-PACE EV400 new rival, the Audi e-tron 55 Quattro Last year, the Jaguar I-Pace strike the pavement rolling when it and awarded due to its outstanding driving attributes and power train. With the arrival of Audi e-tron, it now faces strong competition. Will it level with the German manufacturer's vision of big, electric SUV should be. But which one is better?
Watch here: https://youtu.be/tO6GEgEfO6w
ZIP CODES - near 
91103

91104

91105

91106

91709

91730

91748

91762

91711

91790

91724

91701

91722

91761

91107

91101

91764

91737

91792

91723

91739

91791

91702
CITIES near 
Pasadena
Chino Hills
Rancho Cucamonga
Rowland Heights
Ontario
Claremont
West Covina
Covina
Azusa
The German car manufacturer Audi provides a range of options for charging system which can be used at home. A regular mobile charging device can be used either with a 230-volt regular household outlet or with a 400-volt three-phase outlet. The alternative "connect" charging device increases the charging capacity to up to 22 kW.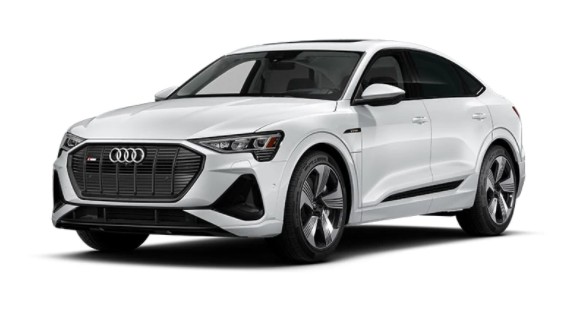 Audi e-tron
You can purchase the new Audi e-tron at the starting price of $65,900. *
Built for the contemporary world, the Audi e-tron is the first ever electric SUV created with the premium DNA of Audi brand. Featuring the Quattro all-wheel drive, this EV boasts of spacious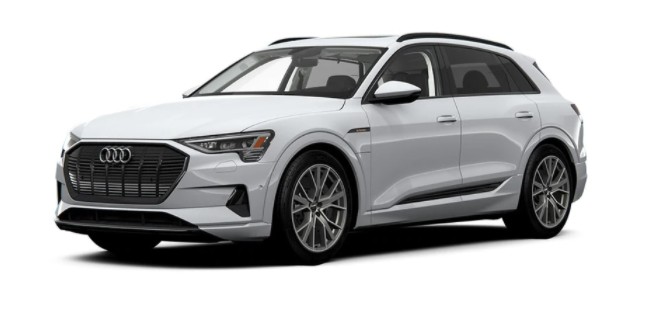 Audi e-tron Sportback
The Audi e-tron Sportback is available with a starting price of $69,100.*
The Audi family expands with the e-tron Sportback! It combines the functionality of a spacious SUV with the elegance of a four-door coupe.
Frequently Asked Questions
Is gas allowed in Audi e-tron?
The equivalent is MPG or miles per gallon of the average distance traveled per unit of energy used, as used by the hybrid and electric vehicles.
Can a Tesla supercharger use to charge an Audi e-tron?
No. You can use any Audi e-tron charger as long as it is not a Tesla.
Is the Audi e-tron fully electric?
The 2021 Audi e-tron SUV family receives an unprecedented series of improvements and a fresh, attractive price point for the 2021 model year. The full-electric Audi versions bring innovative SUV designs with standard utility, and distinguishing road profile.
Is a seven-seater available option in Audi e-tron?
The Audi e-tron has a large 605-litre boot and can only seat five. The vehicle boasts of an adaptive air suspension, 360-degree cameras, charging points at both vehicle sides, keyless entry, and LED headlights.
About 
Audi of West Covina

 Sales Department

At Audi West Covina, we're proud to announce that we're under new ownership and are now a part of Envision Motors. However, one thing that hasn't changed is our commitment to providing you withthe premium shopping experience that you deserve and supplying you with thesuperior product knowledge that helps you make an informed buying decision.
REVIEWS
from our 
 Customers
Sam C 
Thank you Kayla Abney for your extraordinary service! Looking forward to doing more business with you!
Levi L. 
Beverly Hills, CA
Audi West Covina is AMAZING! It was a bit of a drive but worth the time.!  Corona careful dealership all employees wore masks etc it made my buying experience so much more comfortable. From the moment I got out of my car I was approached by by an employee to see if I need any help. while I was waiting for my appointment several times I was approached by employees and asked If i would like to drink or anything I need. what was interesting was the dealership group has multiple dealerships within the block  what made me write this Yelp report was the amazing GENERAL MANAGER named TODD KAZARIANE.. HE PERSONALLY came to make sure that all of the transaction was to my satisfaction even helping me find accessories for the car I bought at reduced prices online. that's pretty amazing for a general manager with all his responsibilities to care so personally for his customers. BUT EVEN MORE he's a super honest person he actually had someone call to try to buy the car which was advertised online for more than they offered it to me and turned the customer down because I was already in transaction.. HONEST DEALERSHIP. I'm so happy I found this hidden treasure dealership.
Jonathan Chu 
I highly recommend Alex Lee for all your Audi service needs. I took my Audi S5 to Penske back in January for a Pre Purchase Inspection report. Anytime I had a problem or question, Alex responded swiftly and honestly. He also provided me with an uber ride back to my work, and an uber ride to pick up my car. Most importantly, he made me feel secure and in good hands throughout the entire process. Thanks again.
Doug Heideman 
I purchased a 2012 A6 3.0 Prestige December 4 2012. Tim Moore in sales was very knowledgeable, professional and low key. During the test drive he demonstrated many of the A6's considerable features. He also knew the answers to all of my questions. After the test drive I told him I was interested in buying but I had another appointment and needed to leave. I asked him to call me with the 3 prices; sticker, dealer invoice and what they would sell the car for. I explained that I was not interested in haggling over price and the selling price needed to be their best offer the first time. Tim Moore call me back later in the day and gave me the prices I had requested. I was pleasantly surprised at the selling price. I thought about it, called him the next day and told him I wanted to buy the car. When I arrived at the dealership Tim introduced me to the sales manager Peter Abysekera. Peter wanted to show me the dealer invoice and asked if I had any other questions. I told him no I was ready to buy. I filled out the credit application and met Sam Hafez in the finance department. Sam was very congenial and did not try to pressure me into buying an extended warranty, interior protection packages etc. While the car was detailed Peter and Tim gave me a tour of the dealership and introduced me to the general and parts and service managers. The car was delivered in spotless condition. Tim then programmed the SIM card for the Audi Connect and reviewed a few more features. My buying experience at Audi West Covina was the best. I cannot say enough about the quality of the people I met, their openness, honesty and the low key selling environment. I highly recommend this dealership.Hi Doug, Thank you so much for leaving us such a wonderful review; your kind words are much appreciated. Everyone here enjoyed working with you, and we all wish you the best with your new Audi A6. Please let us know if we can do anything else for you in the future. Sincerely, Penske Audi West Covina
Rebeca Macias 
Thanks for the 5 star rating, Rebeca!
Audi of West Covina

 Sales Hours

Monday08:30 - 21:00

Tuesday08:30 - 21:00

Wednesday08:30 - 21:00

Thursday08:30 - 21:00

Friday08:30 - 21:00

Saturday08:30 - 21:00

Sunday10:00 - 20:00
Audi e-tron near Azusa
 | 
Audi e-tron near Chino Hills
 | 
Audi e-tron near Claremont
 | 
Audi e-tron near Covina
 | 
Audi e-tron near La-Verne
 | 
Audi e-tron near Ontario
 | 
Audi e-tron near Pasadena
 | 
Audi e-tron near Rancho Cucamonga
 | 
Audi e-tron near Rowland Heights
 | 
Audi e-tron near West Covina