ZIP CODES - near 
91105

91106

91107

91702

91709

91748

91750

91762

91791

91101

91723

91104

91711

91722

91103

91730

91701

91724

91761

91737

91792

91764

91739
CITIES near 
Pasadena
Azusa
Chino Hills
Rowland Heights
La Verne
Ontario
West Covina
Covina
Claremont
Rancho Cucamonga
The intelligent Audi A8 60 TFSI plug-in hybrid system increases the vehicle driving range hence reducing the fuel consumption which means you fewer stops to refuel during a journey. The car has an electric-only drive mode which you can select whenever you want and it can drive only on electric power for an EPA - estimated 17 miles. The customers are also eligible for a $6,712 federal tax credit and additional state incentives.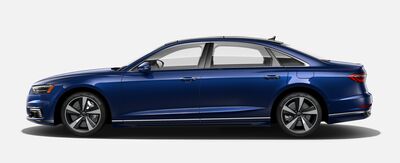 60 TFSI® quattro® Tiptronic®
$98,900
• Engine type: 4.0-liter eight-cylinder
• Acceleration (0 - 60 mph): 4.5 seconds
• S line® exterior package
• HD Matrix-design LED headlights
• 22-way comfort front seats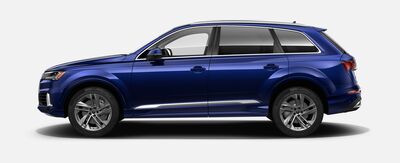 55 TFSI® quattro® tiptronic®
$86,500
• Engine type: 3.0-liter six-cylinder
• Displacement (cc)/Bore and stroke (mm): 2,995/84.5 x 89.0
• Max. Torque: 369 lb-ft
• 3.0-liter TFSI® turbocharged V6
• Valetta leather interior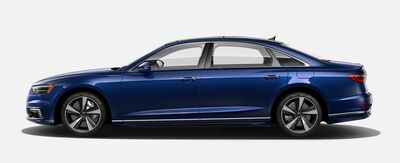 60 TFSI® e Plug-In Hybrid quattro® tiptronic®
$95,900
• Engine type: 3.0-liter six-cylinder + electric motor
• Acceleration (0 - 60 mph): 4.9 seconds
• LED headlights with e-Tron LED DRLs
• 19" 5-spoke design, bi-color wheel
• Four-zone climate control Plus
Frequently Asked Questions
What is the length, width, and height of the Audi A8l?
The Audi A8L 2020 is 55 inch high, 209 inches long, and 77 inches wide
What is the length of the Audi A8L?
The 2020 Audi A8 is 208.7 inches long.
4. What is the maximum fuel tank capacity of the Audi A8?
The 2020 Audi A8 can hold 90 litres of fuel.
Is Audi A8 bulletproof?
The latest armoured car has a VR9 ballistic standard protection to save the passengers from firearms and explosives. The latest variant comes with all the necessary features that will make the new A8 a new standard in luxury sedans.
About 
Audi of West Covina

 Sales Department

At Audi West Covina, we're proud to announce that we're under new ownership and are now a part of Envision Motors. However, one thing that hasn't changed is our commitment to providing you withthe premium shopping experience that you deserve and supplying you with thesuperior product knowledge that helps you make an informed buying decision.
REVIEWS
from our 
 Customers
Hexx H. 
Rowland Heights, CA
David was by far the best sales person I have ever worked with!!! He didn't pressure me, on the contrary gave me options! He was more like a life long friend than a sales person!! I would definitely recommend anyone looking for a new car. Come to Audi WC!! You will not be disappointed!! Joseph the Manager really hooked it up... I bought an ETRON, because he gave me the most amazing deal! He made it painless and quick... I have never owned an Audi! I have had every luxury brand you can think of... He made me an Audi guy... I definitely wasn't thinking of buying, he just made me the best deal! If you want the best Deal go see David and Joseph will put the finishing touches!!! Thank you guys! This was an Anniversary and Valentine Gift for my wife! Happy Wife Happy Life!
Junqi Qian 
Junqi, If there is anything in particular that made you feel service was poorly delivered, please feel free to reach out to our Sales Manager, Tony Peng, at penskeaudiofwestcovina@gmail.com. We appreciate your honest feedback and look forward to turning around your experience! Sincerely, Penske Audi West Covina
Patricio Lata 
Thanks for the 5 stars, Patricio!
Tammy Griffin 
It's worth the 40 mile drive!Tammy, Thank you so much for taking the time to share your experience with us. We love to hear when our guests have a great visit to our dealership! We are always here to help with any of your automotive needs. Thanks again, Penske Audi West Covina
Kathryn Vallejos 
This is our second car that we bought from James Gideon and will continue buying from Penske West Covina James was very helpful friendly and thoughtful thanks again Penske
Audi of West Covina

 Sales Hours

Monday08:30 - 21:00

Tuesday08:30 - 21:00

Wednesday08:30 - 21:00

Thursday08:30 - 21:00

Friday08:30 - 21:00

Saturday08:30 - 21:00

Sunday10:00 - 20:00
Audi A8 near Azusa
 | 
Audi A8 near Chino Hills
 | 
Audi A8 near Claremont
 | 
Audi A8 near Covina
 | 
Audi A8 near La-Verne
 | 
Audi A8 near Ontario
 | 
Audi A8 near Pasadena
 | 
Audi A8 near Rancho Cucamonga
 | 
Audi A8 near Rowland Heights
 | 
Audi A8 near West Covina