ZIP CODES - near 
91103

91104

91107

91723

91730

91761

91762

91764

91791

91106

91105

91790

91702

91709

91748

91722

91101

91737

91739

91724

91750

91792

91701

91711
CITIES near 
Pasadena
Covina
Rancho Cucamonga
Ontario
West Covina
Azusa
Chino Hills
Rowland Heights
La Verne
Claremont
The Audi A8 L comes with a turbocharged 3.0-litre V6 engine. It is also offering you a plugin hybrid 3.0 litre and Twin-turbocharged 4.0 Litre engine. The price starts at $86,500. Performance specifications (60 TFSI®) • Horsepower: 453 hp • 0-60 mph: 4.5 seconds • Torque: 487 lb-ft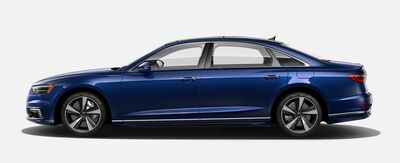 60 TFSI® e Plug-In Hybrid quattro® tiptronic®
$95,900
• Displacement (cc)/Bore and stroke (mm): 2,995/84.5 x 89.0
• Max. Torque: 516 (combined) lb-ft
• Top speed: 130 mph / In electric mode - 84 mph
• Acceleration (0 - 60 mph): 4.9 seconds
• LED headlights with e-Tron LED DRLs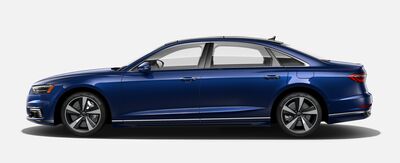 60 TFSI® quattro® Tiptronic®
$98,900
• Displacement (cc)/Bore and stroke (mm): 3,996/86.0 x 86.0
• Max. Torque: 487 lb-ft
• Top speed: 130 mph
• Acceleration (0 - 60 mph): 4.5 seconds
• S line® exterior package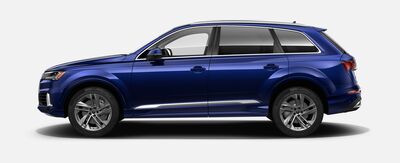 55 TFSI® quattro® tiptronic®
$86,500
• Displacement (cc)/Bore and stroke (mm): 2,995/84.5 x 89.0
• Acceleration (0 - 60 mph): 5.6 seconds
• Valetta leather interior
• Max. output: 335 HP
• 19" 15-spoke design wheels
Frequently Asked Questions
What is the length of the Audi A8L?
The 2020 Audi A8 is 208.7 inches long.
How much power the Audi A8 produce?
The Audi A8 L has a 3000-cc engine that produces 308 hp power and 440 Nm torque.
How much horsepower is produced by the Audi A8?
The base model of the Audi A8 is also very powerful. The 3.0-litre six-cylinder turbocharged engine produces 335 horsepower and 396 lb-ft torque. It is capable of doing 0-60 only in 5.6 seconds and has a top speed of 130 mph. The A8 is also equipped with a Quattro all-wheel-drive feature as standard.
What is the minimum monthly instalment of the Audi A8 L?
The lowest monthly instalment for Audi A8 L starts from ₱145078 for 60 months with DP ₱1.7 Million.
About 
Audi of West Covina

 Sales Department

At Audi West Covina, we're proud to announce that we're under new ownership and are now a part of Envision Motors. However, one thing that hasn't changed is our commitment to providing you withthe premium shopping experience that you deserve and supplying you with thesuperior product knowledge that helps you make an informed buying decision.
REVIEWS
from our 
 Customers
Sam C 
Thank you Kayla Abney for your extraordinary service! Looking forward to doing more business with you!
Nicholas H. 
Los Angeles, CA
Recently my girlfriend and I both leased cars here and we had an amazing experience. They were able to work with us on prices and were very understanding of the current situation of covid. Xiomy in particular was the one who helped us throughout the entire process for multiple days and she is still reaching out helping make sure our cars are in tip top shape. We are both very appreciative of her efforts, her patience and her communication. Looking forward to staying in contact and I know that as long as she is there any services we need she will make sure to help us figure out the issue.
Thomas Young 
I have been to Penske Audi West Covina twice since purchasing my Audi A6 from Riverside Audi. On both occasions I was assisted by Service Advisor Chris Martin. The 1st time I had a question and the 2nd time it was for my 5,000 mile service. I have had three BMW's over the past 10 years but I have never been help more than what I received from Chris and the Penske Audi West Covina Dealership. Helpful, knowledgeable, and without a doubt, exceeded my wishes for reliable assistance. West Covina will be where I continue going to receive service and help in the future!!Thomas, Thank you so much for this excellent review! We are so delighted to hear that Chris was so helpful on both of your visits to our dealership. We will be sure to share this with him and the rest of the team and let them know that their hard work is appreciated. We are looking forward to your next visit! Happy Holidays, Penske Audi West Covina
Juan Cruz 
Five stars service
Joseph G. 
Santa Clarita, CA
I have purchased over 2 dozen cars in my time and am extremely grateful for West Covina Audi. Hands down the most pleasant and humble experience I have ever received. I walked in to test drive and get the feel of an Audi A6 and walked away purchasing. David Lee and T are truly a phenomenal team. Audi has definitely won me over. 5 stars will not do them justice and with RONA in full tact they made me feel very comfortable and accommodated. They have definitely earned my trust. Reading through previous reviews about these reviews it seems to me these other reviewers have Lamborghini expectations but corolla money. Just my personal opinion. Don't rely on the negative reviews, go see them in person and be part of what I was able to experience 100%Thankyou West Covina Audi!!!
Audi of West Covina

 Sales Hours

Monday08:30 - 21:00

Tuesday08:30 - 21:00

Wednesday08:30 - 21:00

Thursday08:30 - 21:00

Friday08:30 - 21:00

Saturday08:30 - 21:00

Sunday10:00 - 20:00
Audi A8 near Azusa
 | 
Audi A8 near Chino Hills
 | 
Audi A8 near Claremont
 | 
Audi A8 near Covina
 | 
Audi A8 near La-Verne
 | 
Audi A8 near Ontario
 | 
Audi A8 near Pasadena
 | 
Audi A8 near Rancho Cucamonga
 | 
Audi A8 near Rowland Heights
 | 
Audi A8 near West Covina