ZIP CODES - near 
91103

91107

91711

91722

91723

91762

91791

91730

91724

91750

91737

91792

91790

91748

91104

91764

91101

91105

91739

91106

91702

91701

91761
CITIES near 
Pasadena
Claremont
Covina
Ontario
West Covina
Rancho Cucamonga
La Verne
Rowland Heights
Azusa
The intelligent Audi A8 60 TFSI plug-in hybrid system increases the vehicle driving range hence reducing the fuel consumption which means you fewer stops to refuel during a journey. The car has an electric-only drive mode which you can select whenever you want and it can drive only on electric power for an EPA - estimated 17 miles. The customers are also eligible for a $6,712 federal tax credit and additional state incentives.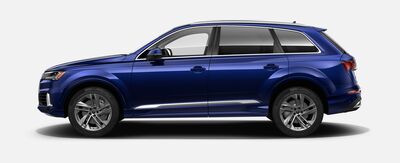 55 TFSI® quattro® tiptronic®
$86,500
• Top speed: 130 mph
• 19" 15-spoke design wheels
• Valetta leather interior
• Max. output: 335 HP
• Engine type: 3.0-liter six-cylinder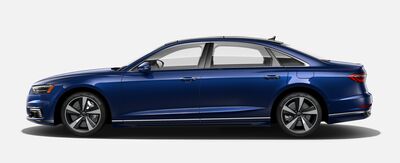 60 TFSI® quattro® Tiptronic®
$98,900
• 22-way comfort front seats
• Valcona leather interior
• 4.0-liter TFSI® turbocharged V8
• Engine type: 4.0-liter eight-cylinder
• S line® exterior package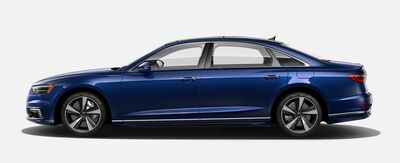 60 TFSI® e Plug-In Hybrid quattro® tiptronic®
$95,900
• Four-zone climate control Plus
• Valetta leather interior
• 3.0-litre TFSI® turbocharged V6 with the electric motor
• Engine type: 3.0-liter six-cylinder + electric motor
• LED headlights with e-Tron LED DRLs
Frequently Asked Questions
What is the horsepower of the Audi A8?
The Audi A8 2020 produces 435 horsepower.
4. What is the maximum fuel tank capacity of the Audi A8?
The 2020 Audi A8 can hold 90 litres of fuel.
How much power the Audi A8 produce?
The Audi A8 L has a 3000-cc engine that produces 308 hp power and 440 Nm torque.
How much horsepower is produced by the Audi A8?
The base model of the Audi A8 is also very powerful. The 3.0-litre six-cylinder turbocharged engine produces 335 horsepower and 396 lb-ft torque. It is capable of doing 0-60 only in 5.6 seconds and has a top speed of 130 mph. The A8 is also equipped with a Quattro all-wheel-drive feature as standard.
About 
Audi of West Covina

 Sales Department

At Audi West Covina, we're proud to announce that we're under new ownership and are now a part of Envision Motors. However, one thing that hasn't changed is our commitment to providing you withthe premium shopping experience that you deserve and supplying you with thesuperior product knowledge that helps you make an informed buying decision.
REVIEWS
from our 
 Customers
Ashley R. 
San Dimas, CA
I am very late on this review, but I truly believe they deserve it. I leased an Audi A5 in the middle of last year. This was my first car lease and I was obviously very scared and nervous, but the sales rep Joseph (I think was his name) and the supervisor David ( I hope I'm getting these names right it has been a while) we're truly helpful throughout the time we were shopping around. Joseph was very patient while I was deciding between vehicles and packages and I did not feel pressured to purchase or act at any moment. When it was time to discuss lease pricing, both Joseph and the supervisor were open to negotiating and we came to a very good deal for the car. Afterwards, Oliver in the finance dep. was very friendly and helpful when explaining warranties, etc. Overall great experience with this dealership. I only hope that they have more inventory in the future!
Mike Ellis 
Brittny in the service department provided FIRST class customer service. I had my windshield replaced by another shop and the job was not done properly. I was irritated with the delay and extra costs that were involved with having to take my vehicle in for the second time. Brittny calmingly assured me that she would ensure that the job was done correctly and within my tight time frame. She delivered on both accounts! Always maintaining a professional manner even when I was not. After working with Brittny, WC Audi will be handling all my maintenance needs. Thank you Brittny! Mike E
Timothy G. 
Ventura, CA
I found a car I was interested in online and put my car in for a trade in, Todd called me the following day and basically built the exact deal I was looking for. He made sure I got a good value for my trade in and gave me a great price on the Q7 I was interested in. This was on a Monday, I made it down there (hour and half away) on Wednesday and 2 hours after doing the normal paperwork I was headed home in a new car. It was the easiest car purchase I have even made. 100% recommend!
Ron Moore 
Great service peopleRon, We're so glad to hear about your positive service experience with our team. Thank you for servicing your vehicle with us! We wish you many happy miles! Take care, David Butler Service Director Penske Audi West Covina
Sister Robinson 
Can be persistentThanks for the 5 star rating, Sister!
Audi of West Covina

 Sales Hours

Monday08:30 - 21:00

Tuesday08:30 - 21:00

Wednesday08:30 - 21:00

Thursday08:30 - 21:00

Friday08:30 - 21:00

Saturday08:30 - 21:00

Sunday10:00 - 20:00
Audi A8 near Azusa
 | 
Audi A8 near Chino Hills
 | 
Audi A8 near Claremont
 | 
Audi A8 near Covina
 | 
Audi A8 near La-Verne
 | 
Audi A8 near Ontario
 | 
Audi A8 near Pasadena
 | 
Audi A8 near Rancho Cucamonga
 | 
Audi A8 near Rowland Heights
 | 
Audi A8 near West Covina