ZIP CODES - near 
91103

91105

91106

91702

91730

91748

91762

91792

91790

91791

91764

91101

91701

91737

91761

91104

91722

91711

91739

91723

91724

91107

91709
CITIES near 
Pasadena
Azusa
Rancho Cucamonga
Rowland Heights
Ontario
West Covina
Covina
Claremont
Chino Hills
The intelligent Audi A8 60 TFSI plug-in hybrid system increases the vehicle driving range hence reducing the fuel consumption which means you fewer stops to refuel during a journey. The car has an electric-only drive mode which you can select whenever you want and it can drive only on electric power for an EPA - estimated 17 miles. The customers are also eligible for a $6,712 federal tax credit and additional state incentives.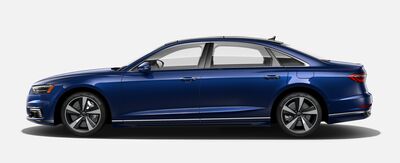 60 TFSI® quattro® Tiptronic®
$98,900
• Displacement (cc)/Bore and stroke (mm): 3,996/86.0 x 86.0
• Max. Torque: 487 lb-ft
• Engine type: 4.0-liter eight-cylinder
• Acceleration (0 - 60 mph): 4.5 seconds
• 22-way comfort front seats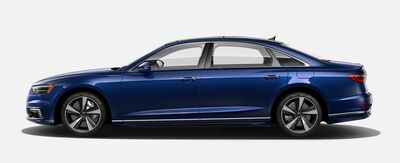 60 TFSI® e Plug-In Hybrid quattro® tiptronic®
$95,900
• Displacement (cc)/Bore and stroke (mm): 2,995/84.5 x 89.0
• Max. Torque: 516 (combined) lb-ft
• Engine type: 3.0-liter six-cylinder + electric motor
• Acceleration (0 - 60 mph): 4.9 seconds
• Four-zone climate control Plus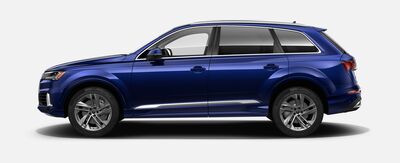 55 TFSI® quattro® tiptronic®
$86,500
• LED headlights with LED DRLs
• Engine type: 3.0-liter six-cylinder
• Max. output: 335 HP
• Max. Torque: 369 lb-ft
• 3.0-liter TFSI® turbocharged V6
Frequently Asked Questions
What is the length, width, and height of the Audi A8l?
The Audi A8L 2020 is 55 inch high, 209 inches long, and 77 inches wide
4. What is the maximum fuel tank capacity of the Audi A8?
The 2020 Audi A8 can hold 90 litres of fuel.
How much horsepower is produced by the Audi A8?
The base model of the Audi A8 is also very powerful. The 3.0-litre six-cylinder turbocharged engine produces 335 horsepower and 396 lb-ft torque. It is capable of doing 0-60 only in 5.6 seconds and has a top speed of 130 mph. The A8 is also equipped with a Quattro all-wheel-drive feature as standard.
What is the minimum monthly instalment of the Audi A8 L?
The lowest monthly instalment for Audi A8 L starts from ₱145078 for 60 months with DP ₱1.7 Million.
About 
Audi of West Covina

 Sales Department

At Audi West Covina, we're proud to announce that we're under new ownership and are now a part of Envision Motors. However, one thing that hasn't changed is our commitment to providing you withthe premium shopping experience that you deserve and supplying you with thesuperior product knowledge that helps you make an informed buying decision.
REVIEWS
from our 
 Customers
Nicholas H. 
Los Angeles, CA
Recently my girlfriend and I both leased cars here and we had an amazing experience. They were able to work with us on prices and were very understanding of the current situation of covid. Xiomy in particular was the one who helped us throughout the entire process for multiple days and she is still reaching out helping make sure our cars are in tip top shape. We are both very appreciative of her efforts, her patience and her communication. Looking forward to staying in contact and I know that as long as she is there any services we need she will make sure to help us figure out the issue.
Willie D. 
Los Angeles, CA
I visited the Store today and met with sales rep. Shadi Darwich and he was excellent . I explained to him what I was looking for ( Q8s ) and what I want in the car from comfort to looks and a lot and f power . Shadi took me through the the inventory and shows me some cars and he recommended  that I look at Q7s as well.  He took the time to show me and test drive both cars without any hesitation even after I explained to him that I'm not planing on doing anything this visit but look and feel . I then met with sales manager Nemer, whom thanked me for coming in and asked me about my experience with Shadi. I'm very pleased with everything happen with my visit and I will be coming back once I make a decision .Again, thank you for all the information and please keep up the good work .
patrick pacheco 
Pressure Sales all the way. Beautiful CarsPatrick, We are so sorry you felt pressure from our team and our General Manager, Shawn Clancy, would appreciate the opportunity to make it right. Would you mind emailing your preferred contact information to sclancy@socalpenske.com? We appreciate your feedback and look forward to speaking with you. Best Regards, Penske Audi West Covina
Alex Baltodano 
Very nice salespeople Joseph Hernandez
J. Galvan 
Service department is very helpful, but if you need a courtesy car reserve it when you set up your appointment.Thanks for the 5 star review! Please let us know what we can do to make your next experience a 5 star experience.
Audi of West Covina

 Sales Hours

Monday08:30 - 21:00

Tuesday08:30 - 21:00

Wednesday08:30 - 21:00

Thursday08:30 - 21:00

Friday08:30 - 21:00

Saturday08:30 - 21:00

Sunday10:00 - 20:00
Audi A8 near Azusa
 | 
Audi A8 near Chino Hills
 | 
Audi A8 near Claremont
 | 
Audi A8 near Covina
 | 
Audi A8 near La-Verne
 | 
Audi A8 near Ontario
 | 
Audi A8 near Pasadena
 | 
Audi A8 near Rancho Cucamonga
 | 
Audi A8 near Rowland Heights
 | 
Audi A8 near West Covina