ZIP CODES - near 
91105

91106

91702

91722

91737

91750

91762

91791

91723

91101

91709

91104

91724

91107

91701

91103

91739

91730

91792

91761

91748

91711

91764
CITIES near 
Pasadena
Azusa
Covina
Rancho Cucamonga
La Verne
Ontario
West Covina
Chino Hills
Rowland Heights
Claremont
The TT Coupe is an integrated icon of Audi design that prides itself on the interior that focuses on the integration of technology and infotainment, yet it offers real-world performance. The TT Coupe starts at $ 49,800. Performance Details • Horsepower: 228 hp • Torque: 258 lb-ft • 0-60 mph: 5.2 seconds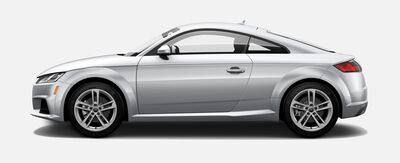 45 TFSI® quattro® S tronic®
$ 49,800
• Displacement (cc)/Bore and stroke (mm): 1984/82.5 x 92.8
• Max. Torque: 258 lb-ft
• Max. output: 228 HP
• MMI® Navigation plus
• Top speed: 130 mph
Frequently Asked Questions
Does Audi TT has a paddle shifter?
The upshift paddle does not move back to its at-rest position. The car still shifts properly through all gears when used like an automatic, and the Downshift paddle operates properly.
How many miles will an Audi TT last?
The Audi TT Is a Sports Car that is most likely to Last Over 150,000 Miles.
13. Is Audi's good after 100k miles?
It is genuine that VW/Audi merchandise is not regarded for his or her long life, and I have owned some Audis. But 100k miles is not always a bold goal. A contemporary-day Audi has to be simply high-quality for ten years and 100,000 miles. Over the beyond few years, Audi has progressed dramatically in reliability research performed through Consumer Reports.
What is the difference between Audi TT and TTS?
The Audi TT comes with a powerful 2.0-liter TFSI engine with 220 horsepower and 258 lb-ft of torque. The TTS is more than just a fast, it's a blistery one. The Audi TTS is a more enhanced model of TT's having a 2.0 liter TFSI engine, which produces 292 horsepower and 280 lb torque.
About 
Audi of West Covina

 Sales Department

At Audi West Covina, we're proud to announce that we're under new ownership and are now a part of Envision Motors. However, one thing that hasn't changed is our commitment to providing you withthe premium shopping experience that you deserve and supplying you with thesuperior product knowledge that helps you make an informed buying decision.
REVIEWS
from our 
 Customers
allison bautista 
Great customer service!Thank you for your great rating Allison! Our customer service staff takes great pride in helping our customers.
Nemer Sarriedine 
Thank you for the 5 star rating, Nemer!
Nelson Cruz 
Nelson, Thank you so much for your feedback! We are thrilled that you had a great experience! We look forward to serving you in the future! Tony Peng Sales Manager Penske Audi West Covina
Tiffany Leonard 
Shane gave us a great test drive.Tiffany, Thank you for sharing your feedback with us! We are so glad to hear that you had an excellent test drive with Shane! Thanks again, Penske Audi West Covina
A. G. 
San Dimas, CA
I had a great experience here, specifically with Shadi. He made the process painless, and along with Todd, was able to get me the vehicle I wanted for the price I wanted to pay. Thank you gents for the SQ5; This is a fantastic vehicle.
Audi of West Covina

 Sales Hours

Monday08:30 - 21:00

Tuesday08:30 - 21:00

Wednesday08:30 - 21:00

Thursday08:30 - 21:00

Friday08:30 - 21:00

Saturday08:30 - 21:00

Sunday10:00 - 20:00
Audi TT near Azusa
 | 
Audi TT near Chino Hills
 | 
Audi TT near Claremont
 | 
Audi TT near Covina
 | 
Audi TT near La-Verne
 | 
Audi TT near Ontario
 | 
Audi TT near Pasadena
 | 
Audi TT near Rancho Cucamonga
 | 
Audi TT near Rowland Heights
 | 
Audi TT near West Covina