ZIP CODES - near 
91104

91107

91701

91702

91709

91739

91762

91790

91737

91723

91761

91103

91724

91791

91764

91106

91722

91711

91105

91750

91792

91101

91730
CITIES near 
Pasadena
Rancho Cucamonga
Azusa
Chino Hills
Ontario
West Covina
Covina
Claremont
La Verne
The S tronic® dual-clutch automated transmission impresses with quick shift timing and the capability of manual shifting from the paddle shifter mounted on the steering-wheel. The 2.0-liter TFSI® four-cylinder engine in the TT Coupe is attached with a seven-speed S tronic® dual-clutch transmission and a quattro® all-wheel drive.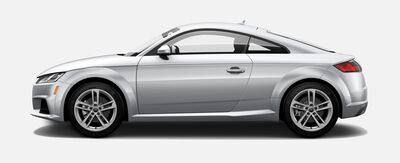 45 TFSI® quattro® S tronic®
$ 49,800
• Max. Torque: 258 lb-ft
• Top speed: 130 mph
• 18" 5-double-spoke dynamic design wheels with 245/40 R18 all-season tires
• MMI® Navigation plus
• Max. output: 228 HP
Frequently Asked Questions
What does TT mean in Audi TT?
Audi TT took its name from the NSU hit motorcycle race at the British Isle of Man TT (Tourist Trophy). The Audi TT additionally follows the NSU 1000TT, 1200TT, and TT cars of 1960 n taking their names from this race.
Is Audi TT comfortable?
What's the indoors like? The Audi TT seems significantly remarkable with its low-slung, sporty seats. It is extraordinarily clean to get cushy way to an extensive variety of seat and steering wheel adjustments. The boot is noticeably spacious which makes the TT fairly nice for weekends away or grocery trips.
How many miles will an Audi TT last?
The Audi TT Is a Sports Car that is most likely to Last Over 150,000 Miles.
Is the Audi TT fast?
Do not get us wrong, a bone-inventory Audi TT RS Mk2 is one feisty mechanical contraption well-worth of the sports activities vehicle tag.
About 
Audi of West Covina

 Sales Department

At Audi West Covina, we're proud to announce that we're under new ownership and are now a part of Envision Motors. However, one thing that hasn't changed is our commitment to providing you withthe premium shopping experience that you deserve and supplying you with thesuperior product knowledge that helps you make an informed buying decision.
REVIEWS
from our 
 Customers
陈厚良 
Hello, Thank you for taking the time to review our dealership! Happy Driving! Best Regards, Penske Audi West Covina
Joseph G. 
Santa Clarita, CA
I have purchased over 2 dozen cars in my time and am extremely grateful for West Covina Audi. Hands down the most pleasant and humble experience I have ever received. I walked in to test drive and get the feel of an Audi A6 and walked away purchasing. David Lee and T are truly a phenomenal team. Audi has definitely won me over. 5 stars will not do them justice and with RONA in full tact they made me feel very comfortable and accommodated. They have definitely earned my trust. Reading through previous reviews about these reviews it seems to me these other reviewers have Lamborghini expectations but corolla money. Just my personal opinion. Don't rely on the negative reviews, go see them in person and be part of what I was able to experience 100%Thankyou West Covina Audi!!!
Paul Hayabusa 
Every business do run in to some hiccups. Big thank to Martin, Sam and Tony for their help correcting the issue. I just won't count on service department from this dealer. Parts department are great tho. Bought certified 2013 A6 with service plan for 35k and 45k Miles. Bring the car in for 35k miles, service rep are quite ignorant. For my 45k miles, I've decided to bring my car to another dealer. Long behold, service records show 45k service has been used for my 35k. Record also indicate my 35k service was used before I purchase the car. Sam pull it through for me.Paul, Thank you for bringing this to my attention. I would like the chance to speak with you to learn more about your service records and your experience with our staff. Can you please email me at dbutler@socalpenske.com with your preferred contact information? I appreciate your time! David Butler Service Director Penske Audi West Covina
Rebeca Macias 
Thanks for the 5 star rating, Rebeca!
Doug Heideman 
I purchased a 2012 A6 3.0 Prestige December 4 2012. Tim Moore in sales was very knowledgeable, professional and low key. During the test drive he demonstrated many of the A6's considerable features. He also knew the answers to all of my questions. After the test drive I told him I was interested in buying but I had another appointment and needed to leave. I asked him to call me with the 3 prices; sticker, dealer invoice and what they would sell the car for. I explained that I was not interested in haggling over price and the selling price needed to be their best offer the first time. Tim Moore call me back later in the day and gave me the prices I had requested. I was pleasantly surprised at the selling price. I thought about it, called him the next day and told him I wanted to buy the car. When I arrived at the dealership Tim introduced me to the sales manager Peter Abysekera. Peter wanted to show me the dealer invoice and asked if I had any other questions. I told him no I was ready to buy. I filled out the credit application and met Sam Hafez in the finance department. Sam was very congenial and did not try to pressure me into buying an extended warranty, interior protection packages etc. While the car was detailed Peter and Tim gave me a tour of the dealership and introduced me to the general and parts and service managers. The car was delivered in spotless condition. Tim then programmed the SIM card for the Audi Connect and reviewed a few more features. My buying experience at Audi West Covina was the best. I cannot say enough about the quality of the people I met, their openness, honesty and the low key selling environment. I highly recommend this dealership.Hi Doug, Thank you so much for leaving us such a wonderful review; your kind words are much appreciated. Everyone here enjoyed working with you, and we all wish you the best with your new Audi A6. Please let us know if we can do anything else for you in the future. Sincerely, Penske Audi West Covina
Audi of West Covina

 Sales Hours

Monday08:30 - 21:00

Tuesday08:30 - 21:00

Wednesday08:30 - 21:00

Thursday08:30 - 21:00

Friday08:30 - 21:00

Saturday08:30 - 21:00

Sunday10:00 - 20:00




Audi TT near Azusa
 | 
Audi TT near Chino Hills
 | 
Audi TT near Claremont
 | 
Audi TT near Covina
 | 
Audi TT near La-Verne
 | 
Audi TT near Ontario
 | 
Audi TT near Pasadena
 | 
Audi TT near Rancho Cucamonga
 | 
Audi TT near Rowland Heights
 | 
Audi TT near West Covina