ZIP CODES - near 
91103

91104

91709

91723

91737

91739

91105

91101

91730

91748

91722

91764

91791

91762

91107

91790

91761

91724

91711

91792

91701

91750

91106
CITIES near 
Pasadena
Chino Hills
Covina
Rancho Cucamonga
Rowland Heights
Ontario
West Covina
Claremont
La Verne
The TT Coupe is an integrated icon of Audi design that prides itself on the interior that focuses on the integration of technology and infotainment, yet it offers real-world performance. The TT Coupe starts at $ 49,800. Performance Details • Horsepower: 228 hp • Torque: 258 lb-ft • 0-60 mph: 5.2 seconds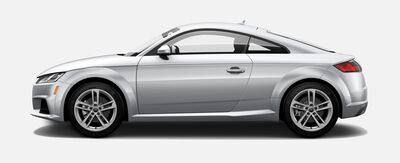 45 TFSI® quattro® S tronic®
$ 49,800
• Bang & Olufsen sound system
• Displacement (cc)/Bore and stroke (mm): 1984/82.5 x 92.8
• Acceleration (0 - 60 mph): 5.2 seconds
• Top speed: 130 mph
• Max. output: 228 HP
Frequently Asked Questions
What does TT mean in Audi TT?
Audi TT took its name from the NSU hit motorcycle race at the British Isle of Man TT (Tourist Trophy). The Audi TT additionally follows the NSU 1000TT, 1200TT, and TT cars of 1960 n taking their names from this race.
Is the used Audi TT a good purchase?
Apart from performance, TT is easy to drive and perform at low speeds. The interior feels sturdy and durable, and fine materials are used everywhere. The rear seats are the best for young children, however, the boot is the best size for a coupe, and it's an excellent value for money too.
Is Audi TT comfortable?
What's the indoors like? The Audi TT seems significantly remarkable with its low-slung, sporty seats. It is extraordinarily clean to get cushy way to an extensive variety of seat and steering wheel adjustments. The boot is noticeably spacious which makes the TT fairly nice for weekends away or grocery trips.
Does Audi TT has a paddle shifter?
The upshift paddle does not move back to its at-rest position. The car still shifts properly through all gears when used like an automatic, and the Downshift paddle operates properly.
About 
Audi of West Covina

 Sales Department

At Audi West Covina, we're proud to announce that we're under new ownership and are now a part of Envision Motors. However, one thing that hasn't changed is our commitment to providing you with the premium shopping experience that you deserve and supplying you with the superior product knowledge that helps you make an informed buying decision.
REVIEWS
from our 
 Customers
Manuel Garcia 
Service department do call as they said they wood other than that they do a food job
AA Cabinetry 
Always good service and take care of the small issues quickly. Got engine oil quickly refilled though they are very busy today!
Rover2203 
David was by far the best sales person I have ever worked with!!! He didn't pressure me, on the contrary gave me options! He was more like a life long friend than a sales person!! I would definitely recommend anyone looking for a new car. Come to Audi WC!! You will not be disappointed!! Joseph the Manager really hooked it up... I bought an ETRON, because he gave me the most amazing deal! He made it painless and quick... I have never owned an Audi! I have had every luxury brand you can think of... He made me an Audi guy... I definitely wasn't thinking of buying, he just made me the best deal! If you want the best Deal go see David and Joseph will put the finishing touches!!! Thank you guys! This was an Anniversary and Valentine Gift for my wife! Happy Wife Happy Life!
Anthony G 
Hello Anthony, If there is anything in particular that made you feel the service did not meet your expectations, please feel free to reach out to me at Tpeng@socalpenske.com. I appreciate your honest feedback and look forward to turning around your experience! Sincerely, Tony Peng Sales Manager Penske Audi West Covina
Clifton Heaivilin 
A smooth process without stress.
Audi of West Covina

 Sales Hours

Monday08:30 - 21:00

Tuesday08:30 - 21:00

Wednesday08:30 - 21:00

Thursday08:30 - 21:00

Friday08:30 - 21:00

Saturday08:30 - 21:00

Sunday10:00 - 20:00





Audi TT near Azusa
 | 
Audi TT near Chino Hills
 | 
Audi TT near Claremont
 | 
Audi TT near Covina
 | 
Audi TT near La-Verne
 | 
Audi TT near Ontario
 | 
Audi TT near Pasadena
 | 
Audi TT near Rancho Cucamonga
 | 
Audi TT near Rowland Heights
 | 
Audi TT near West Covina