ZIP CODES - near 
91101

91107

91701

91702

91709

91748

91762

91791

91711

91103

91730

91106

91750

91761

91724

91790

91723

91739

91104

91105

91737

91764

91792
CITIES near 
Pasadena
Rancho Cucamonga
Azusa
Chino Hills
Rowland Heights
Ontario
West Covina
Claremont
La Verne
Covina
The TT Coupe is an integrated icon of Audi design that prides itself on the interior that focuses on the integration of technology and infotainment, yet it offers real-world performance. The TT Coupe starts at $ 49,800. Performance Details • Horsepower: 228 hp • Torque: 258 lb-ft • 0-60 mph: 5.2 seconds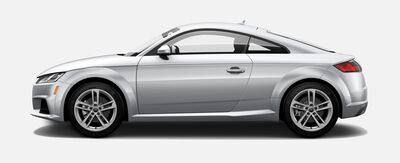 45 TFSI® quattro® S tronic®
$ 49,800
• Engine type: 2.0-liter four-cylinder
• Max. Torque: 258 lb-ft
• 18" 5-double-spoke dynamic design wheels with 245/40 R18 all-season tires
• Top speed: 130 mph
• Bang & Olufsen sound system
Frequently Asked Questions
What is the difference between Audi TT and TTS?
The Audi TT comes with a powerful 2.0-liter TFSI engine with 220 horsepower and 258 lb-ft of torque. The TTS is more than just a fast, it's a blistery one. The Audi TTS is a more enhanced model of TT's having a 2.0 liter TFSI engine, which produces 292 horsepower and 280 lb torque.
.What is the Engine Capacity of Audi TT Coupe?
Audi TT Coupe comes with five variants. The Top version TTS 2.0 TFSI Quattro (200 kW), Engine Displacement - 1798, Power-225 hp
Are all Audi TT Twin Turbo?
The widespread TT has a 228-horsepower turbocharged 4-cylinder. The midrange TTS has an upgraded model of this engine with 288 horsepower, and the excessive-overall performance TT RS has a turbocharged five-cylinder with 394 horsepower.
What does TT mean in Audi TT?
Audi TT took its name from the NSU hit motorcycle race at the British Isle of Man TT (Tourist Trophy). The Audi TT additionally follows the NSU 1000TT, 1200TT, and TT cars of 1960 n taking their names from this race.
About 
Audi of West Covina

 Sales Department

At Audi West Covina, we're proud to announce that we're under new ownership and are now a part of Envision Motors. However, one thing that hasn't changed is our commitment to providing you withthe premium shopping experience that you deserve and supplying you with thesuperior product knowledge that helps you make an informed buying decision.
REVIEWS
from our 
 Customers
Mike Ellis 
Brittny in the service department provided FIRST class customer service. I had my windshield replaced by another shop and the job was not done properly. I was irritated with the delay and extra costs that were involved with having to take my vehicle in for the second time. Brittny calmingly assured me that she would ensure that the job was done correctly and within my tight time frame. She delivered on both accounts! Always maintaining a professional manner even when I was not. After working with Brittny, WC Audi will be handling all my maintenance needs. Thank you Brittny! Mike E
Kathryn Vallejos 
This is our second car that we bought from James Gideon and will continue buying from Penske West Covina James was very helpful friendly and thoughtful thanks again Penske
Steph Michele 
Steph, Thank you so much for taking the time to share your positive feedback with us! Sincerely, Shawn Clancy General Manager Penske Audi West Covina
Sister Robinson 
Can be persistentThanks for the 5 star rating, Sister!
Carly Crabtree 
It was the fastest and easiest car buying experience we've ever had. Very happy with what we got. Joseph was friendly and informative, and Sam had all the paperwork done quickly.
Audi of West Covina

 Sales Hours

Monday08:30 - 21:00

Tuesday08:30 - 21:00

Wednesday08:30 - 21:00

Thursday08:30 - 21:00

Friday08:30 - 21:00

Saturday08:30 - 21:00

Sunday10:00 - 20:00



Audi TT near Azusa
 | 
Audi TT near Chino Hills
 | 
Audi TT near Claremont
 | 
Audi TT near Covina
 | 
Audi TT near La-Verne
 | 
Audi TT near Ontario
 | 
Audi TT near Pasadena
 | 
Audi TT near Rancho Cucamonga
 | 
Audi TT near Rowland Heights
 | 
Audi TT near West Covina