ZIP CODES - near 
91105

91107

91709

91711

91722

91737

91739

91761

91764

91790

91791

91723

91106

91730

91724

91101

91701

91702

91748

91792

91762

91103

91104
CITIES near 
Pasadena
Chino Hills
Claremont
Covina
Rancho Cucamonga
Ontario
West Covina
Azusa
Rowland Heights
A sophisticated and Athletic car for an exciting ride. Audi A3 is not like your regular sedan car. The sharp exterior and classical interior of the car provides a premium experience whenever you drive. The 228 HP engine with sports suspension provides an exotic driving experience with each foot. The car comes at a base price of $33,300. Performance specifications (45 TFSI®) • 0-60 mph - 5.4 seconds • Horsepower - 228 hp • Torque - 258 lb-ft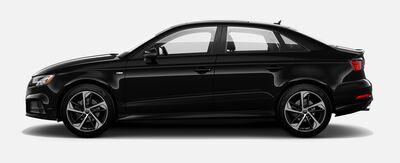 45 TFSI® quattro® S tronic®
$39,500
• Leather seating surfaces
• Displacement (cc)/Bore and stroke (mm): 1,984/82.5 x 92.8
• Top speed *: 130 mph mph
• Acceleration (0 - 60 mph): 5.4 seconds seconds
• quattro® all-wheel drive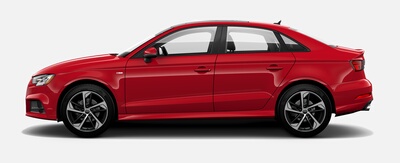 45 TFSI® quattro® S tronic®
$36,500
• Leather seating surfaces
• Acceleration (0 - 60 mph): 5.4 seconds seconds
• S line® exterior appearance-front and rear bumpers, body-colored side sills, S line® fender badges
• Top speed *: 130 mph mph
• Xenon plus headlights with LED daytime running lights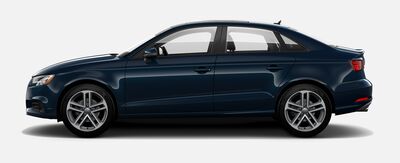 40 TFSI® S tronic®
$36,300
• Leather seating surfaces
• Displacement (cc)/Bore and stroke (mm): 1,984/82.5 x 92.8
• Top speed *: 130 mph mph
• Acceleration (0 - 60 mph): 6.6 seconds seconds
• quattro® all-wheel drive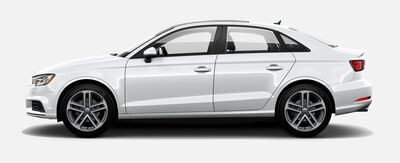 Premium 40 TFSI® S tronic®
$ 33,300
• Heated front seats
• Displacement (cc)/Bore and stroke (mm): 1,984/82.5 x 92.8
• Top speed *: 130 mph mph
• Acceleration (0 - 60 mph): 6.6 seconds seconds
• 18" 5-double-spoke design bi-color finish wheels
Frequently Asked Questions
What is the towing limit of an Audi A3?
The Audi Sports back five-door model with 190PS 2.0 TFSI has a 1360 curb weight and a towing capacity of 1600 kgs. All models of Audi have a nose weight of 75 kgs. These values are also applicable to the new engines, three doors, cabriolet, and saloon models.
Do an Audi A3 also be used as a family car?
If someone is looking for a hatchback family car that will make you happy every time you ride on then the Audi A3 Sportback is a nice pick for you from the available options in the market, The car is fabulous with a fantastic interior equipped with the latest technology and spacious cabin. Although if you want to buy one, you have to pay relatively more than a Skoda, ford focus, or a VW Golf.
Is it possible to lock the keys in an Audi?
If you are standing outside and the door is open, the car cannot be locked even if you push the button from the remote.
What is the limit of the engine and transmission of an Audi A3?
An Audi A3 can easily complete more than 250,000 miles without giving you any trouble related to the engine and gearbox.
About 
Audi of West Covina

 Sales Department

At Audi West Covina, we're proud to announce that we're under new ownership and are now a part of Envision Motors. However, one thing that hasn't changed is our commitment to providing you withthe premium shopping experience that you deserve and supplying you with thesuperior product knowledge that helps you make an informed buying decision.
Get Directions to 
REVIEWS
Joseph Tuan 
Came here to purchase my Audi A4 and met Martin Lin. He had one of the finest customer service skills. Came up to me with a welcoming face and was very genuine about answering my concerns and questions. Martin went above and beyond when looking for the perfect car. He took me back to look at all the available cars. Made sure that I was comfortable through the entire process. I highly recommend coming to this location and dealership for a smooth purchasing experience.
Jonathan Chu 
I highly recommend Alex Lee for all your Audi service needs. I took my Audi S5 to Penske back in January for a Pre Purchase Inspection report. Anytime I had a problem or question, Alex responded swiftly and honestly. He also provided me with an uber ride back to my work, and an uber ride to pick up my car. Most importantly, he made me feel secure and in good hands throughout the entire process. Thanks again.
Arthur Chang 
Arthur, Thank you so much for taking the time to share your experience with us. We love to hear when our guests have a great visit to our dealership! We are always here to help with any of your automotive needs. Thanks again, Penske Audi West Covina
Eddie Flores 
Great customer service!
Rebeca Brown 
The salesperson has been very dedicated to get me in the car that I wanted.She succeeded against all odds. At all times she was courteous and professional. A very positive experience.Rebeca, Thank you so much for taking the time to share your experience with us. We love to hear when our guests have a great visit to our dealership! We are always here to help with any of your automotive needs. Thanks again, Tony Peng Sales Manager Penske Audi West Covina
Audi of West Covina

 Sales Hours

Monday08:30 - 21:00

Tuesday08:30 - 21:00

Wednesday08:30 - 21:00

Thursday08:30 - 21:00

Friday08:30 - 21:00

Saturday08:30 - 21:00

Sunday10:00 - 20:00
Audi A3 near Azusa
 | 
Audi A3 near Chino Hills
 | 
Audi A3 near Claremont
 | 
Audi A3 near Covina
 | 
Audi A3 near La-Verne
 | 
Audi A3 near Ontario
 | 
Audi A3 near Pasadena
 | 
Audi A3 near Rancho Cucamonga
 | 
Audi A3 near Rowland Heights
 | 
Audi A3 near West Covina