ZIP CODES - near 
91101

91104

91105

91106

91107

91709

91730

91748

91761

91792

91702

91723

91739

91724

91103

91791

91722

91737

91711

91764

91750

91762

91790
CITIES near 
Pasadena
Chino Hills
Rancho Cucamonga
Rowland Heights
Ontario
West Covina
Azusa
Covina
Claremont
La Verne
A sophisticated and Athletic car for an exciting ride. Audi A3 is not like your regular sedan car. The sharp exterior and classical interior of the car provides a premium experience whenever you drive. The 228 HP engine with sports suspension provides an exotic driving experience with each foot. The car comes at a base price of $33,300. Performance specifications (45 TFSI®) • 0-60 mph - 5.4 seconds • Horsepower - 228 hp • Torque - 258 lb-ft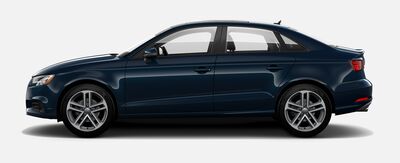 40 TFSI® S tronic®
$36,300
• 18" 5-arm-trapazoid design high-gloss black finish wheels
• Panoramic sunroof
• Xenon plus headlights with LED daytime running lights
• Leather seating surfaces
• Audi advanced key-keyless start, stop and front door & trunk entry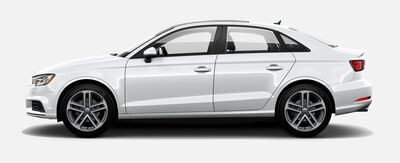 Premium 40 TFSI® S tronic®
$ 33,300
• Audi smartphone interface with Apple CarPlay® and Google™ Android Auto™ for compatible devices
• Panoramic sunroof
• Sport line front/rear fasciae and side sills
• Heated front seats
• Audi advanced key-keyless start, stop and front door & trunk entry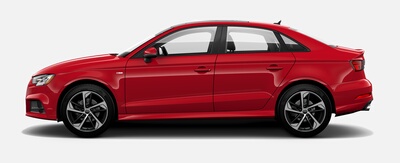 45 TFSI® quattro® S tronic®
$36,500
• High-gloss titanium black exterior trim
• 18" 5-arm-trapazoid design high-gloss black finish wheels
• Audi smartphone interface with Apple CarPlay® and Google™ Android Auto™ for compatible devices
• Audi pre sense® front and Audi pre sense® basic
• Engine type: 2.0-liter four-cylinder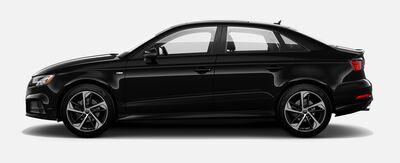 45 TFSI® quattro® S tronic®
$39,500
• 18" 5-arm-trapazoid design high-gloss black finish wheels
• Panoramic sunroof
• Xenon plus headlights with LED daytime running lights
• Leather seating surfaces
• Audi advanced key-keyless start, stop and front door & trunk entry
Frequently Asked Questions
What is the towing limit of an Audi A3?
The Audi Sports back five-door model with 190PS 2.0 TFSI has a 1360 curb weight and a towing capacity of 1600 kgs. All models of Audi have a nose weight of 75 kgs. These values are also applicable to the new engines, three doors, cabriolet, and saloon models.
Does the new Audi a3 come with a push start feature?
The Audi A3 and Q3 models come with a dead key fob. They are equipped with push start systems.
Do an Audi A3 also be used as a family car?
If someone is looking for a hatchback family car that will make you happy every time you ride on then the Audi A3 Sportback is a nice pick for you from the available options in the market, The car is fabulous with a fantastic interior equipped with the latest technology and spacious cabin. Although if you want to buy one, you have to pay relatively more than a Skoda, ford focus, or a VW Golf.
How an Audi A3 start?
An Audi A3 has an automatic starting function. In automatic variants, the car starts when we push the key to position 2 while in the manual variants, you need to press the clutch pedal completely and put the gear knob in neutral, the car will start itself.
About 
Audi of West Covina

 Sales Department

At Audi West Covina, we're proud to announce that we're under new ownership and are now a part of Envision Motors. However, one thing that hasn't changed is our commitment to providing you with the premium shopping experience that you deserve and supplying you with the superior product knowledge that helps you make an informed buying decision.
REVIEWS
from our Rancho Cucamonga Customers
AA Cabinetry 
Always good service and take care of the small issues quickly. Got engine oil quickly refilled though they are very busy today!
Rebeca Brown 
The salesperson has been very dedicated to get me in the car that I wanted.She succeeded against all odds. At all times she was courteous and professional. A very positive experience.Rebeca, Thank you so much for taking the time to share your experience with us. We love to hear when our guests have a great visit to our dealership! We are always here to help with any of your automotive needs. Thanks again, Tony Peng Sales Manager Penske Audi West Covina
Chris Martin 
Really friendly sales and service staff. Easy to get an appointment on the day you wanna come in. They offer car wash when vehicle is serviced and comes out looking really good.
Nemer Sarriedine 
Thank you for the 5 star rating, Nemer!
Steph Michele 
Steph, Thank you so much for taking the time to share your positive feedback with us! Sincerely, Shawn Clancy General Manager Penske Audi West Covina
Audi of West Covina

 Sales Hours

Monday08:30 - 21:00

Tuesday08:30 - 21:00

Wednesday08:30 - 21:00

Thursday08:30 - 21:00

Friday08:30 - 21:00

Saturday08:30 - 21:00

Sunday10:00 - 20:00
Audi A3 near Azusa
 | 
Audi A3 near Chino Hills
 | 
Audi A3 near Claremont
 | 
Audi A3 near Covina
 | 
Audi A3 near La-Verne
 | 
Audi A3 near Ontario
 | 
Audi A3 near Pasadena
 | 
Audi A3 near Rancho Cucamonga
 | 
Audi A3 near Rowland Heights
 | 
Audi A3 near West Covina