Audi R8 is an everyday supercar with a bargain price.
Imagine being able to use a supercar every day? This is what the R8 offers and the good news is that you will not need to break your bank. Here is my review of the car so that you can know why it is special car. I will show you the power of the V10 engine.
Watch here: https://youtu.be/uUbg4F1Eci0
What makes the Audi R8 a daily-use supercar?
Check this review of the R8 super car with V10 Plus engine.
Watch here: https://youtu.be/yKrKiGwOY8k
Audi 2018 R8 vs. Lamborghini Huracan? | Which is better?
The Audi R8 has undergone numerous changes and tweaks over the years, The 5.2 Litre, V10 engine DSG gearbox are some of the improvements on this car. Take a look at the details of the car and how it sucks up to the Huracan.
Watch here: https://youtu.be/7BvHjhPCA_k
BMW M850i vs. New 911 vs. Audi R8 vs. GT-R NISMO | Complete Test | Drag Race
Wondering which is the fastest car? Well, you are up for a show as the Porsche 911, Audi R8, BWM 850i and Nissan GT- R Nismo compete in this drag race. Mat is about to test his skills and he is going up against out guest driver Yianni from Yaiannimize. May the best car win!
Watch here: https://youtu.be/YOwO5iM4QP8
ZIP CODES - near 
91101

91104

91105

91107

91701

91702

91709

91722

91723

91748

91791

91792

91737

91739

91103

91790

91764

91724

91750

91761

91711

91730

91762

91106
CITIES near 
Pasadena
Rancho Cucamonga
Azusa
Chino Hills
Covina
Rowland Heights
West Covina
Ontario
La Verne
Claremont
2005 is the year that would see the conception on the Audi R8, with the production commencing in 2006. Quattro GmbH was the company that designed and produced the R8. In 2016, the company changed its name to Audi Sport and has been responsible for the numerous achievements that the company enjoys. The famous S and the RS models have made a name for the company at large. The overall proportions of the R8 were derived from its previous prototype- Audie Le Mans. The team of designers used the initial design of the prototype and made a few adjustments on the aesthetics and other features. With all the genius ideas having been put together, the R8 was produced as an exceptional model.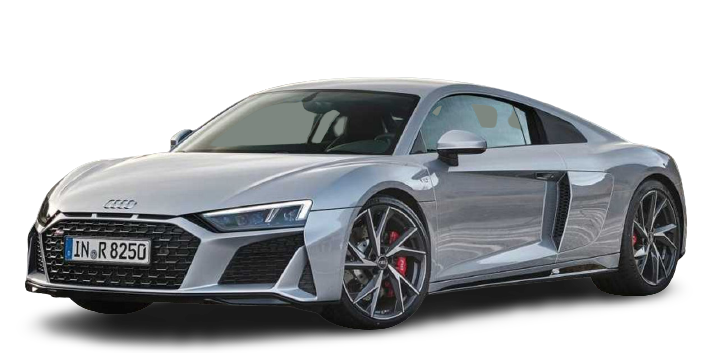 2021 Audi R8 Coupe - 5.2 V10 performance quattro
Starting Price (MSRP): $196,700
Gas Mileage: 13 mpg City / 20 mpg Hwy
Horse Power: 602 hp @ 8100 rpm
20" 5-double-spoke dynamic design Milled Titanium finish wheels
Optional Dynamic Steering
LED headlights with Audi laser light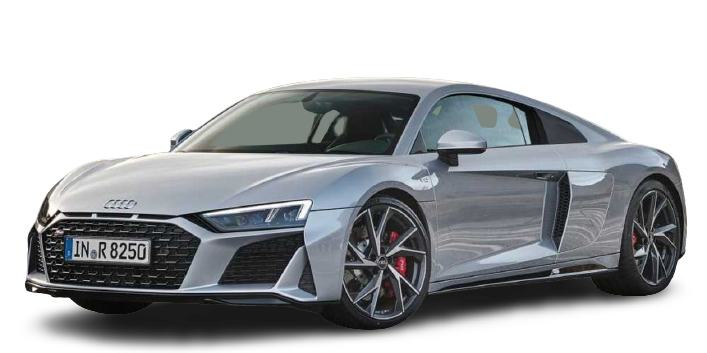 2021 Audi R8 Coupe - V10 RWD
Starting Price (MSRP): $142,700
Gas Mileage: 14 mpg City / 23 mpg Hwy
Horse Power: 532 hp @ 4475 rpm
Sport seats
LED headlamps
Optional Nappa Leather Seat with diamond stitching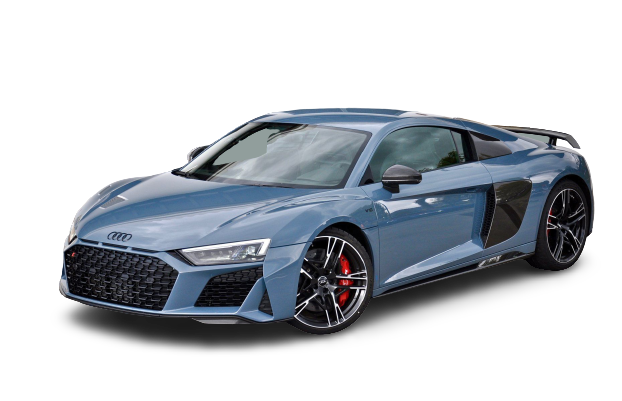 2021 Audi R8 Spyder - 5.2 V10 performance quattro
Starting Price (MSRP): $208,100
Gas Mileage: 13 mpg City / 20 mpg Hwy
Horse Power: 602 hp @ 8100 rpm
Electromechanical Speed-Sensitive Power Steering/Optional Dynamic Steering
7-speed S-Tronic DCT
LED Headlamps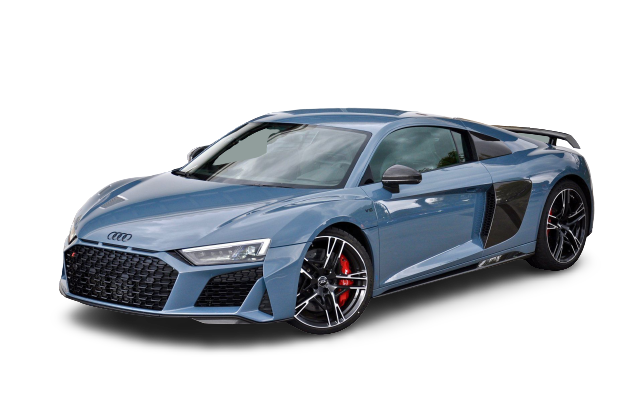 2021 Audi R8 Spyder - 5.2 V10 RWD
Starting Price (MSRP): $154,900
Gas Mileage: 13 mpg City / 20 mpg Hwy
Horse Power: 532 hp @ 4475 rpm
RWD system
7-speed S-Tronic DCT
Retuned chassis
Frequently Asked Questions
Is the torque on Audi R8 powerful?
The R8 has a torque of 560Nm@ 6500 rotations per minute
How much does the AudiR8 weigh in Kerb weight?
The R8 has a kerb weight of 1630 kilograms
What are the dimensions of the Audi R8 Coupe?
The width of the R8 coupe is 1940mm while the length is 4420mm.
How is the highway fuel consumption of the R8?
The Audi R8 Coupe has a 17.5 km/per liter highway fuel consumption.
About 
Audi of West Covina

 Sales Department

At Audi West Covina, we're proud to announce that we're under new ownership and are now a part of Envision Motors. However, one thing that hasn't changed is our commitment to providing you withthe premium shopping experience that you deserve and supplying you with thesuperior product knowledge that helps you make an informed buying decision.
Arthur Chang 
Arthur, Thank you so much for taking the time to share your experience with us. We love to hear when our guests have a great visit to our dealership! We are always here to help with any of your automotive needs. Thanks again, Penske Audi West Covina
Nelson Cruz 
Nelson, Thank you so much for your feedback! We are thrilled that you had a great experience! We look forward to serving you in the future! Tony Peng Sales Manager Penske Audi West Covina
Kayla Abney 
Very friendly and accommodating.
Joseph Tuan 
Came here to purchase my Audi A4 and met Martin Lin. He had one of the finest customer service skills. Came up to me with a welcoming face and was very genuine about answering my concerns and questions. Martin went above and beyond when looking for the perfect car. He took me back to look at all the available cars. Made sure that I was comfortable through the entire process. I highly recommend coming to this location and dealership for a smooth purchasing experience.
Willie D. 
Los Angeles, CA
I visited the Store today and met with sales rep. Shadi Darwich and he was excellent . I explained to him what I was looking for ( Q8s ) and what I want in the car from comfort to looks and a lot and f power . Shadi took me through the the inventory and shows me some cars and he recommended  that I look at Q7s as well.  He took the time to show me and test drive both cars without any hesitation even after I explained to him that I'm not planing on doing anything this visit but look and feel . I then met with sales manager Nemer, whom thanked me for coming in and asked me about my experience with Shadi. I'm very pleased with everything happen with my visit and I will be coming back once I make a decision .Again, thank you for all the information and please keep up the good work .
Audi of West Covina

 Sales Hours

Monday08:30 - 21:00

Tuesday08:30 - 21:00

Wednesday08:30 - 21:00

Thursday08:30 - 21:00

Friday08:30 - 21:00

Saturday08:30 - 21:00

Sunday10:00 - 20:00
Audi R8 near Azusa
 | 
Audi R8 near Chino Hills
 | 
Audi R8 near Claremont
 | 
Audi R8 near Covina
 | 
Audi R8 near La-Verne
 | 
Audi R8 near Ontario
 | 
Audi R8 near Pasadena
 | 
Audi R8 near Rancho Cucamonga
 | 
Audi R8 near Rowland Heights
 | 
Audi R8 near West Covina