ZIP CODES - near 
91105

91107

91701

91723

91748

91761

91764

91790

91750

91739

91709

91711

91104

91730

91762

91724

91702

91792

91101

91106

91791

91737

91103
CITIES near 
Pasadena
Rancho Cucamonga
Covina
Rowland Heights
Ontario
West Covina
La Verne
Chino Hills
Claremont
Azusa
The electrification of vehicles has really advanced and this is evidenced by the production of a various plug-in Hybrid models. These are known to be fuel-efficient and quite powerful and there have many automakers that have joined the bandwagon. The Audi is one of the industry's leaders in this regard as witnessed with the upgrade of the 2021 Q5. This SUV comes with a new and improved PHEV known as the Audi Q5 5S TFSI e. With this version there is a significant balance between the power, fuel efficiency and performance. It is a luxury vehicle with stylish and sporty features.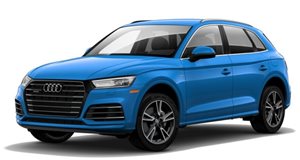 2020 Audi Prestige 55 TFSI quattro e Plug - in Hybrid
Starting Price : $52,900
Drivetrain :All-Wheel Drive
Rear Seat Headroom :37.7 in
Engine and Transmission
Rear Tire :P235/55HR19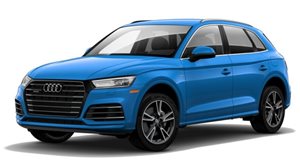 2020 Audi Premium Plus 55 TFSI quattro e Plug - in Hybrid
Starting Price : $52,900
Drivetrain :All-Wheel Drive
Rear Seat Headroom :37.7 in
Engine and Transmission
Rear Tire :P235/55HR19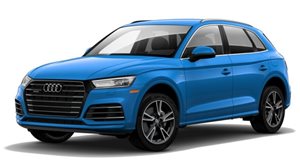 2020 Audi Premium 55 TFSI quattro e Plug - in Hybrid
Starting Price : $52,900
Drivetrain :All-Wheel Drive
Rear Seat Headroom :37.7 in
Engine and Transmission
Rear Tire :P235/55HR19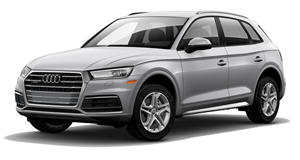 2019 Audi Premium Plus quattro
Starting Price : $42,950
Spare Tire :Compact
Front Width :63.6 in
Horsepower :248 hp @ 5000 rpm
Steering Type :Rack-Pinion
Rear Seat Leg Room :37.8 in
Frequently Asked Questions
Is the Audi Q5 Hybrid effective?
Audi Q5 is a hybrid vehicle, which is designed with a parallel system. It has a 2.0L engine and an electric motor producing 33kW. Both systems have been made in such a way that they can be deactivated easily using the clutch. This is a model that heavily relies on the logic control operation, which can be complicated.
Does the charging of the Audi Q5 taking too long?
Using a dedicated home charging system, you will take about 2 hours to charge the Audi Q5. When you fully charged, you can drive the Q5 for up to 26 miles on the electric mode only. You can make use of the power to get from 0-62 MPH in 5.3 seconds.
Is the Q5 Hybrid made by Audi?
Yes! The Q5 is made as one of the two PHEVs models by Audi. The A8 sedan is the other type. Audi Q5 has become a popular model in America and it has a 4-cylinder and 2L turbocharged engine. The 14.1 kWh-battery gives it the power required and it has a Quattro all-wheel drive like all the other Q5 models.
What is the useful lifespan of the Audi Q5?
The useful life of the Audi Q5 will depend on a number of factors. When the vehicle is maintained properly, you can expect it to useful for 150K to 200K miles.
About 
Audi of West Covina

 Sales Department

At Audi West Covina, we're proud to announce that we're under new ownership and are now a part of Envision Motors. However, one thing that hasn't changed is our commitment to providing you withthe premium shopping experience that you deserve and supplying you with thesuperior product knowledge that helps you make an informed buying decision.
REVIEWS
from our 
 Customers
John F. 
Santa Rosa, CA
Best experience I've ever had at a auto dealership! I just recently bought a 2018 Honda CR-V from them that was traded in. They didn't hassle me and I got in and out in a reasonable amount of time. I appreciate when businesses are honest and don't try to trick you into buying unnecessary dealer fees. If you are looking for a relaxed car buying experience. Look no further!
Roberto R 
Personalized attention. Great variety of carsThanks for the terrific review, Roma!
Paul Hayabusa 
Every business do run in to some hiccups. Big thank to Martin, Sam and Tony for their help correcting the issue. I just won't count on service department from this dealer. Parts department are great tho. Bought certified 2013 A6 with service plan for 35k and 45k Miles. Bring the car in for 35k miles, service rep are quite ignorant. For my 45k miles, I've decided to bring my car to another dealer. Long behold, service records show 45k service has been used for my 35k. Record also indicate my 35k service was used before I purchase the car. Sam pull it through for me.Paul, Thank you for bringing this to my attention. I would like the chance to speak with you to learn more about your service records and your experience with our staff. Can you please email me at dbutler@socalpenske.com with your preferred contact information? I appreciate your time! David Butler Service Director Penske Audi West Covina
Ashley R. 
San Dimas, CA
I am very late on this review, but I truly believe they deserve it. I leased an Audi A5 in the middle of last year. This was my first car lease and I was obviously very scared and nervous, but the sales rep Joseph (I think was his name) and the supervisor David ( I hope I'm getting these names right it has been a while) we're truly helpful throughout the time we were shopping around. Joseph was very patient while I was deciding between vehicles and packages and I did not feel pressured to purchase or act at any moment. When it was time to discuss lease pricing, both Joseph and the supervisor were open to negotiating and we came to a very good deal for the car. Afterwards, Oliver in the finance dep. was very friendly and helpful when explaining warranties, etc. Overall great experience with this dealership. I only hope that they have more inventory in the future!
hroaper 
Davit is Great! We drove down from Los Angeles to get our Audi. Their prices are competitive and the sales staff very friendly and knowledgeable.Thanks for the wonderful 5 star rating and review, Hroaper! We hope you're enjoying your new Audi.
Audi of West Covina

 Sales Hours

Monday08:30 - 21:00

Tuesday08:30 - 21:00

Wednesday08:30 - 21:00

Thursday08:30 - 21:00

Friday08:30 - 21:00

Saturday08:30 - 21:00

Sunday10:00 - 20:00
Audi Q5 e Hybrid near Azusa
 | 
Audi Q5 e Hybrid near Chino Hills
 | 
Audi Q5 e Hybrid near Claremont
 | 
Audi Q5 e Hybrid near Covina
 | 
Audi Q5 e Hybrid near La-Verne
 | 
Audi Q5 e Hybrid near Ontario
 | 
Audi Q5 e Hybrid near Pasadena
 | 
Audi Q5 e Hybrid near Rancho Cucamonga
 | 
Audi Q5 e Hybrid near Rowland Heights
 | 
Audi Q5 e Hybrid near West Covina