Should You Own One? The 2009 Audi A4 Review This is a brief rundown of the used Audi A4 with 2.0T Quattro and its performance after 100k miles of use. I showcased all the remarkable features of this sedan, possible problems and how to resolve it when you decide to purchase one.
Watch here: https://youtu.be/gxl1BGoyyLU
Review: 2021 Audi A4 45 TFSI Audi A4 is just like any sedan of the same range, but more fun. The children fits in the car too, which is more fun!
Watch here: https://youtu.be/eVlvfo5IjlE
2020 Audi A4 OR 2020 BMW 330i I will take the latest 2020 BMW 330i for a test drive on this video and check its performance based on acceleration, accelerating, steering feel, cargo area, rear legroom, sound system, exhaust clip, and other functions! Stay tuned.
Watch here: https://youtu.be/sKtolAxYnms
Luxury Car Comparison: 2020 Audi A4 Versus BMW 3 Series Examine the capabilities of the 2020 Audi Q5 alongside the Acura RDX for a deeper look at output, tech and perhaps more!
Watch here: https://youtu.be/qyooztJLswM
ZIP CODES - near 
91107

91701

91702

91709

91724

91761

91762

91790

91105

91711

91737

91723

91764

91101

91739

91722

91750

91103

91730

91106

91791

91104

91792
CITIES near 
Pasadena
Rancho Cucamonga
Azusa
Chino Hills
Covina
Ontario
West Covina
Claremont
La Verne
The Audi 80 was the success of the first-generation A4. The automaker's organizational sequence utilizes the A4 as a successor for the lineage of Audi from the 80's with both the primary A4 from the series model of B5, preceded by the B6, B7, B8 and B9. The B8 and B9 variants of the A4 were founded on the Volkswagen Group MLB platform supported with several other Audi models and conceivably one Porsche model in the Volkswagen Group.
Audi A4 Sedan
You can own an Audi A4 Sedan at the tarting of $39,100.*
The Audi A4 breaks the conventional by combining the classic and model technologies.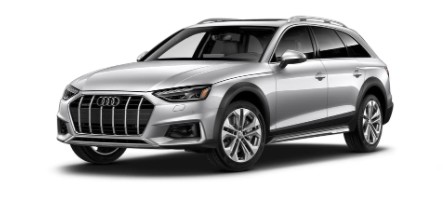 Audi A4 Allroad
The Audi A4 Allroad is purchasable at the starting price of $44,600.*
For the adventurous and limitless, the Audi A4 Allroad's smart technology will keep you on the safe roads.
Frequently Asked Questions
What is the fuel tank capacity of an Audi A4?
For year models 2016 to 2019 Audi A4, the fuel tank size measures 63 litres. The luxury automaker Audi released a luxurious and state of the art sedan, the A4 with a fuel tank capacity of 63 litres. The Audi A4 3.0 TDI Quattro version of this sedan comes with a slightly lower fuel tank capacity of sixty one litres.
Is the Audi A4 considered as a race car?
The Audi A4 can be categorized as a valuable sports car because of its sleek exterior and interior but can fall short due to the following factors: a turbocharged 4-cylinder engine can generate up to 211 hp, and a 258 pounds-feet of torque.
Is the Audi A4 a good value for money?
The A4 has a wide interior and equipped Audi's standard technology. The answer is yes, an Audi A4 is a fantastic value for money given it has a calm yet powerful machine that package as an entry-level luxurious car.
Are there other Audi A4 variations?
The 2021 Audi A4 Standard A4 models are bundled with one of the two four-cylinder engines. On the higher-end range, the performance-enhanced S4 Premium, Premium Plus, and Prestige come with a V6 engine.
About 
Audi of West Covina

 Sales Department

At Audi West Covina, we're proud to announce that we're under new ownership and are now a part of Envision Motors. However, one thing that hasn't changed is our commitment to providing you with the premium shopping experience that you deserve and supplying you with the superior product knowledge that helps you make an informed buying decision.
REVIEWS
from our Rowland Heights Customers
eva wu 
I got my Q7 here everything is just so smooth and friendly. Especially sales person Jack Shen highly recommend him no rush no push help me a lot. Ted from finance is awesome. Thank you guys
Mike Ellis 
Brittny in the service department provided FIRST class customer service. I had my windshield replaced by another shop and the job was not done properly. I was irritated with the delay and extra costs that were involved with having to take my vehicle in for the second time. Brittny calmingly assured me that she would ensure that the job was done correctly and within my tight time frame. She delivered on both accounts! Always maintaining a professional manner even when I was not. After working with Brittny, WC Audi will be handling all my maintenance needs. Thank you Brittny! Mike E
AA Cabinetry 
Always good service and take care of the small issues quickly. Got engine oil quickly refilled though they are very busy today!
Thomas Young 
I have been to Penske Audi West Covina twice since purchasing my Audi A6 from Riverside Audi. On both occasions I was assisted by Service Advisor Chris Martin. The 1st time I had a question and the 2nd time it was for my 5,000 mile service. I have had three BMW's over the past 10 years but I have never been help more than what I received from Chris and the Penske Audi West Covina Dealership. Helpful, knowledgeable, and without a doubt, exceeded my wishes for reliable assistance. West Covina will be where I continue going to receive service and help in the future!!Thomas, Thank you so much for this excellent review! We are so delighted to hear that Chris was so helpful on both of your visits to our dealership. We will be sure to share this with him and the rest of the team and let them know that their hard work is appreciated. We are looking forward to your next visit! Happy Holidays, Penske Audi West Covina
Tomas Salas 
(Translated by Google) Good place good customer service snack table cafe and you while you wait very clean and comfortable place (Original) Buen lugar buen servicio al cliente mesa de snacs cafe y te mientras esperas muy limpio y comodo sitio
Audi of West Covina

 Sales Hours

Monday08:30 - 21:00

Tuesday08:30 - 21:00

Wednesday08:30 - 21:00

Thursday08:30 - 21:00

Friday08:30 - 21:00

Saturday08:30 - 21:00

Sunday10:00 - 20:00
Audi A4 near Azusa
 | 
Audi A4 near Chino Hills
 | 
Audi A4 near Claremont
 | 
Audi A4 near Covina
 | 
Audi A4 near La-Verne
 | 
Audi A4 near Ontario
 | 
Audi A4 near Pasadena
 | 
Audi A4 near Rancho Cucamonga
 | 
Audi A4 near Rowland Heights
 | 
Audi A4 near West Covina